Black Duck Software
This employer has taken extra steps to respond to reviews and provide job seekers with accurate company information, photos, and reviews. Interested for your company?
Learn More
.
Black Duck Software – Why Work For Us?

​​​​​Helping Developers Build Better Software Faster with the Power of Open Source​​
At Black Duck, we believe the future of software development relies on the effective and informed use of open source technologies and methods. We are dedicated to helping our customers increase their strategic use of open source, while simultaneously strengthening and collaborating with the greater community.
For our Customers
Offering award-winning software and consulting, Black Duck is the partner of choice for open source software adoption, governance and management to enterprises of every size. We help our customers harness the power of open source technologies and methods for faster innovation, greater creativity and improved efficiency.
For the Open Source Community
As part of the greater open source community, Black Duck connects developers to comprehensive OSS resources through Ohloh.net, and to the latest commentary from industry experts through the Open Source Deliversblog. Black Duck also hosts the Open Source Think Tank, an international event where thought leaders collaborate on the future of open source.
Founded in 2002, Black Duck is headquartered near Boston and has offices in San Mateo, St. Louis, London, Paris, Frankfurt, Hong Kong, Tokyo, Seoul and Beijing.​
​​​​JOIN THE BLACK DUCK TEAM!​​
​​Collaboration. Innovation. Fun.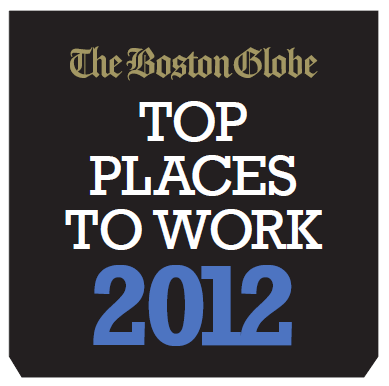 ​​​​At Black Duck, we know that open source software is changing the world and we're passionate about our role in that evolution. We're at the heart of the open source ecosystem, connecting enterprises to a necessary and critically important resource while empowering developers to take advantage of the collective power of the open source community.
Black Duck team members are smart, dedicated, fun, innovative and collaborative. As one of The Boston Globe's "Top Places to Work in Massachusetts," our dynamic team benefits from a fun and quirky culture that foster's our corporate success as well as our personal fulfillment. From Fireside Chats with our CEO to rubber ducky photo contests, annual outings to WOW Awards, and Tech Talks to time off to volunteer for worthy orgs, the Black Duck team does it all!​

​​​​​Have Fun at Work (Really!)
Sure, we produce the world's leading open source management products and services – but that doesn't mean we spend our days alone and hunched over endless lines of code! At Black Duck, we put a premium on providing a fun, creative and cool work environment that promotes collaboration and fosters passion.
Innovative Products. Innovative People.
At Black Duck, we value innovation and know that the best products are produced by talented, dedicated employees. While our diverse group of employees from around the world speaks over 25 languages, we all share a common passion: making the best, most innovative products to help organizations and developers leverage open source to deliver faster innovation, greater creativity and improved efficiency.
Cool Office Space
We know that where you work can influence how you work, which is why our new, award-winning office space focuses on community and collaboration. Black Duck HQ boasts a café, a game room equipped with a Wii and Xbox, conference rooms for every size meeting – from a one-on-one to a group of over one hundred, and even a Code Wall with a secret message written in binary – translate the sequence and you'll win a special prize!
Free Food & Fun Parties
In addition to nourishing the minds of our employees with dynamic, interesting work, we also nourish their bodies with yummy treats. From fresh popped popcorn to bagel breakfasts, free lunch days to ice cream snack breaks, not to mention theme parties like Cinco de Mayo fiestas, National Talk Like a Pirate Day parties, and others, we keep the Black Duck team well-nourished and happy!
Community-Minded
In addition to playing an active role within the open source community, Black Duck understands the importance of supporting our local community, too. We are an active member of the Smaller Business Association of New England (SBANE) and were awarded the prestigious 2011 Innovation Award from the organization. We sponsor local programming organization Boston PHP, and run, sponsor and host our own local community manager networking group, The Boston Community Wranglers, and we also conduct an annual Toys for Tots toy drive.
And we give our employees paid time off to volunteer for a non-profit of their choice! Read more about this and other benefits.
​​The Duck

​​With a black duck as our mascot, we are always inspired to have fun with it! We give all our employees, friends, fans, customers and anyone else who asks black rubber duckies to play with. We sponsor employee photo contests in which our colleagues bring their rubber ducks with them on their travels around the world and take cute photos of the duck, and encourage employees to get creative with their ducks around the office.​
​​We've Got You Covered!​​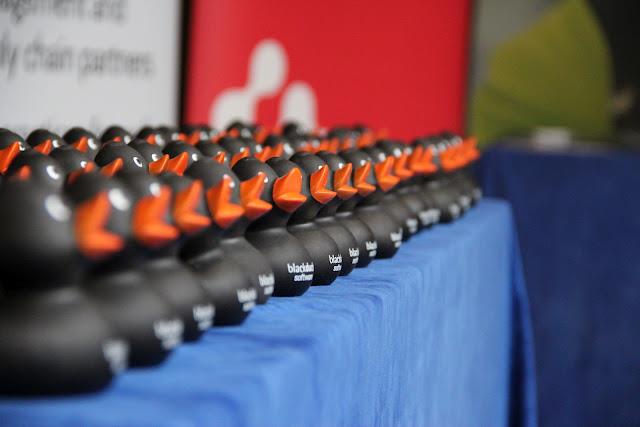 ​​At Black Duck, we know the success of the company depends on the success and satisfaction of our employees, so we constantly evolve the benefits we offer to address these goals. We offer the important benefits employees expect from a successful company, including:
Live long and prosper! Medical from Blue Cross Blue Shield, dental from Delta Dental and vision from EyeMed
Long and Short Term Disability and Life Insurance at no cost to employees!
401k retirement savings plans from Fidelity
Stock options
Flexible spending accounts
And we also offer some unexpected benefits to demonstrate how much we value our team:
Happy birthday to you! Every employee gets their birthday off (or the closest day to it if a birthday falls on a weekend). Use the day to celebrate – we insist!
Summer fun! We close our offices early every Friday during the summer so employees can enjoy extra time off and a longer weekend.
Vacation time! We offer a strong vacation program, including an extra five days for employees with four-years or more of tenure.
Make a difference! We encourage our employees to volunteer for philanthropic initiatives, and we even give paid time off to volunteer!
Black Duck Software Photos
Black Duck Software Reviews
---
Comp & Benefits

Work/Life Balance

Senior Management

Culture & Values

Career Opportunities

I have been working at Black Duck Software full-time (less than an year)

Pros

This is a sales-focused company with a start-up feel. Music is playing, ping-pong tables, beer on tap, free snacks and drinks (Redbull as an essential). They train you well and want to see you succeed. I've enjoyed working here thus far and the company's growth keeps me optimistic for my own personal growth within the company! I would and have recommended friends to join the team and they have nothing but great things to say!

Cons

This is a tough commute if you don't live in the area.

Black Duck Software

2014-11-10 08:19 PST
Black Duck Software Interviews
Updated Jul 11, 2014
Interview Details

Phone Screen then in-person interview. Meeting with multiple people over the span of one and half hours to two hours. Most of the people were in the sales department but I also met with one person in the human resource department.

Black Duck Software

2014-07-11 06:00 PDT
Black Duck Software Awards & Accolades
Let us know if we're missing any workplace or industry recognition – Add an award
Website
www.blackducksoftware.com
Headquarters
Burlington, MA
Size
150 to 499 Employees
Industry Information Technology
Revenue
$10 to $25 million (USD) per year
Black Duck provides applications and services used by customers to speed up the software development process through the use of open source and third-party code. It also owns and operates Koders.com, a search engine for open source programming resources and code. Black Duck's customers come from fields such as manufacturing, financial services, and retail; clients have included Intel, Samsung, and SAP. Founded in 2003, Black Duck has operations in the US, Europe, and Asia. The company has received private equity funding from Fidelity Ventures, Intel Capital, Red Hat, and... More
Work at Black Duck Software? Share Your Experiences