Bridgewater Associates – Why Work For Us?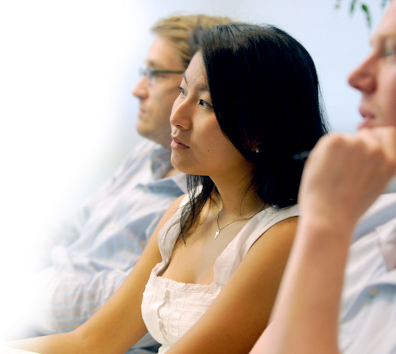 If you want to work in an environment that values truth and openness in the pursuit of innovation, excellence and quality relationships....
If you want to discover your strengths and weaknesses and work hard to get better fast...
If you have the need to understand what makes sense rather than to follow instructions...
If you can put aside ego barriers to learning...
If you demand others to be truthful and open with you and you are willing to be truthful and open with them...
If you want meaningful work and meaningful relationships...
...come to Bridgewater.
At Bridgewater, our overriding objective is excellence, or more precisely, constant improvement. We believe that producing excellence requires approaching both work and people in a principled way. Above all else, we want to find out what is true and figure out how best to deal with it. We value independent thinking and innovation, recognizing that independent thinking generates disagreement and innovation requires making mistakes.
To foster this thinking and innovation, we maintain an environment of radical openness, even though that honesty can be difficult and uncomfortable. At Bridgewater each individual has the right and the obligation to ensure that what they do and what we do collectively in pursuit of excellence makes sense to them. Everyone is encouraged to be both assertive and open-minded in order to build their understanding and discover their best path. The types of disagreements and mistakes that are typically discouraged elsewhere are expected at Bridgewater because they are the fuel for the learning that helps us maximize the utilization of our potential. It is through this unique culture that we have produced the meaningful work and meaningful relationships that those who work here and our clients have come to expect.
To help communicate what it's like here, some of the people who work at Bridgewater described their experience in a series of videos on our website.
I have also posted my Principles, which we use, debate and change to agree on how we should be with each other in our pursuit of excellence. You can explore Principles here.
- Ray Dalio
Bridgewater Associates Photos
Bridgewater Associates Reviews
Bridgewater Associates
156
Recommend to a friend
Approve of CEO
Work/Life Balance

Culture & Values

Career Opportunities

Comp & Benefits

Senior Management

I worked at Bridgewater Associates full-time (More than 3 years)

Pros

meaningful work, meaningful relationships, personal development

Cons

constant criticism and unnecessary pain for employees results in demotivation, loss of confidence and inability to get things done.

Advice to Management

balance the feedback to employees putting equal emphasis on the positive traits. Reward people for achieving results and getting things done.

Bridgewater Associates

2015-07-02 09:28 PDT

---
Bridgewater Associates Interviews
Application

I applied online – interviewed at Bridgewater Associates.

Interview

Interview process went fast. I applied online an was asked to take a bunch of tests. Then had a phone interview and got invited to a campus. 5h interview was exhausting.

Interview Questions

Bridgewater Associates

2015-06-16 08:25 PDT
Bridgewater Associates Awards & Accolades
Top Workplaces
(

#4 Large Company

)
,
Hearst Connecticut
,
2013
Best Places to Work in Money Management
,
Pensions & Investments
,
2012
Headquarters
Westport, CT
Size
1000 to 5000 Employees
Industry Finance
Revenue
$100 to $500 million (USD) per year
Bridgewater manages approximately $169 billion in global investments for a wide array of institutional clients, including foreign governments and central banks, corporate and public pension funds, university endowments and charitable foundations. Approximately 1,500 people work at Bridgewater, which is based in Westport, Connecticut.

Founded in 1975 out of a two-bedroom... More
Mission: Bridgewater's unique results are a product of its unique culture. Truth and excellence are valued above all else. In order to be excellent we need to know what's true... More
Work at Bridgewater Associates? Share Your Experiences