British American Tobacco

update

BAT Venezuela recently won the Procurement Star Award! Their winning project "Working capital optimization through macroeconomic impact mitigation" brought as results cost avoidance of £850k and savings of £65k. With this outstanding experience they are preparing the studies of advance purchase for 2016 in order to obtain better outcomes and ensure business continuity in the future. Working for BAT means having the ambition to achieve unprecedented standards. To be part of this amazing team head to http://glassdoor.com/slink.htm?key=vIT3C and find out more about career opportunities at BAT Venezuela.

British American Tobacco

update

Last week our colleagues from BAT Denmark participated in the world's largest race relay, DHL Stafetten in Copenhagen. The 5 x 5 km company relay is an enormous event in which more than 125,000 people gather for a friendly competition in a relaxed atmosphere. The great results were celebrated with a dinner in the green park illuminated by torches, providing the setting for a fun evening with colleagues.
British American Tobacco – Why Work For Us?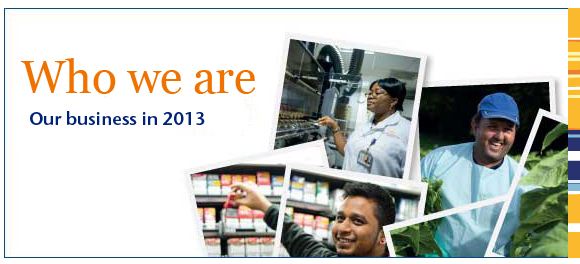 We are a leading tobacco group, with brands sold in around 180 markets.
With more than 200 brands in our portfolio, we make the cigarette chosen by one in eight of the world's one billion adult smokers. We hold robust market positions in each of our regions and have leadership in more than 60 markets. In 2012, our subsidiary companies sold 694 billion cigarettes.
In the same year, our subsidiaries enabled governments worldwide to gather more than £30 billion in duty, excise and sales taxes on our products, more than seven times the Group's profit after tax.
We have sustained a significant global presence for over 100 years. Our business was founded in 1902 and by 1912 had become one of the world's top dozen companies by market capitalisation.
At the end of 2012, our company was the sixth largest listed on the London Stock Exchange.
People and factories
We have 44 cigarette factories in 39 countries. In addition to cigarettes, we make cigarillos, roll your own and pipe tobacco.
We employ more than 55,000 people worldwide. Our workforce is strongly multi-cultural and we have a devolved structure, with each local company having wide freedom of action and responsibility for its operations. Decisions are made as close as possible to the local stakeholders of each business, within a framework of principles, standards, policies, strategies and delegated authorities.
Operating responsibly
We believe that because our products pose risks to health, it is all the more important that our business is managed responsibly. Responsibility is integral to our strategy and through dialogue with our stakeholders, we are working to pursue our commercial objectives in ways consistent with changing expectations of a modern tobacco business.
Tobacco growing
We are the only international tobacco group with a significant interest in tobacco leaf growing, working with thousands of farmers internationally. Our companies run leaf programmes providing direct agronomy support to farmers if it is not otherwise available, covering all aspects of crop production and environmental best practice - in 2012 our companies ran these in 20 countries, covering 164,667 hectares under cultivation. The Group purchased approximately 440,000 tonnes of leaf in 2012, grown by all our leaf suppliers.
What do our people say about us?
How our employees feel about working here is very important to us. We carry out a regular global employee opinion survey called Your Voice to give our people a secure and confidential way to tell us exactly what they think about working at British American Tobacco.
In our latest survey, 80 per cent of employees said they were extremely satisfied with British American Tobacco as a place to work, well above the benchmark of 71 per cent in the fast moving consumer goods (FMCG) sector.
Find out more by taking a look at our latest Who We Are brochure

British American Tobacco is all about freedom of choice — whether it's our people or our products. Combined with our entrepreneurial spirit, it's what's driven our phenomenal success. We started trading tobacco over a hundred years ago. Today, we're a multibillion dollar company with more than 200 brands in our portfolio. With robust positions in each of our regional markets, our future looks equally bright too.
There's no doubt our industry is controversial — we're the first to admit that. But rest assured, we take a responsible approach to our trade. In each of our markets, we observe every local law regarding tobacco (in many cases going further through our own voluntary code). Not only that, we treat our farmers fairly, invest in the environment and help to sustain local communities.
We also excel at developing our own people into leaders of the future. As an organisation with a high-performance culture, we'll expect a lot from you. But we'll support you every step of the way to help you deliver. If you're passionate and ambitious, rapid career progression is a reality here. And because we're such a large company (we employ more than 55,000 people worldwide), there are plenty of exciting opportunities for you to develop a truly extraordinary career.
To find out more about our global career opportunities and apply directly online, visit www.bat-careers.com

We have a rich heritage and, we believe, a bright future. The sustainability of that future will depend on us satisfying not only our shareholders, but also our many other stakeholders.
Our strategy
Our vision is to lead the global tobacco industry, aiming to be the very best at meeting consumer needs for today's products and safer next-generation products. To be industry leaders we must continue to demonstrate that we are a responsible tobacco Group with outstanding people, brands and products. Our strategy is consistent and understood by investors. Growth is achieved by providing high quality products that consumers want. It is underpinned by productivity and is delivered by a winning organisation of great people who act responsibly at all times.
Find out more - www.bat.com/strategy
We recognise that our business starts with our consumers and our brands, and our balanced portfolio is designed to deliver continued growth. We offer brands to suit different tastes and budgets, and innovations allow us to compete to grow our share of the market.
Our determination to act responsibly spans the whole business, from our commitment to addressing the issues of child labour and working with farmers, to looking at how we can reduce the risks of our products and lessen our environmental impact.
But that's not the half of it. We are determined to develop nicotine products that are much less harmful than ordinary cigarettes. And we invest to ensure our supply chain – from the crop in the field to the consumer – is managed as responsibly as possible. We are measured against other international companies in independent surveys such as the Dow Jones Sustainability Index.

As you'd expect from a leading global business, we offer highly competitive rewards for success, invest heavily in training and development, and offer truly international career opportunities.
We aim to develop and support you every step of the way to fulfil your potential and our approach to rewards reflects this.
Pay is clearly linked to performance, but there are other ways to reward people too. That's why we continue to examine the practices of other companies and ask our employees what motivates them.
Our reward strategy is simple and straightforward with the following aims:
Rewarding contribution and achievement rather than tenure
Freedom for managers to influence the pay increases of their teams
Performance judged against a small number of key areas and objectives
More flexible benefits packages
Regular feedback mechanisms for assessing views on reward

Our approach to personal development is based on a simple belief - that the person who best knows your ambitions and aspirations is you.
We want to encourage you to develop the skills you need to progress and move your career forward.
But we also believe that you're the best person to map out your own development. We expect you to drive regular career discussions. We encourage you to assess your strengths and weaknesses honestly and to seek feedback from your colleagues. We count on you to make continuous learning and the quest for improvement a part of your personality - to be hungry for new ideas, skills and assignments.
You can enhance your skills and knowledge, learning from internal and external resources. Our Global Learning Zone, for example, is an internal learning resource that is open to anyone within our company.

British American Tobacco Photos
British American Tobacco Reviews
British American Tobacco
322
Recommend to a friend
Approve of CEO
Nicandro Durante
129 Ratings
Work/Life Balance

Culture & Values

Career Opportunities

Comp & Benefits

Senior Management

I worked at British American Tobacco full-time

Pros

high focus on talent development, friendly people, collaborative working environment, team-oriented, diverse, international, pay for performance culture, results-oriented

Cons

the social stigma of working in a tobacco company

British American Tobacco

2015-08-13 07:39 PDT

---
British American Tobacco Interviews
Application

I applied through an employee referral. The process took 1 day. I interviewed at British American Tobacco in July 2009.

Interview

Post job advertisment in the local dailies, contact for interview, provide refreshments, iice breakers and aptitude tests. Friendly, receptive interviewers.

Interview Questions

Negotiation

Benefits and salsries are comprtitive and attractive: there isn't much to negotiate.

British American Tobacco

2013-10-27 12:28 PDT
British American Tobacco Awards & Accolades
25 Best Multinational Companies to Work For (in Latin America)
,
Great Place to Work Institute
,
2012
Best Companies to Work for in Latin America
,
Great Place to Work Institute
,
2009
World's Most Admired Companies
,
Fortune
,
2008
Top 200 of the Global 2000
,
Forbes
,
2008
Show More
Headquarters
London, United Kingdom
Type
Company - Public (BTI)
Industry Manufacturing
Revenue
$10+ billion (USD) per year
British American Tobacco is a leading tobacco group, with brands sold in around 180 markets. We employ more than 55,000 people and, with over 200 brands in our portfolio, we make the cigarette chosen by one in eight of the world's one billion adult smokers. We hold robust market positions in each of our four regions – Americas; Asia-Pacific; Eastern Europe, Middle East and Africa; and Western Europe – and we are leaders in more than 60 markets. Our approach to marketing is second to none in our industry, in brand building, innovation and responsibility. Our companies ... More
Work at British American Tobacco? Share Your Experiences