CVS Caremark
This employer has taken extra steps to respond to reviews and provide job seekers with accurate company information, photos, and reviews. Interested for your company?
Learn More
.
Headquarters
Woonsocket, RI
Size 5000+ Employees
Type Company - Public (CVS)
Industry Retail
Revenue $10+ billion (USD) per year
---
We Are: A pharmacy innovaction company
Mission: Our Purpose: Helping people on their path to better health
CVS Caremark – Why Work For Us?
About Us

|

Our Businesses

|

Our Culture

|

Who We Are

|

Diversity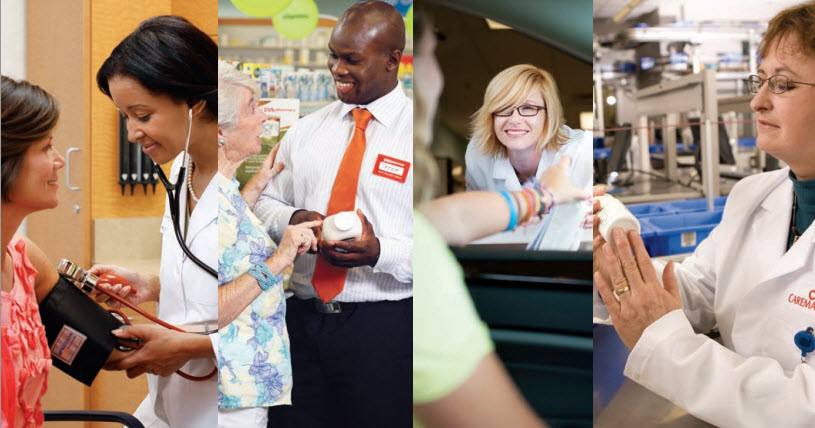 Our Company CVS Caremark is a pharmacy innovation company that is reinventing pharmacy for better health. We are continuously developing new ways to improve access for patients, promote better health outcomes and control payor costs in a way that no pharmacy retailer or PBM could do separately.
How can CVS Caremark help you reach your career & life goals?
We understand that having the right skills is critical to your success and ours. Our philosophy is simple: you supply the initiative, we'll supply the tools and resources to help you realize your aspirations. At CVS Caremark you are empowered to develop professionally and personally, to continually evolve and reinvent yourself, and to forge a career path that meets your vision.
CVS Caremark also wants to make sure you reach your life goals. When you join CVS Caremark, you join a company that cares about your financial and physical health. We provide a comprehensive, market-competitive compensation and benefits package that suits a variety of personal needs and goals. We encourage and support our colleagues whose commitment to exemplifying our values and impacting lives extends beyond the workplace. Whether your heart is in volunteering in your community, devoting time to your favorite diversity-focused program, or coaching your child's sports team, you'll have our support.
Once you're part of the CVS Caremark family, there's no limit to what you'll do, where you'll explore and how far you'll go.
Will you find fulfillment with a job at CVS Caremark?
Our company vision says it all, at CVS Caremark we continually strive to improve the health and wellness of our customers. We recognize and reward greatness and want you to feel fulfilled knowing that your work is making a difference in the lives of millions. Join us today. Together we can continue making innovative and high-quality health and pharmacy services safe, affordable and accessible—for all.
Why should you choose to work for CVS Caremark over one of our competitors?
With the merging of our Retail Pharmacy and Pharmacy Benefits Management businesses we have built an all encompassing business model. Today we're the market leader in multiple categories and able to provide patients with solutions that no pharmacy retailer or pharmacy benefits manager on its own could offer. For this reason, we are in a "category of one," uniquely positioned to help people on their path to better health.
View all current career opportunities at http://careers.cvscaremark.com/
Follow us on LinkedIn at www.linkedin.com/company/cvs-caremark-corporation
This is the employer's chance to tell you why you should work for them. The information provided is from their perspective.
Working at CVS Caremark
Posted by employees
Employees say it's "OK"
2,976

ratings
43% of the CEO 1,052 ratings
Larry J. Merlo
President and CEO
Pros: Great Salary, Great Bonuses, Flexible Schedule, Great Team – Full Review
| | | |
| --- | --- | --- |
| Salaries in USD | Avg. Salary | |
| 3,478 CVS Caremark Salaries | $53.90/hr | |
| 415 CVS Caremark Salaries | $10.25/hr | |
| 407 CVS Caremark Salaries | $63.39/hr | |
= Salary Range
= Anonymous Salary Range
= Avg.
If we only have one or two salaries posted for for a given job title, showing that salary information may risk employee anonymity. So in that case we generate an anonymous salary range by adding and subtracting a small percentage from the posted salary. The small percentage difference offers additional anonymity while still minimizing the difference between the range and the employee's actual salary.
No Offer – Interviewed in Northbrook, IL Aug 2014 – Reviewed last week New
Interview Details – I was pretty excited about this opportunity, even though the online JD was a bit vague. From what I read, I honestly thought I could be a good match for this position. There were a few items they were looking for in candidates where I knew I did not have experience, but I thought I was a really… – Full Interview
Interview Question:
What are people saying about you? – Answer Question
CVS Caremark Awards & Accolades
Fortune 500
(

#13

)
,
Fortune
,
2013
25 Noteworthy Companies
,
DiversityInc®
,
2013
Top 10 Companies for Veterans
,
DiversityInc®
,
2013
Fortune 500
,
Fortune
,
2014
25 Noteworthy Companies
,
DiversityInc
,
2012
Show More
Worked for CVS Caremark? Contribute to the Community!