Cloudera – Why Work For Us?
Cloudera is the leader in Apache Hadoop-based software and services and offers a powerful new data platform that enables enterprises and organizations to look at all their data — structured as well as unstructured — and ask bigger questions for unprecedented insight at the speed of thought.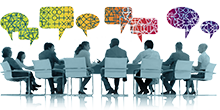 Behind some of the top minds in Big Data, including Doug Cutting, who invented Hadoop, Cloudera enhances the storage and processing technologies originally developed by the world's biggest Web companies. Today, Cloudera is the market leader in Hadoop with tens of thousands of nodes under management, as well as the top contributor of code to the Hadoop ecosystem. Markets include financial services, government, telecommunications, media, web, advertising, retail, energy, bioinformatics, pharma/healthcare, university research, oil and gas, gaming and more.
Why Open Source Matters
Since its inception in 2008, Cloudera has been strongly committed to a community-driven, open source Hadoop distribution because of its practical benefits for customers.
In addition to offering the benefits of open source, Cloudera has led the way to work with customers to ensure that their performance, availability, security, and recoverability needs are met in the open source platform, beginning with its first involvement with Hadoop.
Cloudera's deep involvement in the Hadoop community ensures customers benefit from a close alignment of the open source roadmap with their needs - and get expert, proactive support from people who know the platform best.
Answering the World's Biggest Questions
A new era in enterprise data management is upon us. Cloudera's products and services, built on the open source Apache Hadoop platform, are fundamentally changing the economics of data warehousing, processing, analysis and business intelligence. Join Cloudera and help people around the world find answers to the world's biggest questions.

Exceptional Team and Work Environment
From the start, we have known that we needed to recruit and retain highly talented people in order to create the next generation platform for enterprise data management. We're looking for smart people with innovative ideas who want to do remarkable things.
Grow With Us
Career growth is a shared responsibility between our employees and our exceptional leaders and management team. We want employees that are motivated to achieve results, have high standards of quality and integrity, possess a flexible, entrepreneurial spirit and want to develop to their full potential. Rather than reading, take a few moments to see why Cloudera is a great place to work.
Competitive Benefits
At Cloudera, we are passionate about creating a stimulating, supportive work environment for you. We strive to keep you healthy, happy and productive. We provide free lunch every day, plus free snacks and drinks. Every employee gets three weeks of paid vacation annually, plus holidays and additional paid time off. We also offer comprehensive medical, dental and vision insurance plans, flexible savings accounts, 401(k) investment accounts and discounted memberships at the prestigious Equinox fitness clubs. Our engineers can choose their preference of Mac or PC notebook, with a 30″ high-resolution monitor at the office. We have offices in both San Francisco and Palo Alto, to provide our employees with easy commutes. Many employees work from home on Wednesdays, which are free from scheduled meetings so people can focus on getting things done. It's rare to find an exciting and dynamic startup company with such uniquely generous benefits!
---
Comp & Benefits

Work/Life Balance

Senior Management

Culture & Values

Career Opportunities

I have been working at Cloudera full-time for more than 5 years

Pros

> Amazing people across every line of business (engineering, support, services, marketing, sales, finance and HR)
> Outstanding executive management that has as much character as they do vision
> Powerful, disruptive and open technology that will forever change the software industry
> Great culture based on individual fulfillment and customer success
> Investors that do way more than just give us money
> I'm in sales and this company has always compensated me fairly
> I love our founders!

Cons

> High expectations make it difficult to find work/life balance. That said, I've learned it's up to the individual to control that, not the company they work for. Cloudera has always supported my efforts to create this balance.
> With rapid growth, new layers of management are now required to scale. This changes certain dynamics, but Cloudera has done a good job thus far.

Advice to Management

Advice

> Preserve our culture
> Be bold. Singles and doubles matter, but don't be afraid to occasionally swing for the fences.

Cloudera

2014-08-21 16:21 PDT
Cloudera Interviews
Updated Sep 8, 2014
Application Details

I applied through an employee referral. The process took a day - interviewed at Cloudera.

Interview Details

Interviewed with 4 people. Each interview was one hour each. Most had not looked at my resume beforehand and had no idea who I was or why I was there.

Cloudera

2014-09-08 14:56 PDT
Cloudera Awards & Accolades
Let us know if we're missing any workplace or industry recognition – Add an award
Headquarters
Palo Alto, CA
Size 150 to 499 Employees
Industry Information Technology
Revenue $10 to $25 million (USD) per year
Cloudera offers enterprises a powerful new data platform built on the popular Apache Hadoop open-source software package. We unlock the storage and processing technologies of the world's biggest Web, telecom, medical, financial and government companies by allowing our growing list of global customers to easily and efficiently use Hadoop to solve problems and profit from all their data.

Hadoop is a powerful data-management platform that can:

* Consolidate your data, structured or complex, in a single repository for comprehensive analysis.
* Store your information... More
Worked for Cloudera? Contribute to the Community!