Communispace – Why Work For Us?
Since the beginning, we've been focused on the success of our clients. We redefined customer engagement and insight—forever changing what it means to engage and intimately understand your customers. By partnering with more than 100 of the world's most admired brands to create 500+ online communities, with members in more than 96 countries, we know how to get exactly the right people—your defined target audience.
We've perfected the right mix of technologies and methodologies, and build the type of customer relationships that deliver powerful business insights, ideas, and intelligence. And best of all, we know how to help you turn it all into action—making it easy for you to engage, experiment, and innovate.
We are a group of passionate and talented people, working hand-in-hand with our client organizations to help them uncover customer insights that can change the game for their brand. And we have one goal in mind—their success. It's in everything we do—from the smallest to the largest task. Communispace is made up of diverse talents and experiences and we believe every person plays a role in our success. But we also know the importance of having fun and giving back to the community. You can feel the energy in our offices the second you walk in the door. We understand that it takes all of us to make this work, so we foster an environment that supports the talents and needs of the people who work here. And it shows—not only on our employees' faces, it shows in our results.
Insights from the Inside
Why would you love working here?Same reasons we do.
"I love that Communispace has a casual work environment. It suits us and our culture. We are a young, fun company, and frankly, it would be weird if everyone were walking around in a stiff uncomfortable suit." – Erica Blute, Associate Community Manager

"When I received the High Impact New Employee Award, I was completely floored by the nominations from my colleagues. The effort speaks volumes for how people value and respect each other and the work we do."

– Katie Adams, Senior Consultant, Idea Group

"Management makes it a priority to keep everyone involved, making sure that we, as employees, know what's going on in the organization. This makes me feel valued as an employee."

– Bryant Fils, Senior HelpDesk Specialist

"The energy here at C-space is palpable. You can literally hear the excitement and commitment that employees bring to their teams as you walk down the halls."

– Mary-Stuart Breed, Associate Community Manager

"Communispace's move to a newly renovated building in Boston with a top-notch ecological rating aligns well with the progressive nature of the company, as both strive to push into uncharted territory for the betterment of everyone."

– David Nash, Senior Software Engineer
Giving back
We are passionate about our community—both locally and globally. The Communispace Volunteer Committee was developed as a means for our staff not only to give back, but also to further enrich the work experience for our employees. It allows us to make meaningful contributions to select causes and enables colleagues to share and gather support. It also offers colleagues the opportunity to use their allocated volunteer time year-round and, together, spread the word about our efforts on causes that often could use a little attention.
In addition to our corporate contributions, our staff contributes time, energy and money to over 100 charitable organizations every year.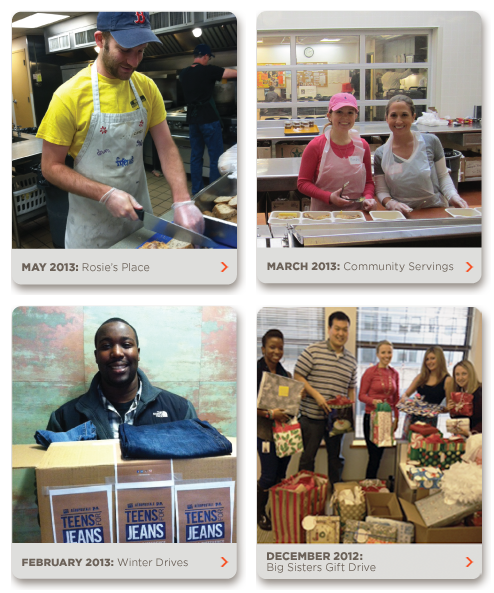 ​​​
Communispace Reviews
Communispace
49
Charles Trevail
5 Ratings
Comp & Benefits

Work/Life Balance

Senior Management

Culture & Values

Career Opportunities

I worked at Communispace full-time (more than 3 years)

Pros

Generally, if you do good work, you are rewarded. Company trains managers well.

Cons

Up-and-down financials, two rounds of layoffs in recent years

Advice to Management

Advice

Don't lose what made CSpace a great workplace

Communispace

2015-03-21 06:45 PDT
Communispace Interviews
Updated Feb 17, 2015
Application Details

I applied online. The process took 4+ weeks – interviewed at Communispace.

Interview Details

The interview process took about a month. First I had a HR phone interview which was standard. Then I was brought in and met with a manager and an associate. I was then brought in once again to meet with 3 more people. The questions were standard but they were more interested on how I conducted myself, how prepared I was for the interview and how well I was able to answer and elaborate.

Negotiation Details

The negotiation phase was easy because I had a strong resume to back up the salary increase from their initial offer.

Communispace

2015-01-03 12:44 PST
Communispace Awards & Accolades
Top Places to Work Globe 100
,
Boston Globe
,
2008
ARF David Ogilvy Awards - Gold
,
Advertising Research Foundation
,
2012
Best Places to Work in Boston
,
Boston Business Journal
,
2012
Gold Winner for the Team Massachusetts Economic Impact Awards
,
MassEcon
,
2011
Honomichl Global Top 25
,
Honomichl
,
2012
Show More
Website
www.communispace.com
Size
150 to 499 Employees
Industry Business Services
Revenue
$10 to $25 million (USD) per year
Communispace is a consumer collaboration agency with a bold mission: to harness the power and inspiration of the world's consumers to drive business growth.

In practice, this involves working with our clients to help them:

- Understand their customers better and form strong relationships with them
- Develop solutions to drive growth and increase profitability

Sample list of our clients includes: Audi, Walmart, Samsung, Microsoft, Campbell's, 3M, and Citi.

We have pioneered new ways to do this, all of which involve working collaboratively with brands and their... More
Work at Communispace? Share Your Experiences