Cornerstone OnDemand
This employer has taken extra steps to respond to reviews and provide job seekers with accurate company information, photos, and reviews. Interested for your company?
Learn More
.
Headquarters
Santa Monica, CA
Size 1000 to 5000 Employees
Type Company - Public (CSOD)
Industry Information Technology
Revenue $100 to $500 million (USD) per year
---
At Cornerstone OnDemand class is always in session. The company provides on-demand workplace learning tools in a variety of subjects including enterprise social networking, performance management, and succession planning. Its training programs are meant to improve employee performance, communication, and collaboration, as well as foster professional development and assess employee skills. Cornerstone OnDemand's clients include multi-national corporations, public-sector organizations, higher education institutions, and not-for-profit entities. The company went public in... More
Cornerstone OnDemand Video
Loading...
Cornerstone OnDemand – Why Work For Us?
About Us

|

Careers

|

Why Cornerstone

|

Our Culture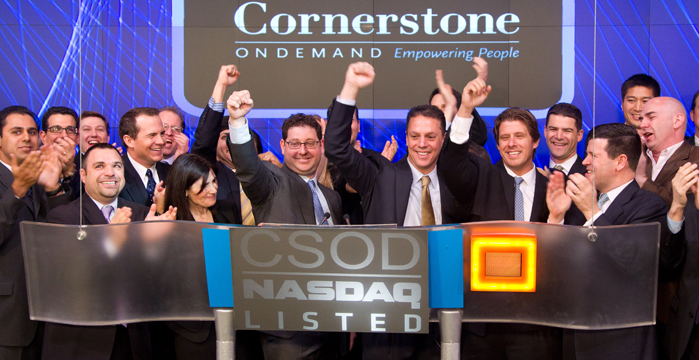 Cornerstone OnDemand (NASDAQ:CSOD) is a global leader of cloud-based talent management software solutions. Over 12 million users across 190 countries rely on Cornerstone to maximize their potential, develop their skills and foster new levels of collaboration. Cornerstone empowers some of the world's leading organizations, such as Starwood Hotels & Resorts, The Neiman Marcus Group,Save the Children, Turner Broadcasting System, Virgin Media and Pinkberry, to engage their workforces and leverage people performance for greater business results.
Based on Cornerstone's
pure cloud architecture
, Cornerstone's comprehensive solution helps organizations manage entire employee lifecycle, from hiring through retirement.
The solution includes:
Cornerstone also offers software and services for organizations of all sizes, including:
Cornerstone is headquartered in Los Angeles, California with offices in London, Paris, Munich, Tel Aviv, Mumbai, Sydney and Hong Kong.
This is the employer's chance to tell you why you should work for them. The information provided is from their perspective.
Working at Cornerstone OnDemand
Posted by employees
Employees are "Very Satisfied"
296

ratings
92% of the CEO 281 ratings
Adam Miller
President & CEO
Former Channel Manager in Santa Monica, CA
Pros: Great company culture, remote telecommute, high growth, stock options, brand name. CSOD technology is pretty hot and there is a lot of demand for their tools in the US. – Full Review
| | | |
| --- | --- | --- |
| Salaries in USD | Avg. Salary | |
| 27 Cornerstone OnDemand Salaries | $95,921 | |
| 19 Cornerstone OnDemand Salaries | $83,849 | |
| 13 Cornerstone OnDemand Salaries | $117,814 | |
= Salary Range
= Anonymous Salary Range
= Avg.
If we only have one or two salaries posted for for a given job title, showing that salary information may risk employee anonymity. So in that case we generate an anonymous salary range by adding and subtracting a small percentage from the posted salary. The small percentage difference offers additional anonymity while still minimizing the difference between the range and the employee's actual salary.
Cornerstone OnDemand Awards & Accolades
Best Places to Work
(

#4

)
,
Glassdoor
,
2014
Fastest Growing Private Companies
,
Los Angeles Business Journal
,
2009
Learning Leaders: Vendor Innovation in Learning and Talent Management
,
Bersin & Associates
,
2010
Technology Fast 500
(

#388

)
,
Deloitte
,
2009
"Leader" in Magic Quadrant for Corporate Learning Systems (CLS)
,
Gartner
,
2009
Show More
Worked for Cornerstone OnDemand? Contribute to the Community!