Cornerstone OnDemand

This employer has taken extra steps to respond to reviews and provide job seekers with accurate company information, photos, and reviews. Interested for your company?

Learn More

.
Cornerstone OnDemand Video
Loading...
Cornerstone OnDemand – Why Work For Us?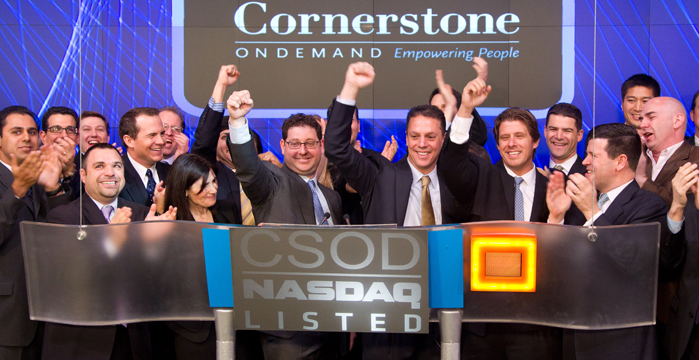 Cornerstone OnDemand (NASDAQ:CSOD) is a global leader of cloud-based talent management software solutions. Over 12 million users across 190 countries rely on Cornerstone to maximize their potential, develop their skills and foster new levels of collaboration. Cornerstone empowers some of the world's leading organizations, such as Starwood Hotels & Resorts, The Neiman Marcus Group,Save the Children, Turner Broadcasting System, Virgin Media and Pinkberry, to engage their workforces and leverage people performance for greater business results.
Based on Cornerstone's
pure cloud architecture
, Cornerstone's comprehensive solution helps organizations manage entire employee lifecycle, from hiring through retirement.
The solution includes:
Cornerstone also offers software and services for organizations of all sizes, including:
Cornerstone is headquartered in Los Angeles, California with offices in London, Paris, Munich, Tel Aviv, Mumbai, Sydney and Hong Kong.
Do Big Things.
Hard to believe that when it started in 1999, Cornerstone OnDemand was nothing more than
an idea and a whiteboard. Today, that simple idea has grown into a billion dollar
global technology company that's changing the way the world works.
Being a Cornerstar

We think that's pretty cool. And we think it's important, because
that same spirit of collaboration and innovation, that same acute awareness that a few passionate people are capable of accomplishing big things and that small ideas can grow exponentially, lives on at Cornerstone today. We're not a typical tech company (even with our foosball tables, complimentary food and generous stock options), because, well, our employees aren't your typical techies.

Meet the people at Cornerstone

"If terabytes of data doesn't excite you

I don't know what will."

Oren Goldfinger, Technology

"There's not a single person here who I wouldn't love

to sit down and have a beer with."

Elvis Ha, Products

"I am constantly being challenged to learn and grow."

Jamie Stivala,

Talent & Administration
9 reasons why you
want to work here
We do. We're always on the lookout for new, capable people who can
help us achieve our goal. So if you want to work for a friendly,
global and innovative company, we'd love to meet you.

While Cornerstone is the fastest-growing SaaS technology company and the largest independent cloud-based business in the world, there are still some people and countries on planet Earth who aren't yet using our software. We need your help to get them signed up, live and happy!

We place great value on development and believe everyone can achieve their career dreams when provided with the opportunity to stretch beyond what seems possible. We believe in hiring smart people and challenging them with lots of responsibility early on. It's not easy, but training for the Olympics isn't easy either. We know that if you want to compete, you need world-class training and support every day. That's how we work.

Cornerstars enjoy 100% paid healthcare premiums for top-tier medical plans,* stock options, paid vacation, paid sabbaticals, and paid training and education. Among benefits we do not currently provide (but are considering): gold and diamond teeth grills for all employees, camera sunglasses, company-issued jetpacks, and unicorn robots (to borrow, not own).

Empowering our global team is our top priority. We see obstacles as challenges we haven't yet had the chance to address. We encourage you to imagine the impossible, challenge conventional thinking and take risks that push the limits of possibility on your path to greatness. Clarification -- by "risks" we mean "work risks" risks. Not "getting in a cage with a tiger, wearing a meat suit" risks. We don't encourage you to do that stuff.

Foosball. Ping Pong. Basketball. Kickball. Karaoke. Play at work or join one of our teams. And if you are feeling brave and adventurous, take on our own Karaoke Queen in a vocal fight to the death!

Cornerstars are encouraged to engage in a healthy and active lifestyle and enjoy activities outside of work with their families and friends. So go to that little league game or dance recital, or attend that hot yoga class to balance your Chi. Then get back to work! (Just kidding. Well, sort of.)

We believe well-fed Cornerstars are happy and productive Cornerstars, so we stock our café with an endless supply of bagels, fresh fruit, snacks (both healthy and trashy) and of course…energy drinks. And there's ice-cold beer in the fridge. We tend not to drink it in the morning, though.

We care deeply about giving back to the community, engaging our team in local service projects and supporting Cornerstars' efforts to raise money for the causes they're passionate about. And our Foundation is transforming the way people help people, partnering with non-profits across the globe, helping them empower and develop their talent.

We're working with some of the biggest companies and brands in the world, empowering their people and changing the world at work. Sooner or later, a lot of the people you know will be using Cornerstone at work, if they're not already.
The culture of Cornerstone
Our mission is to empower people, businesses and communities. A culture created less by what we do and more by who we are. When people are asked to describe the team, the answer is always the same: smart, cool, dependable and visionary.
Smart

It doesn't take long to realize that people who work here are very, very smart. It's the reason we consistently outperform and constantly evolve. Nobody is ignored and ideas are welcome at all times. One consequence is that we move dynamically. If someone has a good idea, we implement it. Complex problems can be broken down and solved through team collaboration. It's an environment where you can be challenged, have an opportunity to learn, develop your skills and be very successful.

Cool

To us, cool is someone you'd want to have a beer (or meal) with; someone who is interesting and fun. We have people who would be considered cool in any group, at every age. We also have people who were not necessarily part of the popular crowd in their high school, but are definitely well-rounded, self-confident, creative and interesting.

Dependable

We believe the most dependable people are those who are willing to take initiative and are self-empowered. The expectation of our team is to make our clients successful, so we have to have people who can be depended upon. People who are responsive, proactive, reliable and able to provide exceptional service while earning the trust and respect of both our clients and our teammates.

Visionary

To continue our success in leading the market with state-of-the-art solutions, we must be innovative and resourceful. Capable not simply of thinking outside of the box but of actually redesigning the scope and scale of the box itself.
Cornerstone OnDemand Photos
Cornerstone OnDemand Reviews
---
Comp & Benefits

Work/Life Balance

Senior Management

Culture & Values

Career Opportunities

I have been working at Cornerstone OnDemand full-time for more than 3 years

Pros

I have worked at Cornerstone for 4 years and the people, our leadership's vision, and opportunities to grow professionally keep me here. On top of this, Cornerstone has so many perks that make it a really fun place to work (clubs, yoga, food, snacks, social events, networking events, + many more).

Cons

While there are opportunities for career advancement for top performers, the compensation for internal hires is far less than market value or what Cornerstone will pay for an external hire.

Advice to Management

Advice

Continue to keep the Cornerstone culture alive and well as we continue to grow. Continue to innovate and deliver great products and support to our clients. Review your compensation strategies.

Cornerstone OnDemand

2014-09-19 15:30 PDT
Cornerstone OnDemand Interviews
Updated Sep 2, 2014
Application Details

I applied online. The process took 2 months - interviewed at Cornerstone OnDemand in June 2014.

Interview Details

Cornerstone OnDemand promotes a positive employee culture, however their interview process does not reflect that at all. The process was very long and tedious. I had 4 interviews in 7 weeks. Two were video interviews. The 1st interview was a screening interview with a recruiter which was a pleasant and straightforward. The 2nd was a HireVue video interview, which was challenging with complex questions. I had done a lot of research on video interviews and had prepared well for the interview regarding the job and the company. I understand that video interviews have value to companies, but as a candidate, CSOD could have done a better job of making this a positive experience.

The 3rd was a 1:1 video interview with a manager which was conversational and straightforward. The 4th was a telephone interview with 2 other managers which was uncomfortable because it was not very conversational. I felt as though they were just going thru the motions, throwing questions at me and I was wasting their time. I was well-prepared for both of these interviews with a clear understanding of the job requirements, company, etc. I was told that the next step would be me doing a presentation via Webinar to 5-7 managers. The manager said that there was no 'in-person' interview in their process, which I found very odd.

I was notified by the recruiter that they were moving forward with another candidate. I asked for some feedback on my interviews so that I could learn from the experience. I never heard back from anyone.

Interview Questions

What would you do if your customer came to you and said that they are not getting what they are paying for? Answer Question

Cornerstone OnDemand

2014-09-02 07:39 PDT
Cornerstone OnDemand Awards & Accolades
Best Places to Work
(

#4

)
,
Glassdoor
,
2014
Fastest Growing Private Companies
,
Los Angeles Business Journal
,
2009
Learning Leaders: Vendor Innovation in Learning and Talent Management
,
Bersin & Associates
,
2010
Technology Fast 500
(

#388

)
,
Deloitte
,
2009
"Leader" in Magic Quadrant for Corporate Learning Systems (CLS)
,
Gartner
,
2009
Show More
Website
www.cornerstoneondemand.com
Headquarters
Santa Monica, CA
Size 1000 to 5000 Employees
Type Company - Public (CSOD)
Industry Information Technology
Revenue $100 to $500 million (USD) per year
At Cornerstone OnDemand class is always in session. The company provides on-demand workplace learning tools in a variety of subjects including enterprise social networking, performance management, and succession planning. Its training programs are meant to improve employee performance, communication, and collaboration, as well as foster professional development and assess employee skills. Cornerstone OnDemand's clients include multi-national corporations, public-sector organizations, higher education institutions, and not-for-profit entities. The company went public in... More
Worked for Cornerstone OnDemand? Contribute to the Community!