Dixon Hughes Goodman – Why Work For Us?
Our Culture
With Dixon Hughes Goodman you get the best of both worlds. We have the warm, friendly, welcoming environment people seek in smaller firms, yet we have the resources and advancement opportunities of a large firm. As the largest firm based in the South and Mid-Atlantic, we are serious about business, but also realize the importance of your life-work balance.
Your Career
Dixon Hughes Goodman is a place where you can build a long-term career in an environment of opportunity and diversity. Career growth and advancement are as important to Dixon Hughes Goodman as they are to you. We encourage every employee to take advantage of our mentoring program. Our mentoring program will give you an opportunity to learn from those with real-world, practical knowledge about our industries, services and our firm. Our partners are committed to the professional development of our people. An open door policy facilitates both formal and informal mentoring at Dixon Hughes Goodman. If you're serious about taking control of your career, our mentors will work with you, guide you and encourage you every step of the way.
Career Growth
A dedicated team of learning and development professionals create a curriculum of offerings to ensure your professional development. This curriculum includes on-site classes and workshops as well as virtual classroom offerings. With a wide variety of resources, your professional development needs will be assured.
Life / Work Balance
Personal Time Off (PTO) – Dixon Hughes Goodman offers employees a combined time off program for vacations, illnesses and personal business, which increases after two years of service or promotion. Of course we also have additional firm holidays.
Flexible Work Arrangements - At Dixon Hughes Goodman we offer employees workday flexibility with a variety of flexible work options. This includes less than full time, compressed workweeks and off-peak start and end times.
Healthy Lifestyle - Promoting a healthy lifestyle is part of the Dixon Hughes Goodman culture. In addition to a fitness reimbursement, we offer health fairs, weight loss programs and rewards, fitness challenges, educational resources, a personal nurse coach and stay healthy programs. We offer lunch and learn programs to help employees better understand nutrition and always offer healthy choices when bringing lunch and snacks into the office. We also have a generous employee health benefits package. Contact us to learn more.
Employee Assistance Program - This program helps employees address life's daily challenges, from workplace stress to family issues, financial problems, addiction and recovery, and emotional health.
Community Involvement
The Dixon Hughes Goodman culture includes our sense of place in the community. We not only work in the areas we serve. We're a part of them. We're involved in them. Our partners and associates contribute their time and resources to a variety of deserving causes and organizations. With over 1800 people, that's a lot of time, talent and support. But we believe it's our corporate responsibility to give back.
We support our communities through underwriting worthwhile business, cultural, and social services programs and activities through both monetary contributions and contribution of our time and talent.
The variety of causes we support is endless. But the commitment is the same: At Dixon Hughes Goodman, we know that we're more than an economic factor in the cities in which we practice. We're a social influence, as well. Which is why you'll find us "after hours" engaged in many of the places that make up the fabric of our communities.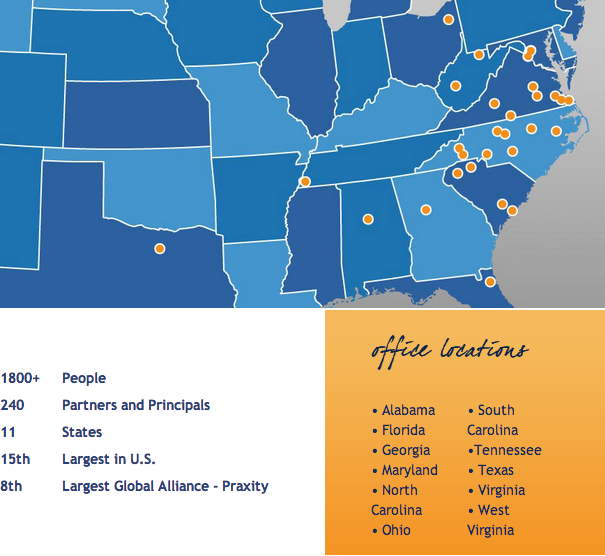 Dixon Hughes Goodman Photos
Dixon Hughes Goodman Reviews
---
Comp & Benefits

Work/Life Balance

Senior Management

Culture & Values

Career Opportunities

I worked at Dixon Hughes Goodman full-time for more than a year

Pros

The company really allows you to get experience in a variety of areas including individual tax, federal tax and state and local tax, as well as the opportunity to work with various types of entities. They give you a lot of freedom (no "big brother" watching over you) and allow you to self-manage and really take ownership of your work. The health benefits were good, a lot of options. Plus, the amount of time off was very generous (sick and PTO combined). It was a good job for my first job out of college.

Cons

Company culture is lacking. There was little communication and camaraderie among the general areas (tax, audit and consulting). The "tone from the top" seemed a little too focused on making money and not on taking care of their employees. The overtime was really draining, which is pretty typical of public accounting firms, but that doesn't make it right. There were almost no incentives for employees either, I rarely heard of anyone receiving a bonus.

Advice to Management

Advice

Give employees an incentive to go above and beyond, and work on creating a more inclusive culture.

Dixon Hughes Goodman

2014-08-21 05:49 PDT
Dixon Hughes Goodman Interviews
Updated Aug 18, 2014
Interview Details

I applied to interview on campus. There was a dinner the night before the interviews for selected students. The interview was very easy, but it was hard to tell how it went. The interviewer mostly wanted me to ask him questions about the firm. It sounded like there were not many positions available in the Tyson's office. Everyone I met from the firm from the recruiter, partner, first year associate, were all extremely friendly.

Dixon Hughes Goodman

2014-08-18 14:35 PDT
Dixon Hughes Goodman Awards & Accolades
Best Accounting Firms to Work for (Large)
,
Best Companies Group
,
2009
Headquarters
Charlotte, NC
Size 1000 to 5000 Employees
Industry Accounting & Legal
Revenue $100 to $500 million (USD) per year
Worked for Dixon Hughes Goodman? Contribute to the Community!