EMD Serono – Why Work For Us?

​​Our Strength is Our People
With ​more than 1,000 employees in the United States, EMD Serono, Inc. is dedicated to fostering what we call the culture of the possible and recognizes that our strength is our people. Our employees are intellectually curious, thrive on new experiences, and welcome professional challenges.
EMD Serono's employees are passionate and committed to making a difference in our patients' lives, and these qualities are demonstrated in their work every day. We pride ourselves on rewarding our employees by offering a rich, competitive array of benefits and value-added programs. We believe that EMD Serono, the biopharmaceutical division of Merck KGaA, Darmstadt, Germany, is a leader in biotechnology as a result of the hard work and dedication of our employees.
We are the biopharmaceutical division of Merck KGaA, Darmstadt, Germany​​​​

​​Foundation for Achievement

While we have high expectations of our employees' performance, we don't want them to feel that the time they spend at EMD Serono is just work. Rather, we want them to consider their jobs rewarding opportunities for personal growth and achievement. Our employees strive to make a positive difference every day in the lives of the patients they serve and the communities in which they work.
EMD Serono recognizes the importance of a healthy work/life balance and we are committed to helping our employees maintain that balance through a variety of programs we offer.
We believe in the value of transparency and practice it by ensuring ongoing, consistent communication throughout all levels of the organization. Internal programs and forums designed to foster open communication and sharing of ideas among employees and their colleagues include:
Lunch & Learns
Coffee hours
Informal lunches with members of the senior leadership team
All-employee business update meetings designed to communicate key initiatives
HOOP Orientation Program for new employees
Community commitment

Our employees are engaged in programs specifically designed to meet the needs of our community. Some of our key employee workplace initiatives include:
Community Service Council – This is an interdisciplinary group of approximately 15 employees who act as internal and external ambassadors and are responsible for actively engaging other employees across the organization in company-sponsored community relations activities.
Community Service Days/Weeks – In the spring and fall of each year, employees are allowed to take a day off to volunteer on company time. Participation has led to the support of Habitat for Humanity, The Greater Boston Food Bank, Rockland Public Schools, and Father Bill's & Mainspring.
Employee Matching Contribution Program – EMD Serono encourages employees to support their charities financially by providing matches on eligible donations.
Our responsibility to our patients, employees, communities, and the environment is the cornerstone of being a responsible corporate citizen and a neighbor of choice. It is essential to everything we do at EMD Serono.​​​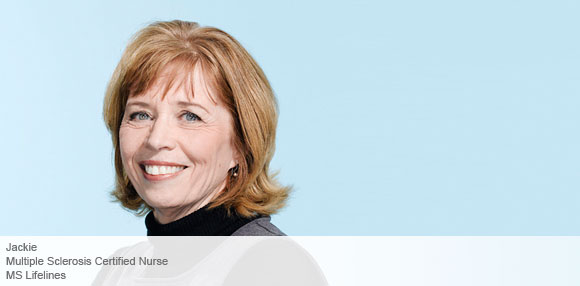 ​​When I was eight years old, my mother would take me to visit an elderly woman who lived at the end of our street. This woman was very disabled from having polio. My mother bathed her and I would help to clean her house. It seemed to take forever but when we left, her smile stayed with me for a long time. It was a really important lesson because I realized that taking care of the little things can make a huge difference in a person's life.
Working on our multiple sclerosis helpline, MS LifeLines™, I take about 50 or 60 calls a day. Sometimes patients want to know about the medication we provide, how to cope with side effects, or what to do if they miss an injection. Other times, they just want someone to confide in. I'm a nurse so I have the necessary medical knowledge. But you also need compassion.
It feels like a big responsibility but I share it with everyone else here. Of course, we all have days when we don't necessarily feel like getting out of bed early each morning, but there's never a day when I don't want to come to work. Each day when I leave work I know I have made a difference in someone's life.​​​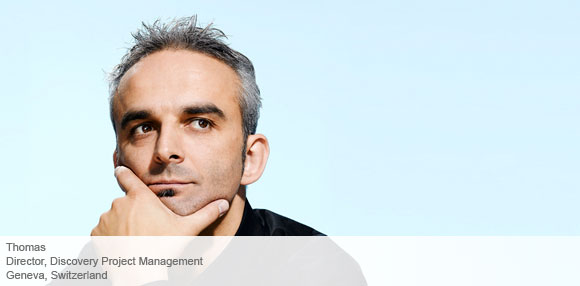 ​​
I trained as a chemist and when I first worked here, I was part of a small research team that made a breakthrough identifying PI 3-kinases as promising new biological targets for the treatment of rheumatoid arthritis.
Several times our research project was almost stopped but we persuaded management to let us push on. And we were right. It's been fantastic for everyone involved to see one of these projects progress into the clinic.
Today, I work as a project manager, helping to steer the process for discovering and developing new drugs. My role is similar to a global positioning system (GPS): I help with the directions, but the scientific team does the driving. My goal is to provide the mapping systems to get them quickly to the next decision point and make sure that all of the necessary criteria are met for the project to continue.
Speed is important, but so is quality. If we find the right balance through drug discovery and development, ultimately we will be able to bring a new therapy to patients faster. That's worth fighting for.​​​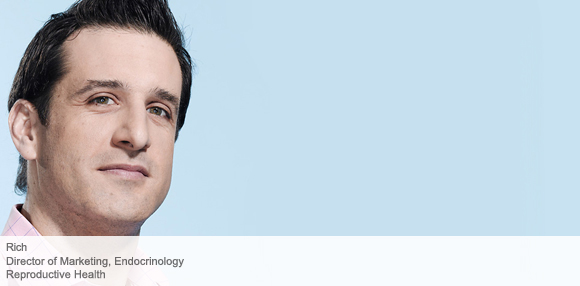 ​​
"We go beyond therapies to improve patient care"


Rich Burkett has held a number of management positions in his 10-year career at EMD Serono, but his starting job as a sales representative was one of the most formative experiences and remains a touchstone for evaluating new sales and marketing initiatives.
"One of the big advantages of working in the field forces is the face-to-face contact with physicians," he underlines. "You learn very quickly what motivates doctors and how you can meet patients' needs. Over time you build up a foundation of trust based on the common goal of improving patient care."
In his current position as Director of Marketing for Endocrinology, Rich continues to focus on patients. "We provide valuable services that complement our medical therapies. A good example is our call center for couples undergoing fertility treatment. There are trained personnel available around the clock to answer specific questions about how to use our products or deal with the emotional aspects of undergoing treatment. For many people, multiple treatment cycles are necessary, and coping with failure each time is a huge issue."
In addition, Rich points out that EMD Serono is a leader in efforts to raise public awareness about infertility. "We have launched a number of campaigns that are linked back to our website: fertilitylifelines.com. We try to educate the public about how widespread infertility really is and the urgency to get treated before time runs out on the biological clock."
Fertility Lifelines also addresses couples who discontinue treatment for financial reasons. "Merck Serono has a support program to reimburse needy patients for part of the costs during the second cycle of treatment. There are video testimonials on the website documenting how couples tried a second time thanks to this financial help and succeeded in having a healthy baby. It's a good feeling to work for an organization that can make such a difference in people's lives."
"For me, that's what 'Living Science, Transforming Lives' is all about," Rich says. "It means helping an infertile couple succeed in having a baby. It's a multiple sclerosis patient who is able to manage this debilitating disease. It's a boy with growth hormone deficiency reaching the same height as other kids his age. And it's the investment in groundbreaking science that makes all of this possible."​​​
Shared Values, Shared Success

Joining the biopharmaceutical division of Merck KGaA, Darmstadt, Germany means working for a company with an outstanding track record, where business is based on shared values and social responsibility. Our employees are our most important asset. They contribute decisively to our long-term success.
We consider the diversity of our staff to be a competitive advantage as well as vital for creativity and innovative thinking. We encourage each person to make the most of his or her unique talents. We also expect our employees to value the individuality of their colleagues. To ensure that every employee can fulfill his or her full potential, we are constantly working on creating an environment in which creativity, individuality, and mutual respect can prosper.
As an affiliate of Merck KGaA in Darmstadt, Germany, the biopharmaceutical division is part of a global pharmaceutical and chemical group with more than 40,000 employees in 68 countries. This means we can offer fascinating international career opportunities.
Our ongoing commitment to offer breakthrough treatments that make a difference in people's lives requires the many talents and experiences of our multi-cultural global work force. We value this diversity because it sparks innovation.​​​
EMD Serono Reviews
EMD Serono
58
Recommend to a friend
Approve of CEO
Karl-Ludwig Kley
8 Ratings
Work/Life Balance

Culture & Values

Career Opportunities

Comp & Benefits

Senior Management

I have been working at EMD Serono

Pros

Great people who are committed to making a difference. Pipeline provides bright future

Cons

Will be challenging until new products make it through pipeline

Advice to Management

Remain committed to keeping quality people

EMD Serono

2015-07-05 16:48 PDT

---
Application

I applied through a staffing agency. The process took 2 weeks – interviewed at EMD Serono (Billerica, MA) in October 2014.

Interview

I was contacted through a staffing agency regarding this assignment. The recruiter thought that I would be a good fit for it based on my resume, so I scheduled a 30-minute phone interview with her. Our conversation went well, and an in-person interview was scheduled for the week after. On the morning of the scheduled interview, I received a call from the recruiter, explaining that the hiring manager wasn't able to make it, and had to reschedule. I readily agreed to that, eager to meet with the manager and her team. When the time came to interview, two friendly administrative assistants from the manager's team showed up first. As they were telling me about the job, and asking questions about my experience, I quickly realized that this position was primarily an administrative support role; I was led to believe it was something more from the position title and my initial chat with the recruiter. The training manager came in next and asked me similar questions. We talked about my last role, which wasn't administrative. At the very end of the interview, the hiring manager showed up - she didn't ask me too many questions, as her team had already done most of the work. I don't fault her for that at all, as it seems like a very busy place. She walked me out at the end, told me they would contact the recruiter about a decision next week. It was a positive experience overall, but I was disappointed that the role wasn't as "scientific" as I thought. My goal is to use my administrative experience as a strong foundation to take on different types of roles.

Interview Questions

What was the most challenging role you've had in your career, and why?

1 Answer

EMD Serono

2014-10-12 08:40 PDT
EMD Serono Awards & Accolades
Training Top 125
,
Training
,
2012
Training Top 125
,
Training
,
2009
Training Top 125
,
Training
,
2008
Show More
Headquarters
Rockland, MA
Type
Subsidiary or Business Segment
Industry Biotech & Pharmaceuticals
Revenue
$100 to $500 million (USD) per year
As part of Merck KGaA, Darmstadt Germany, EMD Serono discovers, develops, manufactures and commercializes innovative biopharmaceuticals and therapies for high unmet medical needs. The focus lies in specialized therapeutic areas such as oncology, multiple sclerosis and infertility. Through their targeted effect, these medicines help patients live longer and better lives ... More
Mission: We are committed to transforming science into breakthrough medicine and solutions of the highest quality to make a real difference in the lives of patients and their caregivers. We are dedicated to the task of understanding diseases and developing the treatments of the future. To achieve this mission, we invest heavily in research and development as we build on our current therapeutic areas and move into new disease areas. Equally important is our commitment to corporate compliance.
Work at EMD Serono? Share Your Experiences