Loading...
Genentech – Why Work For Us?

Changing the Course of Medicine
When you work at Genentech, you'll come to understand that changing the course of medicine requires the kind of inspiration that can only come from a combined commitment to patients, science and people.
Patients
Everything we do at Genentech is driven by a desire to make a difference in the lives of patients. Their individual stories inspire our researchers to do groundbreaking science and motivate us all to continue developing new treatment options for people with serious or life-threatening diseases. It's the tireless mother who gives her kids 100 percent while hiding the pain from rheumatoid arthritis. It's a young boy coming to grips with cystic fibrosis. It's a new grandfather who just learned he has stage IV colon cancer. These are the people who remind us of what we do and why — day after day.
Science
The passion that drives Genentech is the belief that the science of life — biology — holds the keys to solving life's toughest health challenges. Innovative science is the basis of our existence and the foundation for our future. To achieve our goals, we approach opportunities and challenges with an open mind, challenge the status quo, champion new ideas and take prudent risks. And, while we recognize that failure is a possible outcome, we focus our attention on long-term success and the difference we can make in the lives of patients.
People
Succeeding in the work we do requires exceptional people. We bring together the most talented employees we can find, and then we provide them with the opportunity to be themselves. We do this by encouraging diversity in all its forms — thought, skill, experience, culture and style. Each individual strengthens Genentech by offering unique and meaningful perspectives. In fostering this type of environment, we feel our employees are able to deliver their greatest contributions to Genentech and, most importantly, to our patients.
Working here is living a Life Inspired.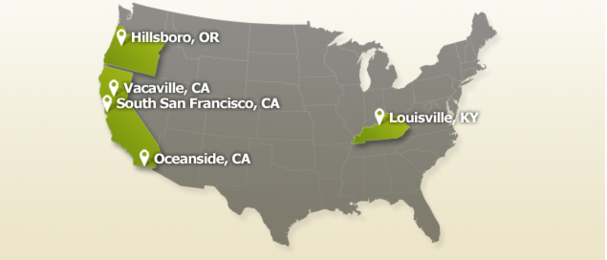 One Goal, Many Locations
Following our March 2009 merger with Roche, Genentech's South San Francisco campus became the headquarters for Roche pharmaceutical operations in the United States. All of Genentech's U.S. sites are united by our goal of meeting the needs of patients. Our research facilities, manufacturing plants and distribution centers are located in the following cities within the United States:
South San Francisco, California - This is where it all started. Genentech's main campus located south of San Francisco is the epicenter for the biotechnology industry.
Oceanside, California - On the southern California coast between Los Angeles and San Diego, our 60-acre campus features a multi-product, biotech manufacturing and clinical operations complex.
Vacaville, California - The Vacaville site, in Northern California is home to 274,000 square feet of space housing one of the world's largest specialized biotechnology manufacturing plants.
Hillsboro, Oregon - Just outside of Portland, Hillsboro is the site of our west coast distribution center and a state-of-the-art fill/finish facility.
Louisville, Kentucky - Our 150,000-square-foot distribution center in Louisville, is a crucial element in the distribution and fulfillment of Genentech's breakthrough therapies.

Outstanding Benefits Are Just the Beginning
Genentech is recognized for providing our employees with some of the most competitive and comprehensive benefits in the country. In 2010, we were ranked on FORTUNE Magazine's "100 Best Companies to Work For" for the 12th consecutive year.
Far more important than public recognition, though, is the motivation behind making Genentech a truly great place to work. We believe that you, as an employee, matter above everything else. We back that statement up continuously with a unique approach to providing you with great benefits and valuable resources. Our benefits packages and resources are designed to support you in creating the life and work style that brings your best to your community, your family and Genentech's mission of addressing significant unmet medical needs.
Most of Genentech's benefits cover employees who work at least 20 hours a week and their eligible dependents. Eligible dependents include:
A spouse or domestic partner
Children (biological, step, foster, adopted or legal charge) up to age 26
The majority of our benefits become effective immediately on the date of hire without any pre-existing condition exclusion (temporary employees, contractors, interns and co-ops are not eligible for benefits).
In addition to an array of
health
and
financial
benefits and learning opportunities, we offer competitive compensation and bonus programs that reward you for your contributions toward achieving the company's mission and strategic goals. We also provide you with a wide range of services designed to help make life easier while you are at work, so you can spend your
free time
doing more of the things you enjoy most.
---
1 person found this helpful

Comp & Benefits

Work/Life Balance

Senior Management

Culture & Values

Career Opportunities

I have been working at Genentech full-time for more than 5 years

Pros

I have met many different types of people and personalities and there's never a dull moment.
I believe I am fairly paid across industry standards, I get 12 hours of paid vacation a month, and the company is a huge advocate of making positive changes that enhance our safety, quality and production.

Cons

This company is well-known, but like many companies, still very disorganized, possibly due to high turn over rates. I've had over 7 supervisors in the last 5 years and it's hard to create a positive reputation or to demonstrate growth to those in positions to hire or promote due to high turn-over rate for even leadership personnel.

Advice to Management

Advice

Keep people-oriented. As a leader, you should want to command a group that will out of respect voluntarily choose to follow and aid in your vision that not only benefits the company, but benefits the development and growth of your personnel.

Genentech

2014-09-07 22:12 PDT
Genentech Interviews
Updated Sep 13, 2014
Application Details

I applied through a recruiter. The process took 2 weeks - interviewed at Genentech.

Interview Details

Applied through a recruiting agency. First, I had to take an online simulation test. Very straight forward and simple, as long as you pay attention. Interviewed in person with two managers. No introduction, just asked three situational questions. Not too difficult but be prepared to come up with specific examples.

Interview Questions

Give an example of a situation when being a "great-listener" benefited you at your previous job? Answer Question

Genentech

2014-09-13 15:17 PDT
Genentech Awards & Accolades
100 Best Companies to Work For
,
Fortune
,
2014
Innovation Awards: Corporate Use of Innovation
,
The Economist
,
2013
100 Best Companies to Work For
,
Fortune
,
2012
100 Best Companies to Work For
,
Fortune
,
2010
Best Places to Work for LGBT Equality
,
Human Rights Campaign
,
2010
Show More
Headquarters
South San Francisco, CA
Size 5000+ Employees
Type
Subsidiary or Business Segment
Industry Biotech & Pharmaceuticals
Revenue $2 to $5 billion (USD) per year
Considered the founder of the industry, Genentech, now a member of the Roche Group, has been delivering on the promise of biotechnology for over 35 years.

At Genentech, we use human genetic information to discover, develop, manufacture and commercialize medicines to treat patients with serious or life-threatening medical conditions. Today, we are among the world's leading biotech companies, with multiple products on the market and a promising development pipeline.
Worked for Genentech? Contribute to the Community!