Guardian Life
This employer has taken extra steps to respond to reviews and provide job seekers with accurate company information, photos, and reviews. Interested for your company?
Learn More
.
Be The First To
Add Photos
Headquarters
New York, NY
Size 5000+ Employees
Industry Insurance
Revenue $5 to $10 billion (USD) per year
---
The Guardian Life Insurance Company of America, currently ranked #238 on the Fortune 500, is the country's fourth largest mutual insurer, with $5.8 billion in capital and $8 billion in total revenue in 2012. Guardian consistently scores high marks for financial strength from all four major credit rating agencies and enjoys a strong competitive position in each of its four major businesses: Individual Life, Group Insurance, Individual Disability and Retirement Solutions.

As a mutual company, Guardian is owned by its policyholders and the company's 5,100 employees and... More
Guardian Life – Why Work For Us?
Why Guardian

|

Benefits

|

Development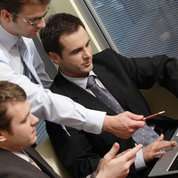 ​​As one of the largest mutual insurance companies—operating for more than 150 years in the U.S.—Guardian possesses many attributes which makes us a particularly viable employer for you to consider during your career search.

Guardian is a thriving enterprise which enjoys ongoing growth, as is evident by our exemplary ratings from four major credit rating organizations— A.M. Best, Standard & Poor's, Moody's, and Fitch.* Even during a recession, Guardian was the only major life insurance company upgraded by two ratings agencies in 2008.

As a mutual company, Guardian operates solely for the benefit of its participating life policyholders, who share in the company's performance through the payment of annual dividends.1 Unlike stock-based companies, there are no outside stockholders to share in the profits, so Guardian is not subject to the short-term demands of Wall Street.


Financial Highlights as of 12/31/10 (statutory basis):
| | |
| --- | --- |
| Admitted Assets: | $33.1 billion |
| Liabilities: | $28.7 billion (with $25.1 billion of reserves) |
| Surplus: | $4.4 billion |
​​​​​Our Values
​​​​Who says values are old fashioned?​​
Strong principles form the foundation of our approach to doing business. So while we're constantly innovating —putting new technology to work and creating timely financial products—our values have remained constant for more than a century and a half.

​​We do the right thing​​
There's no right way to a do a wrong thing. That's been our philosophy since day one. It's a simple, yet profound principle, and it makes all the difference in how we do business.

​​People count​​
People are at the heart of everything we do. Individuals, families and business owners put their trust in us to protect the people who matter to them. And we make it a point never to forget that.

​​We hold ourselves to very high standards​​
The people who put their trust in us expect a lot from us. We try to exceed every expectation by performing to the highest standards to make sure we live up to that trust.​​​
This is the employer's chance to tell you why you should work for them. The information provided is from their perspective.
Working at Guardian Life
Posted by employees
Employees say it's "OK"
163

ratings
75% of the CEO 53 ratings
Deanna M. Mulligan
President and CEO
Pros: Good work/life balance, growth-oriented, safe from Wall St. Senior management understands the need for growth. Good salary and benefits in these times. For those of you who complain, we actually have it pretty good. Survey your friends/family. You'd… – Full Review
| | | |
| --- | --- | --- |
| Salaries in USD | Avg. Salary | |
| 62 Guardian Life Salaries | $101,424 | |
| 16 Guardian Life Salaries | $84,965 | |
| 14 Guardian Life Salaries | $110,846 | |
= Salary Range
= Anonymous Salary Range
= Avg.
If we only have one or two salaries posted for for a given job title, showing that salary information may risk employee anonymity. So in that case we generate an anonymous salary range by adding and subtracting a small percentage from the posted salary. The small percentage difference offers additional anonymity while still minimizing the difference between the range and the employee's actual salary.
No Offer – Reviewed 6 weeks ago
Interview Details – Phone and face to face interviews. Regular PM question, nothing earth shattering. Was asked several question. Given a skills test. Examples of most complicated project completed. Ask to identify strengths and weaknesses. – Full Interview
Interview Question:
Given test – Answer Question
Guardian Life Awards & Accolades
Let us know if we're missing any workplace or industry recognition – Add an award
Worked for Guardian Life? Contribute to the Community!