Hitachi Data Systems – Why Work For Us?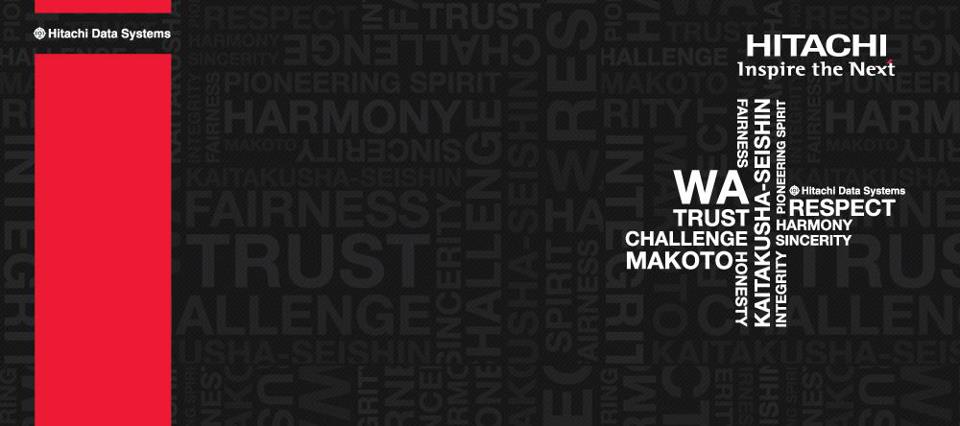 Hitachi Spirit
Hitachi Spirit is what distinguishes us as the employer and partner of choice. It's more than our foundation, more than a poster on the wall. It's how we operate every day, how we get things done. It's who we are.
Wa: Harmony – Trust – Respect
Makoto: Sincerity – Fairness – Honesty – Integrity
Kaitakusha-Seishin: Pioneering Spirit – Challenge
Hitachi Data Systems was formed in 1989 as a joint venture between Hitachi, Ltd., and Electronic Data Systems Corporation, and became a wholly owned subsidiary of Hitachi, Ltd., in 1999.
We have grown to now provide information technologies, services and solutions that help companies improve IT costs and agility, and innovate with information to make a difference in the world. With approximately 5,900 employees worldwide, Hitachi Data Systems does business in more than 100 countries and regions. Our products, services and solutions are trusted by the world's leading enterprises, including more than 70% of the Fortune 100 and more than 80% of the Fortune Global 100.
Hitachi, Ltd., headquartered in Tokyo, Japan, is the parent of Hitachi Data Systems. It was founded in 1910 as a repair shop for mining equipment. Now, Hitachi is one of the world's largest integrated electronics companies and it has made strategic decision to focus on social innovation for the good of its customers and its many communities around the world.
10th largest software company with total FY11 revenues of US $118 billion
Number 38 on the Fortune Global 500
More than 320,000 employees and more than 900 subsidiaries
Hitachi manufactures and markets more than 22,000 products, including computers, semiconductors, consumer products, and power and industrial equipment. To ensure the technological leadership of its products, the company invests more than $5 billion annually in global research and development.
Competitive Benefits for You and Yours
Benefits, compensation, rewards and the proper balance between work and life are important to us all as individuals and employees. Our goal is to provide benefits to support your needs and those of your family. We recognize those needs change and we offer a wide variety of benefits to meet them.

In each country where we operate we offer a competitive pay, bonus and benefits package. In general we offer health and dental coverage, paid time off for holidays and illness, retirement (or company investment plan), assistance with furthering your education and a variety of other special benefit programs. Most benefits are effective on your date of hire unless stated otherwise.

We also offer competitive levels of annual, parental, military or personal leaves (specific to each country). Many employees take advantage of special work arrangements such as telecommuting, working from a remote office or utilizing flex-time to start their day earlier or later to fit their needs. All our programs are based on what is appropriate and possible for the position and the location where our employees reside.
Social Innovation Is What We Do
Now that social issues are global, corporations like Hitachi, Ltd. and Hitachi Data Systems have an increasingly important role to create and support a sustainable society. Under these circumstances, the Hitachi Group has reaffirmed the significance of Corporate Social Responsibility.

Our vision is to realize a world that is made safer and more comfortable to live in by harnessing our knowledge and technologies to resolve the basic issues facing global society. We are deeply aware that a business enterprise is itself a member of society. Hitachi is resolved to be a good citizen of the community and work towards the realization of a truly prosperous society. We strive to conduct our corporate activities in a fair and open manner, promote harmony with the natural environment, and engage vigorously in activities that contribute to social progress.
Each of Us Is as Important as All of Us
A diverse workforce creates a richer work environment complete with better thinking, creative solutions and teamwork that spans culture, time zones, gender and areas of expertise. We are committed to a diverse workforce leveraging the best every employee has to offer.
What Makes this so Great:
Hitachi Data Systems was hand-selected as one of Fortune's 100 Best Companies to Work for in 2012. We truly value our employees and organizational culture and were honored by this recognition.
What makes us a Great Place to Work at?
The IT subsidiary of the Japanese electronics giant encourages employees to uphold traits like wa (trust) and makoto (sincerity and fairness).

Headquarters:
750 Central Expressway Santa Clara, CA 95050
2010 revenue ($ millions): 3,270
Website: www.hds.com
Hitachi Data Systems Photos
Hitachi Data Systems Reviews
---
Comp & Benefits

Work/Life Balance

Senior Management

Culture & Values

Career Opportunities

I have been working at Hitachi Data Systems full-time for more than 3 years

Pros

Great company to work for, strives to treat employees well. Constantly addressing work/life balance issues and is looking out for the employee. Offers a good benefits package. Encourages education and pays for any relevant training that you may desire.

Cons

Often hires new employees as contract employees, which then must work their way toward "full-time" employment status within the company. Although contract employees often have no issues and an good experience with the third party.

Hitachi Data Systems

2014-09-23 18:34 PDT
Hitachi Data Systems Interviews
Updated Sep 18, 2014
Application Details

I applied through a recruiter. The process took 1 week - interviewed at Hitachi Data Systems in September 2014.

Interview Details

I was contacted by a third party recruiter in early September to gauge my interest in the position. From there, I did one phone screen with a Project Manager at Hitachi, and one onsite interview with the same Project Manager, and two Engineering Team Leads. They asked questions about my work history, how I keep organized, what I was looking for long-term, what experience I have in event planning -- standard questions for any Office Manager position.

They ultimately selected a different candidate for the role, but I would like to make it known that my interview experience was very positive. Everyone was warm, friendly and courteous onsite, and I definitely would have accepted an offer if it had been made.

Interview Questions

Nothing unexpected. Very standard questions for an interview. Answer Question

Hitachi Data Systems

2014-09-18 12:54 PDT
Hitachi Data Systems Awards & Accolades
World's Most Ethical Companies
,
Ethisphere Institute
,
2014
100 Best Companies to Work For
,
Fortune Magazine
,
2014
Training Top 125
,
Training
,
2009
Ethics Inside Certification
,
Ethisphere Institute
,
2011
Bay Area Top Workplaces
,
Bay Area Newsgroup
,
2011
Show More
Headquarters
Santa Clara, CA
Size
1000 to 5000 Employees
Type
Subsidiary or Business Segment
Industry Information Technology
Revenue
$100 to $500 million (USD) per year
Hitachi Data Systems provides information technologies, services and solutions that help companies improve IT costs and agility, and innovate with information to make a difference in the world. Our customers gain compelling return on investment (ROI), unmatched return on assets (ROA), and demonstrable business impact.

We have approximately 6,000 employees worldwide.
We... More
Mission: Society's need for advanced technologies is constantly evolving; in turn, so is Hitachi. With its determination to improve the quality of life for the global community... More
Worked for Hitachi Data Systems? Contribute to the Community!