LoyaltyOne
This employer has taken extra steps to respond to reviews and provide job seekers with accurate company information, photos, and reviews. Interested for your company?
Learn More
.
LoyaltyOne – Why Work For Us?

​​LoyaltyOne is a great place to work.​​
And we work hard to keep it that way. Our global industry leadership, passion for innovation and focus on career development - backed by competitive rewards and eco-conscious office spaces - have earned us acclaim as one of Canada's employers. ​​​People do great things when they feel a strong sense of loyalty – whether they're customers, citizens or employees.
Loyalty is what drives us in our business and as an employer. We invest in the loyalty of every one of our associates by fostering a culture in which:
passion and imagination are balanced by pragmatism;
employee growth extends across all our lines of business;
we walk the talk on responsibility to our community and to our planet.
LoyaltyOne – learn, grow and contribute. See why loyalty matters.​​
​​Our Core Values​​​
Passion
Collaboration
Curiosity
Agility
Pragmatism
Thought Leadership
​​These are the core values that guide our business and the qualities that we look for in prospective LoyaltyOne associates.​​
​​We ensure all associates have the tools they need to get where they want to go.​​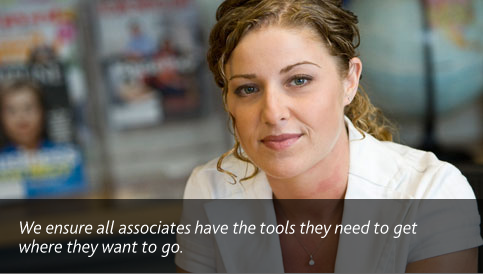 ​​What are your goals?
From day one, we provide a structured framework for your career development at LoyaltyOne. As you grow in your role, we help you gain valuable experience, enhance your skills and map out a career path that meets your personal goals while furthering our objectives as a business.
​​We're ready to support your future success.​​
Loyalty101: our comprehensive on-boarding program
We get all new associates on track with a comprehensive overview of our core values and interrelated businesses, all within the broader context of the loyalty industry.
Career management workshops: getting your strategy in motion
In these custom-tailored sessions, we clarify expectations, define accountabilities and provide suggestions and support for achieving your career goals.
Learning Management System: 3,000+ courses on line
You can use this interactive tool to access a vast range of career-related courses on everything from business and technical topics to interpersonal skills.
Learning resources: our libraries and online knowledge bank
Broaden your expertise by tapping into our intranet resource center of industry information, along with our huge collection of business books, magazines and multimedia materials.
Leadership and skills development: expert-led workshops and seminars
We offer ongoing learning opportunities in leadership development as well as business communications, effective presentations and other specialized skills.
Back to school: our tuition reimbursement program
If further education will advance your LoyaltyOne career, we're ready to help. Permanent associates can receive support for both full-time and part-time formal studies.

​​Alla​​
AIR MILES Reward Program
AIR MILES people are passionate, hard-working, ambitious – and they really believe in what we do. That's what makes us leaders in loyalty. It also makes work fun, being in a place where everybody wants to excel and collaborate to achieve the goals of the business. It's never boring, always challenging. That's what has kept me here for more than a dozen years, working at 110%.​​​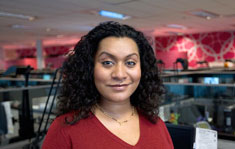 ​​​​Shivali​​
AIR MILES Reward Program
I love working for AIR MILES because of its diversity and the dynamic people I work with. This company is passionate about having a positive culture and is always recognizing employees for a job well done. Last year I received the Chairman's Excellence Award. I was really honored – it was a moment I'll never forget.​​​

​​​​​​Jim​​​​
Corporate Marketing and Communications
What drew me to LoyaltyOne was the opportunity to work with a global leader in the loyalty space. There are dedicated, talented and inspiring people at every level of this organization. We're all committed to the work we do every day for our customers. And I'm really proud of the fact that we give back to the communities in which we live and work.​​​​​​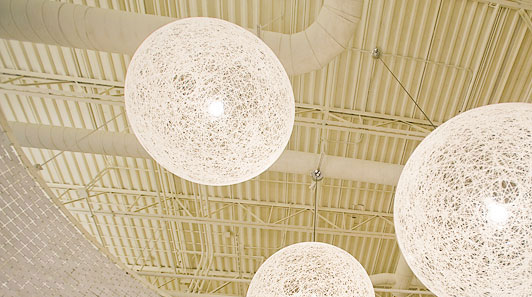 ​​Do you want to work in a facility that is equipped with on-site massage therapy, a full-featured fitness facility, and a gourmet café with healthy food options? How about cutting-edge interior design and ergonomic workstations? And – why not – a games room?
While setting the pace and agenda for the global loyalty industry, you want to be comfortable in your surroundings. It's natural to take that into consideration in choosing your place of work. We certainly have. In fact, let us tell you a little more about two of our favorite spaces at LoyaltyOne.​​​
The Rewards of Working at Loyalty One.
We recognize associates' efforts with competitive compensation and benefits, along with programs designed to promote healthy, balanced lifestyles.
At LoyaltyOne, hard work, commitment and results-driven performance are duly rewarded. We offer associates a comprehensive package of financial rewards, health and dental benefits, and programs designed to promote work-life balance.
​​Health & Wellness
Medical, dental and disability coverage
Wellness subsidy
Maternity leave "top-up"
Employee assistance program
Compensation
Competitive base pay
Annual bonus program
Employee stock purchase plan
Company-matched RRSP/401(k) contributions
Work-Life Balance
Competitive vacation policy, including personal days and a sabbatical program
Buy-a-vacation program
Fun social events and activities
Your contribution will be noticed.
We acknowledge associates' hard work through our Anniversary Recognition Program, the President's Circle awards and other company-wide programs recognizing excellence.
Please note that specific rewards may vary across LoyaltyOne businesses, locations and positions.​​​
---
Bryan A. Pearson
21 Ratings
Comp & Benefits

Work/Life Balance

Senior Management

Culture & Values

Career Opportunities

I have been working at LoyaltyOne full-time (more than 10 years)

Pros

The company was very supportive to the employees. Many hours were spent in upgrading and coaching. If someone wanted to take the time and effort to learn more about travel, the opportunity was there, if the interest was there. I felt the company rewarded me for my efforts, and my managers were always pleased with my work. I loved my job. The atmosphere in the first 10 years of my employment-1993-to approx. 2003 was that of a community, and many friends were made .

Cons

Some challenges-things over the years were changing. The old tried and true methods were not deemed not as important anymore. New employees did not have the same loyalty, or the same vision as the older employees. The important details of being in a position as a travel sales agent were replaced by do-it-yourself with the advent of online booking.

Advice to Management

Advice

Management does not recognize the difficulty of working with the collectors on a one-to-one basis on the phone. The internet has confusing info, not always coinciding with what is actually practiced in the office. The IT department has never actually worked with the system on a day to day basis, and they are clueless as what we do every day.

LoyaltyOne

2014-10-15 16:32 PDT
LoyaltyOne Interviews
Updated Sep 28, 2014
Interview Details

One face interview and two phone interviews on different department, including precima and loyalty one itself. They said the result is made on group decisions, based on average of the three.

Interview Questions

definition of elasticity, knowledge on search algorithms, math tests. Answer Question

LoyaltyOne

2014-07-14 17:29 PDT
LoyaltyOne Awards & Accolades
Best Employers in the Great Toronto Area (GTA) 2013
,
GTA Best Employers List
,
2013
Canada's 50 Best Employers for 2013
,
AON Hewitt
,
2013
Canada's 10 Most Admired Corporate Cultures
,
Waterstone Human Capital
,
2012
Top 10 Influential Brands Canada
,
Ipsos
,
2013
Canada's Greenest Employers
,
Canada's Top 100 Employers
,
2013
Show More
Headquarters
Toronto, Canada
Size
1000 to 5000 Employees
Type
Subsidiary or Business Segment
Industry Business Services
Revenue
$50 to $100 million (USD) per year
At LoyaltyOne, we set the pace and agenda for the loyalty industry.

Harnessing powerful insights of loyalty to enrich relationships between companies and their customers.

LoyaltyOne is a global provider of customer insight and strategy, marketing and loyalty programs and customer experience management. Our roster of clients includes Fortune 1000 companies across the... More
Mission: LoyaltyOne is dedicated to enriching the careers and lives of our associates.
Work at LoyaltyOne? Share Your Experiences