MIT Lincoln Laboratory – Why Work For Us?
Rich Technical Challenges
The real-world challenges of U.S. security and protection provide a continuously evolving array of satisfying, cutting-edge research and development opportunities. Agile thinkers will enjoy the freedom to develop novel ideas and then build and test them in sophisticated real-world simulations. There is stability and funding for long-term research goals as well. Many projects are multidisciplinary and collaborative, allowing staff - who are all experts in their own fields - to learn from and inspire each other. There is also support for building collaborative relationships beyond the Lab. Because of our close relationship with MIT, there are opportunities to consult with MIT faculty and the Lab encourages and supports publication and presentation of results and participation in professional society activities.
Support to Excel Professionally and Personally
Lincoln Laboratory provides a variety of benefits and amenities to support professional development and work/life balance, from generous tuition assistance and in-house courses on technical subjects and business management, to an on-site fitness facility, numerous sports leagues and clubs, and access to discounts on movies and museums. Some of our more unique opportunities include the Lincoln Scholars Program, which allows employees to apply for full-time pursuit of Master's or Doctoral degrees; and eligibility for the Federal Student Loan Forgiveness Program, which pardons remaining student loan balances after 10 years of full-time Lab service and loan payments.
Inclusive and Welcoming Environment

To assist new employees in transitioning into the Laboratory and local area, the Lincoln Laboratory New Employee Network offers opportunities for social and professional networking. Active employee resource groups provide an additional forum for employees to connect with colleagues of similar backgrounds and experiences.
Community Engagement

For those who value giving back, opportunities also abound. Educational outreach efforts include the Lab's "Science on Saturday" program for kids – fun, free science demonstrations offered at the Lab several times each school year – and "CyberPatriot," a national student competition to defend a simulated corporate network from external attacks. Community-based outreach ranges from "Support our Troops" initiatives to our holiday giving tree.


Please visit our website at http://www.ll.mit.edu to learn more about our opportunities and mission areas and go to http://www.ll.mit.edu/employment/iamlincoln.html to read about the talented employees who are MIT Lincoln Laboratory.
Working at Lincoln Laboratory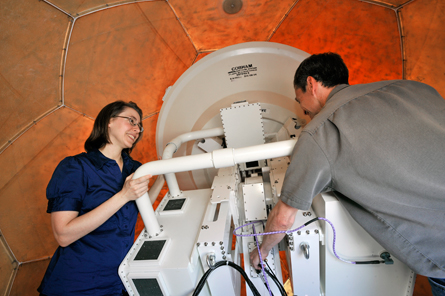 MIT Lincoln Laboratory technical staff work on applied research and development to provide solutions to national defense problems. Laboratory projects continually evolve with technology, presenting scientists and engineers with opportunities to explore new lines of research. In addition, many projects are multidisciplinary and collaborative.
The Laboratory, employing about 3700 people, has a strong infrastructure to support the research and demonstration activities behind the development of new devices and technologies. Lincoln Laboratory's facilities include dozens of small, specialized labs; a major microelectronics laboratory; an airborne test bed facility and an RF system test facility; the Lincoln Space Surveillance Complex; and a comprehensive library.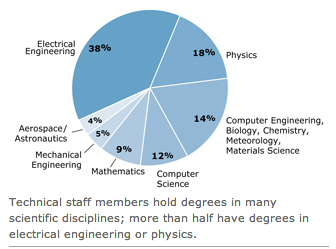 Approximately 1700 technical staff members work on research, prototype building, and field demonstrations. The technical staff come from a broad range of scientific and engineering fields. Two-thirds of the professional staff hold advanced degrees, and 60% of those degrees are at the doctoral level.
Recognizing the evolving threats in the modern world, The Laboratory has initiated creation of a Cyber Security Division that will invesitgate solutions in Cryptography, Network Security, Penetration Analysis, and other cyber security threats..
The Laboratory's strong affiliation with MIT provides staff with opportunities to take advantage of MIT's offerings—courses, seminars, cultural events, and facilities.
The Laboratory's location just outside Boston affords access to many fine universities and colleges. The Boston area also has excellent cultural institutions and recreation for sports enthusiasts and fans.
Benefits
Employment at MIT Lincoln Laboratory brings with it the opportunity to participate in a variety of benefit programs. Benefit programs are reviewed periodically, and as a result, the programs and descriptions provided here are subject to change. More details on the programs can be found at MIT's Employee Benefits site or by visiting our multimedia virtual tour.
Insurance
Medical: For employees and eligible dependents, available health plans include Health Maintenance Organizations (HMO) and Point-of Service (POS) plans.
Dental: Employees can choose a basic or comprehensive PPO dental plan that includes a large network of participating dentists with low out-of-pocket costs.
Vision: An optional vision plan defrays costs for eyeglasses or contact lenses.
Life Insurance: MIT-paid Basic Life Insurance up to $50,000 and optional Supplemental Life Insurance are available to most employees through the Group Life Insurance Plan.
Long-Term Care Insurance: An optional employee-paid plan is available to eligible employees, retirees, their eligible spouses, spousal equivalents, parents, parents-in-law, grandparents, and grandparents-in-law.
Long-Term Disability: This MIT-paid benefit available to eligible employees protects against the loss of income when an employee cannot work because of illness or injury.
Flexible Spending Accounts: Employees can set aside money (up to IRS maximum limit), on a calendar-year basis, that is sheltered from federal, state, and FICA taxes to pay for certain planned medical, dental, and dependent-care expenses.
Adoption Assistance Program: Up to $5000 per finalized adoption is available for eligible expenses. Further details are available.
Retirement Plans
Supplemental 401(k) Plan: A "defined contribution" plan that provides an opportunity for employees to invest for their future through pre-tax contributions. When employees contribute to the 401(k) Plan, MIT will match their contributions up to 5% of their salary. Employees choose how their contributions and MIT's matching contributions are invested. Employees are vested immediately.

Basic Retirement Plan: A "defined benefit" plan that provides a benefit payable as lifetime, monthly income at retirement. MIT pays the full cost of the Basic Plan and enrollment in the plan is automatic. New employees hired after July 1, 2011, will be required to complete a 3-year vesting period. Service immediately preceding your employment at MIT for another not-for-profit organization or as a leased employee while working at MIT for a period of at least 1 year can be used as a credit toward the 3-year vesting requirement.
Educational Assistance
Tuition Assistance Plan: Available to help employees obtain, maintain, and improve the skills necessary to develop their careers at MIT by providing financial assistance for qualified courses of study at accredited universities. Plan may provide as much as $5250 per year in tuition costs for approved courses.
Children's Scholarship Plan: The plan provides educational grants for childrenof employees to attend MIT and, in some cases, accredited universities outside of MIT.
Children's Educational Loans: Employees may request a loan from MIT to help pay for higher education for eligible dependent children.
Lincoln Scholars Program: For staff members interested in pursuing formal technical graduate programs at either the master's or doctoral level, the Laboratory offers the opportunity to apply for admission to the Lincoln Scholars Program, which enables full-time graduate study at MIT or other approved Boston-area universities.
Additional educational opportunities include Lincoln Laboratory's Technical Education Program, Professional Training and Development Program, and Computer Training Program.
Leaves
Vacation: A competitive vacation program is available to all employees. Detailed information is available at the time of interview.
Holidays: Employees receive 12 paid holidays each year. Details are available upon request.
Sick Leave, Extended Sick Leave, and Parental Leave are also available to eligible employees.
Relocation
A competitive relocation program is available to eligible employees. Details are available at the time of interview.
Additional amenities offered at Lincoln Laboratory
Cafeteria: The Laboratory has onsite food services catered by a local firm. Breakfast and lunch are available along with coffee, beverages, and snacks.
Fitness Center: Employees may join an onsite fitness center run by the MIT Athletic Department. The fitness center includes state-of-the-art equipment, as well as locker rooms and showers. A variety of aerobic and fitness classes are also offered.
Transportation: The Laboratory operates a shuttle service between the Laboratory and MIT campus in Cambridge, Mass. Public transportation is also accessible to and from Lincoln Laboratory.
MIT Federal Credit Union: All MIT Lincoln Laboratory employees may become members of the MIT Federal Credit Union, which offers savings plans and low-interest loans.
Onsite Library and Information Services: The library at Lincoln Laboratory provides complete information services to facilitate the staff's research. It offers a highly focused and comprehensive collection of technical books, reports, and electronic journals and databases in all Laboratory technology areas. Information specialists with degrees in physics, mathematics, aerospace engineering, and computer science are available to provide training and research support.
Child Care: The Technology Children's Center is an independent, nonprofit child-care center managed by Bright Horizons and serving the Laboratory. The Center, located in Lexington, Mass., has programs for infants, toddlers, and preschoolers.
Back-up Child Care and Elder Care Referral Program: Benefits-eligible employees have access to this program through Parents in a Pinch.
MIT Activities Committee: The MIT Activities Committee purchases blocks of tickets which, in turn, are made available to employees at discounted prices. Activities include popular events, theater productions, and group outings to events throughout the Northeast.
Note: Benefits are available to employees working 50% or more of a full-time work schedule in an eligible classification. However, specific benefits may be affected by working less than 100% time or one year of employment. This site is intended to provide a brief summary of benefits and services. If there is an inconsistency between this site and the plan documents, the plan documents will govern. MIT reserves the right, at its discretion, to modify, change, or revoke any of the plans, programs, practices or policies described here, as MIT may require, with or without notice at any time. Nothing in the guide shall be construed as creating an express or implied obligation on the part of MIT.
Professional Development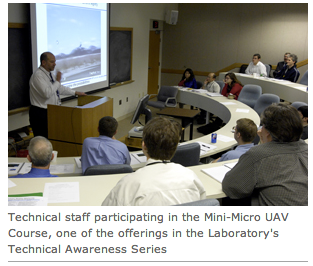 MIT Lincoln Laboratory's commitment to the professional development of its staff is founded on the recognition that the Laboratory's extensive research and development contributions are made possible through the staff's continuing excellence and accomplishments.
The Laboratory encourages its staff to pursue advanced degrees and continuing education. The tuition assistance program provides support for educational endeavors at MIT or other schools in the Boston area.
The Graduate Education Program fosters staff participation in a number of initiatives.
The Lincoln Scholars Program, for which staff are eligible to apply, enables the pursuit of advanced degrees on a full-time basis.
Distance learning programs with Carnegie Mellon University and Pennsylvania State University make it possible for technical staff to complete master's degrees in information technology while continuing to work full time at the Laboratory.
Our in-house education program offers courses in technical subjects such as electro-optics, one-day technical seminars, classes in software applications and systems, and workshops in leadership and business skills.
Support for professional activities is strong. The Laboratory encourages staff to publish in technical journals, attend conferences, and participate in activities of their professional societies. In addition, interdisciplinary projects and the diversity of work allow individuals opportunities to follow new interests and grow professionally.
The library at Lincoln Laboratory provides complete information services to facilitate the staff's research. It offers a highly focused and comprehensive collection of technical books, reports, and electronic journals and databases in all Laboratory technology areas. Information specialists with degrees in physics, mathematics, aerospace engineering, and computer science are available to provide training and research support.
"MIT Lincoln Laboratory recognizes that its continuing success is achieved through the appreciation and support of the diverse talents, ideas, cultures, and experiences of its employees."
— Dr. Eric D. Evans
Director
Employee Resource Groups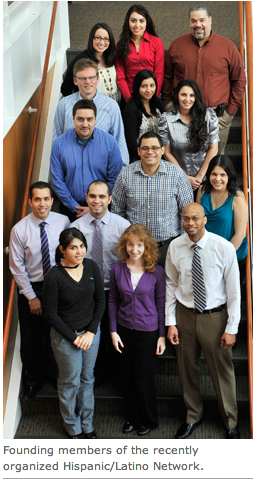 Lincoln Laboratory New Employee Network (LLNEN)
LLNEN helps new employees transition into the Laboratory and the local area, and provides support to new employees through social and professional networking. LLNEN is committed to community outreach, facillitating opportunities for members to get involved in projects such as building houses with a local Habitat for Humanity chapter.
Lincoln Laboratory Technical Women's Network (LLTWN)
LLTWN is a forum for women technical staff to share experiences and resources. LLTWN's goals are to promote the professional development and achievement of technical women employees at all stages of their careers.

Lincoln Laboratory Hispanic/Latino Network (LLHLN) LLHLN fosters diversity and inclusion by enhancing awareness of the Hispanic culture, supporting professional development, and promoting educational outreach. On Thursdays, LLHLN holds a Spanish-spoken-here luncheon; the Lab community is invited to enjoy the camaraderie and polish up their Spanish. LLHLN members also volunteer to help with campus recruiting.
Lincoln Laboratory Veterans' Network (LLVETs)
Recognizing that Lincoln Laboratory employees who are U.S. veterans have unique concerns and perspectives, LLVETs provides support to veterans transitioning directly from the military, engages in outreach to local active-duty troops and veterans, and works to create a network that informs members of activities and legislation affecting veterans.
Lincoln Employees' African American Network (LEAN)
LEAN was established to help the Laboratory promote the recruitment of top African American candidates, provide support for the professional development of African American employees, and foster an environment of inclusion.
Lincoln Laboratory Out Professionals & Employees Network (LLOPEN)
LLOPEN serves as a resource for the Lesbian, gay, bisexual, and transgender (LGBT) community at Lincoln Laboratory. The group also provides the Laboratory with guidance in dealing with LGBT issues, helping promote an inclusive workplace.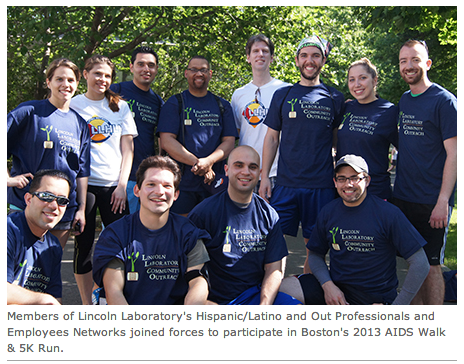 Diversity and Inclusion Presentations
2013 Diversity Summit

MIT Lincoln Laboratory's second Diversity Summit addressed the challenges in fostering an environment of inclusion. Held on February 22 in the Laboratory's main auditorium, the summit is part of the Laboratory's commitment to finding and supporting excellence in its staff. The event featured a talk by Dr. Kristin Lane, assistant professor of psychology at Bard College, whose research on bias highlights how people's conscious beliefs about their biases are often at odds with implicit attitudes they unconsciously hold, as well as a panel discussion on ways to promote an inclusive work environment.
The Bamboo Ceiling
Dr. Chris Yu, division leader of the Embedded Navigation and Sensor Systems Division at Draper Laboratory spoke on the cultural and organizational factors that prohibit Asian Americans from attaining executive positions.
Forum Discussion: Options for Dealing with Gender-Specific Difficult Situations and Difficult People
Sponsored by the LLTWN, this discussion was led by Mary Rowe, an MIT ombudsman and adjunct profesor of negotiation and confllict management at the MIT Sloan School of Management. The session suggested various ways to manage responses to harassment in the workplace, to discourage unacceptable behavior, and to deal with difficult people.
Disability Etiquette: Challenging Our Assumptions
Michael Muehe, executive director of the Cambridge (Mass.) Commission for Persons with Disabilities, discussed how to conduct workplace interactions with people with disabilities.
Recognizing the Best and the Brightest: Gender and Race in Research
Sally Haslanger, professor of linguistics and philosophy, and the director of Women's and Gender Studies at MIT, discussed reasons why women and minorities are still underrepresented in many fields, including engineering and the sciences. This presentation was coordinated by LLTWN and the Laboratory's Diversity and Inclusion Office.

---
Mentoring Programs
The role of both informal and formal mentorship in fostering employees' professional development and job satisfaction has been well documented. Recognizing mentoring's important effects on employee productivity and retention, the Laboratory established formal programs to complement informal mentoring arrangements. The programs are designed to help employees at different stages of their careers.
New Employee Guides – introduction to the Laboratory
Early Career Mentoring – one-on-one support during early stages of one's career development
Circle Mentoring – participation in discussion groups focused on career-related themes
New Assistant Group Leader Mentoring – support from an experienced group leader for a staff member taking on a new leadership role
Embracing Diversity and Inclusion
Throughout the year, informational displays increase awareness of the contributions, perspectives, and cultures of various groups.

National "months," such as Hispanic-American Month, are opportunites to introduce cultures. Themed menus at the Laboratory's cafeteria, special performances in the Noontime Concert Series, and guest lectures all enhance awareness.

The Noontime Concerts give employees a chance to experience many styles of music; the offerings range from classical European to American jazz to Latino dance music and to even Tuvan throat singing (poster at left).
---
MIT Lincoln Laboratory is committed to the principle of equal opportunity employment and does not discriminate on the basis of race, ancestry, national origin, color, gender, sexual orientation, gender identity, religion, disability, age, or veteran status. U.S. citizenship is required for employment.
MIT Lincoln Laboratory Photos
MIT Lincoln Laboratory Reviews
MIT Lincoln Laboratory
100
Recommend to a friend
Approve of CEO
Pros

Laid back environment, This place is a meritocracy. You are responsible for yourself

Cons

Well, with the OPM breach my security clearance isn't coming along very fast and I'm worried I might not get it

Advice to Management

It's fine, no ideas for improvement

MIT Lincoln Laboratory

2015-08-28 13:09 PDT

---
MIT Lincoln Laboratory Interviews
Interview

Very Chaotic. People coming late or forgetting to come at all. Group leader very weak technically. Staff varies between medium competent to not competent at all. One older senior staff with a PhD in applied math from MIT argued with me about what a "unitary transformation" is, without having a clue. Very arrogant without much to show for it.

Interview Questions

Position not available most likely. LL conducts a lot of technical interviews to gain new ideas for their "research", which is a rather cheap way to have top experts in the field to come to give a talk, without having to pay for it. Except it is rather unethical to do it under a false pretense.

Answer Question

MIT Lincoln Laboratory

2015-08-18 06:26 PDT
MIT Lincoln Laboratory Awards & Accolades
Four R&D 100 Awards
(

Lincoln Open Cryptographic Key Management Architecture (Software), Route Availability Planning Tool, Wavelength Beam-Combining Fiber-Coupled Diode Laser, & Wide Field-of-View Curved Focal Plane Array (WFC)

)
,
R&D Magazine
,
2012
IEEE Milestones in Electrical Engineering & Computing
,
IEEE
,
2012
Dwight D. Eisenhower Award for Excellence - Research & Development Category
,
U.S. Small Business Administration
,
2013
Two R&D 100 Awards
(

Photoacoustic Sensing of Explosives & Structured Knowledge Space (Software)

)
,
R&D Magazine
,
2013
IEEE Employer Professional Development Award
,
IEEE Educational Activities Board
,
2010
Show More
Headquarters
Lexington, MA
Size
1000 to 5000 Employees
Type
College / University
Industry Education
MIT Lincoln Laboratory, headquartered in Lexington, MA, is a U.S. Department of Defense research and development center chartered to apply advanced technology to problems of national security. We undertake projects in fields as diverse as cyber security, information sciences, communication systems, air and missile defense, space surveillance technology, tactical systems ... More
Mission: Research and development of technology solutions in support of national defense is the primary mission of MIT Lincoln Laboratory. Development of sensors, communications systems, information extraction and decision support systems has been our contribution to national security for over 60 years. Today we are also advancing the state of cyber security and adapting to the national security needs of the modern, data driven nation.
Work at MIT Lincoln Laboratory? Share Your Experiences