Masonicare – Why Work For Us?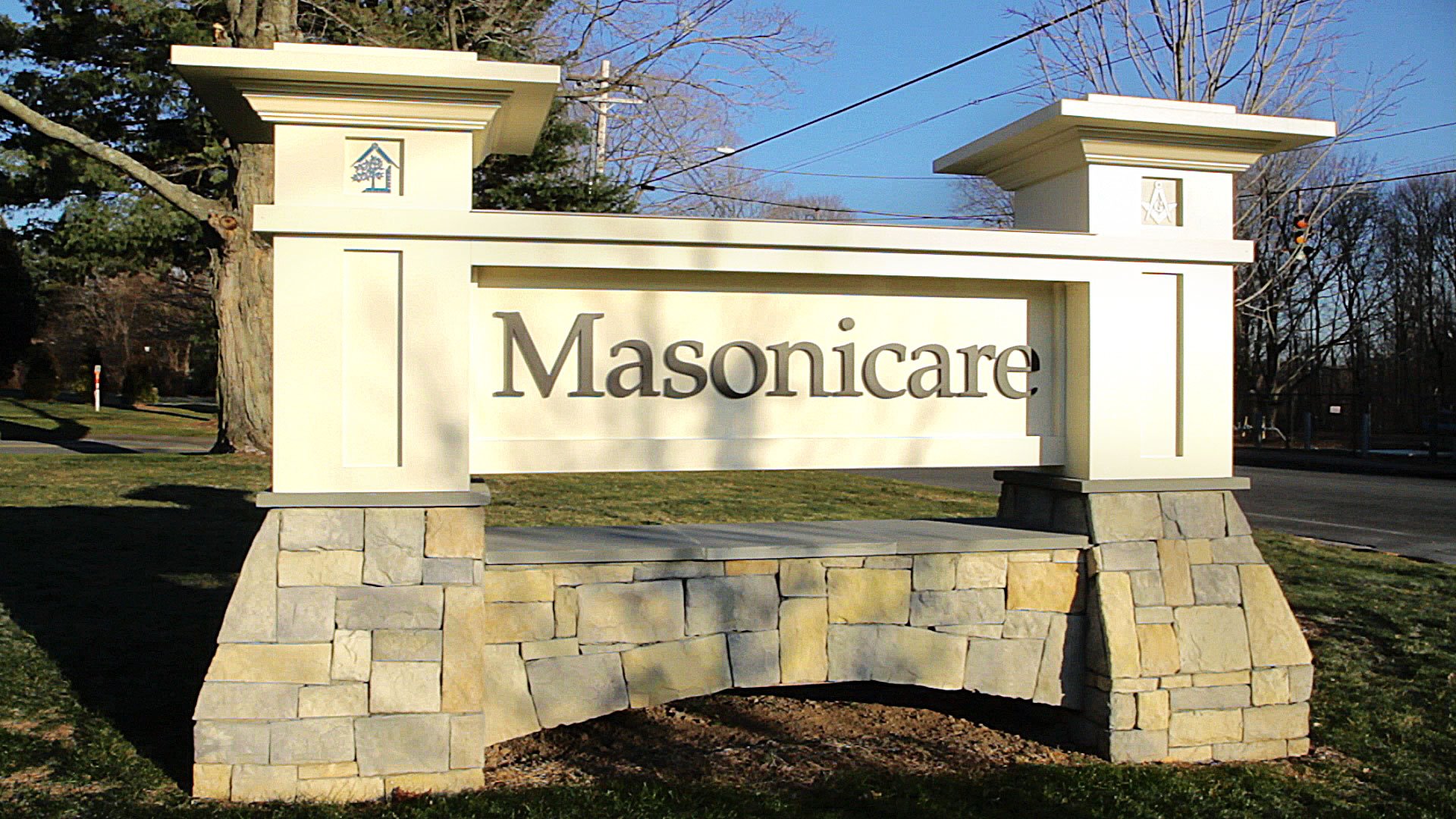 Masonicare of Wallingford, Connecticut, is the state's leading provider of healthcare and retirement living communities for seniors. We are not-for-profit and have more than 100 years of experience behind us. We're recognized for the quality, compassionate care and steadfast support we provide to our residents and patients.
Our Roots
Masonicare's roots date back to 1750, when Connecticut's first Masonic Lodge was chartered. Nearly 150 years later, in 1889, Connecticut Masons began a charitable fund that became The Masonic Charity Foundation of Connecticut, and in 1895, dedicated an 88-acre homestead in Wallingford as The Masonic Home.
Now Open to All
At its inception, The Home's mission was to care for the elderly and orphans with Masonic connections. During the ensuing years, Masonicare grew exponentially and greatly expanded its healthcare services and retirement living options. The organization, which is now open to all – not just Masons – employs more than 2,500 people throughout the state.
Today, Masonicare encompasses a broad range of healthcare and senior living options:
Skilled nursing and rehabilitation facilities – Masonicare Health Center in Wallingford andMasonicare at Newtown.
Independent living options – A continuing care retirement community, Masonicare at Ashlar Village, and the A. Norman Johnson Apartments, Kenneth B. Hawkins Apartments and Wells Apartments for individuals 55 and over, all located in Wallingford
Assisted living communities – Pond Ridge in Wallingford and Lockwood Lodge in Newtown
A residential care home – the Leslie G. Wright Residence in Wallingford
Masonicare Home Health & Hospice, a statewide home healthcare and hospice provider that touches 3,000 patients each month through its 11 offices.
Accredited for Excellence
Masonicare's affiliates are accredited and approved for excellence by their respective accrediting bodies, including the Continuing Care Accreditation Commission (CCAC), as well as being Medicare certified and licensed by the State of Connecticut.
Accreditation assures a high standard of care and best practices for governance and financial management.
Our "Ageless Commitment to Caring"
At Masonicare, we believe in caring for the whole person – mind, body and spirit. We're dedicated to continuing the "ageless commitment to caring" that has been the cornerstone of our organization for more than 100 years.
Our Mission
In furtherance of our traditional Masonic values, the mission of Masonicare is to enhance the quality of life by providing health, social and spiritual care throughout an individual's lifetime with emphasis on the needs of older persons.
Our Vision
Masonicare is recognized as an organization committed to establishing healthcare centers for excellence in all of its affiliates through the development of an integrated, person-centered healthcare system. Dedicated to our values and in partnership with our communities, we are committed to meeting the total needs of those we serve…mind, body, and spirit.
Our Values
Integrity / Trust – The foundation by which we operate on a daily basis emphasizing the consideration of others, honesty in evaluation, and commitment to an ethical standard.
Spiritual – Our commitment to foster an environment that nurtures one's spiritual dimension so that inner peace is realized and life's fullest potential is achieved each day.
Respect – Our commitment to treat all people well and to promote self respect and trust for residents, employees, volunteers, and others, and the belief that each person deserves equal respect. This commitment includes respect for the individual patient's / resident's autonomy in decision making regarding all aspects of his or her care.
Compassion – Our ability to empathize with another's life situation, both by being with, and doing for that person.
Commitment – Our responsibility to carry out Masonicare's mission and to serve the values of the organization.
Stewardship – Our recognition and prudent use of one's time, talent and treasure.
Competence – Our proficiency in required knowledge, judgment and skills, and the commitment to a standard of excellence.
Innovation – Our process of creating or managing new ideas, methods, and technology to enhance existing services and to develop new ones. Innovation is stimulated by a strong awareness of the needs of those we serve, and thrives in this organization to promote new approaches to healthcare delivery.
Quality – The measure of excellence that we strive to achieve in all that we are and wish to become. We will use measurable outcomes to validate our customer's satisfaction and our performance. We design and/or modify the way we work so that we continuously improve.
An organization you'll be proud to join.
Masonicare is Connecticut's largest and most respected senior housing and healthcare system … for everyone, not just Masons. Where could you fit in? There are so many opportunities.
Perhaps best known is our accredited Masonicare Health Center in Wallingford, and nearby communities, Pond Ridge and Masonicare at Ashlar Village. In Newtown, Masonicare manages Masonicare at Newtown and Lockwood Lodge retirement communities. Masonicare also provides complete hospice services and operates Masonicare Home Health & Hospice, the state's largest visiting nurse association, with 10 offices that provide service to patients in their homes statewide. We've just launched Masonicare at Home, offering personal-care, homemaking and companion services to seniors in their homes.
More than just a work place, Masonicare is about a work ethic, one that calls for high standards and produces great pride and satisfaction.
Career Paths At Masonicare
Lots of paths. All leading to a rewarding work experience.
See What A Career With Us Could Mean To You!!
For more than a century, Masonicare's mission has been to provide quality healthcare to older adults. We don't just treat disease; we care for the whole person – mind, body and spirit. Masonicare's employees are one of our most important assets. We offer highly competitive salaries, a comprehensive benefits package, ongoing training and career advancement programs. Masonicare can give you the career you've always wanted – in an organization you'll be proud to join.
As a respected statewide healthcare system primarily caring for seniors, we require the services of healthcare professionals of all disciplines and specialties as well as managers, professionals, administrators and service staff. It's an environment where you're challenged, and can grow and excel. What path interests you?
Facility-based careers offer a vast range of opportunities in such areas as acute hospital care, sub-acute rehabilitation, long term care, acute geriatric psychiatric care, and dementia care. Masonicare's facilities are located in Wallingford and Newtown.
Masonicare Health Center in Wallingford. We have a variety of settings – our expanded short-term rehabilitation units, state-of-the-art acute care telemetry unit, specialized geriatric medical/psychiatric hospital unit and our long-term skilled nursing or dementia units.
Masonicare at Newtown. Provides outstanding care to residents and patients in our comprehensive, short-term rehabilitation unit and our long-term skilled nursing facility.
Home care careers are available through Masonicare Home Health & Hospice (statewide). Providing care to individuals in their own homes may be just what you're looking for. Home Health Care employees have their own laptop computer to document patient care, giving you more time to spend with your patients. Also, our hospice nurses offer comfort and care to clients in the home, hospital or other settings. With eight offices statewide, you can find a location that's convenient for you. The statewide branches include: Brookfield, Danielson, East Lyme, New Haven, Norwalk, and Wallingford. Masonicare Partners Home Health and Hospice has branches located in East Hartfordand Suffield.
A comprehensive benefits package.
Masonicare knows that attractive benefits are a big part of your employment decision. That's why we've assembled a comprehensive package of the employee benefits you need to take good care of yourself and your family. Full-time and Part-time benefit eligible employees of Masonicare have access to:
Medical – a variety of plans offering excellent coverage for you and your family
Dental
Vision
Generous 401(k) Retirement Savings plan
Flexible Spending Accounts – Medical Reimbursement and Dependent Care
Basic and Supplemental Life insurance
Short-term and Long-term Disability plans
Universal Life insurance
Cancer Indemnity plan
Tuition Reimbursement
Wellness programs
Employee Assistance Plan
Daycare center (located on Masonicare's Wallingford campus)
Mileage reimbursement, if applicable
Weekly Payroll
Masonicare Reviews
Masonicare
22
Recommend to a friend
Approve of CEO
Stephen B. McPherson
17 Ratings
Comp & Benefits

Work/Life Balance

Senior Management

Culture & Values

Career Opportunities

I have been working at Masonicare part-time (Less than a year)

Pros

competitive wages, very friendly and warm atmosphere, stability in your position, room to advance, long lasting career positions, Compassionate and reassuring staff in all needs for the residents, a place where only the best for Mom will do

Cons

Keeping calm during stressful emergencies

Advice to Management

very happy with management and company as a whole

Masonicare

2015-02-10 00:27 PST
Application

I applied online. The process took 3 weeks – interviewed at Masonicare (Wallingford, CT).

Interview

Structured process. Interviewed with HR and then with a unit manager. Received a job offer within a week of final interview. Assessment and objective interview questions.

Interview Questions

Some of the assessment questions made it clear they are looking for staff with sharp skills!

Answer Question

Negotiation

They pay based on experience.

Masonicare

2013-10-03 13:11 PDT
Masonicare Awards & Accolades
Healthy Workplace Award - Gold
,
The Business Council of Fairfield County
,
2015
We are currently hiring for Occupational and Physical Therapists at our facilities throughout the state! Visit http://glassdoor.com/slink.htm?key=vIfqo to learn more!
Website
www.masonicare.org
Headquarters
Wallingford, CT
Size
1000 to 5000 Employees
Type
Nonprofit Organization
Industry Health Care
Revenue
$100 to $500 million (USD) per year
Masonicare of Connecticut is the state's leading provider of healthcare and retirement living communities for seniors. We are not-for-profit and have more than 100 years of experience behind us. We're recognized for the quality, compassionate care and steadfast support we provide to our residents and patients.

We serve patients throughout CT, in a variety of settings... More
Mission: The mission of Masonicare is to enhance quality of life through an exceptional continuum of person-centered care.

As we enter our second century of providing... More
Work at Masonicare? Share Your Experiences