MedStar Washington Hospital Center – Why Work For Us?


The Difference is Monumental
MedStar Washington Hospital Center is the largest private hospital in the nation's capital. This year, we celebrate our 50th year of indispensable service to the nation's capital and metropolitan region. Founded in March 1958, when three specialty hospitals merged into one, the Hospital Center occupies a 47-acre campus that it shares with three other medical facilities in Northwest Washington, D.C.
A proud member of MedStar Health, the not-for-profit Hospital Center has 926 licensed beds, offering primary, secondary and tertiary health care services to adult and neonatal patients. In fiscal year (FY) 2007, 46,209 inpatients—including 4,556 births--and 389,803 outpatients were treated. In addition, more than 50 other hospitals referred nearly 6,300 of their most complicated medical cases to Washington Hospital Center.
Cardiovascular Programs
The hospital is home to one of the nation's top cardiovascular programs, with 11,000 inpatient cardiac admissions last year. Its cardiac catheterization and electrophysiology (EP) laboratories are among the busiest in the country. A total of 14,987 cardiac catheterizations and 5,300 electrophysiology procedures were performed during FY 2007. There were 1,863 open-heart surgeries and five heart transplants during the fiscal year. One of the area's first heart transplants was done at the Hospital Center on May 22,1987.
Washington Cancer Institute
Washington Cancer Institute (WCI) at MedStar Washington Hospital Center treats more cancer patients than any other program in the nation's capital. WCI provides comprehensive, interdisciplinary care that includes surgical, radiation and medical oncology services, access to the latest clinical trials, counseling for patients and families, cancer education and community outreach programs. During FY 2007, the Cancer Institute diagnosed 2,334 new cancer cases; there were 79,720 outpatient visits during that period. The Center for Breast Health saw 15,242 patients.
Transplant Programs
Transplantation programs for kidney, pancreas and heart place the Hospital Center as one of the busiest on the East Coast. During the last fiscal year, 105 kidney transplants and seven combination kidney/pancreas transplants were performed. The Hospital Center's transplantation program ranks among the top five percent in the nation for patient outcomes, and consistently exceeds the national average.
MedSTAR
Perhaps the Hospital Center's most far-reaching presence is MedSTAR Transport. The air ambulance service has carried 43,503 patients since its inception in 1983, and in fiscal year 2007, flew 3,210 helicopter missions. The American College of Surgeons consistently recognizes the MedSTAR Trauma program as one of the nation's best Level I shock/trauma units. In fiscal year 2007, there were 2,522 trauma admissions. In addition, there were 77,113 Emergency Department visits, including 19,077 admissions. The Hospital Center provided $86.3 million in unsponsored care during FY 2007.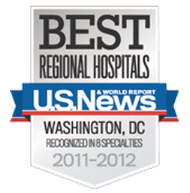 ​​​
​​

​​

MedStar Washington Hospital Center is the largest private hospital in the nation's capital, operated by the area's most experienced and hardworking medical staff, who are united in their mission to provide the best care to patients and their families. We are looking for talented and dedicated professionals who will join us in making every effort to sustain our world-class standard for health care.
We are an acute care teaching and research hospital that is the largest non-profit hospital in the Washington metropolitan region and one of four major teaching hospitals in Washington, D.C. MedStar Washington Hospital Center is ranked as one of the nation's top 100 hospitals by the Health Care Industries Association (HCIA), a national health information company.
In addition to our nationally ranked specialties, MedStar Washington Hospital Center offers a wide range of other specialized services, including the following:
Colorectal surgery
Dermatology transplantation
Neurology
Neurosurgery
Ophthalmology
Oral, plastic and thoracic surgery
Otolaryngology
Orthopaedics
Prenatal and neonatal intensive care services
Surgical and medical oncology
Treatment of hormonal disorders such as diabetes and thyroid disease
Urology
Our hospital supports more than 300 residents and fellows training in numerous hospital-sponsored graduate medical education programs and additional specialty programs in affiliation with George Washington University and Georgetown University medical schools.
Our Benefits Are Monumental
At the MedStar Washington Hospital Center the difference isn't just in where you'll take your career, it's also in the benefits and rewards you'll receive. From medical coverage to education assistance, the Hospital Center offers extensive benefits packages to both full-time and part-time employees. Here's just a taste of some of the great rewards we have to offer:
Paid Time Off
Our Paid Time Off (PTO) system combines both vacation and sick leave days giving our employees the flexibility they need to determine how many days they want to utilize for vacation and possible illness.
Part-time employees who work at least 40 hours per pay period will be eligible to receive paid days off and personal holidays at one-half the rate of full-time employees.
Holidays – Annually, MedStar Washington Hospital Center observes nine paid holidays for union members and seven paid holidays with two personal days for non-union members.
Health Care Plans
Our employees receive the same quality in care that they help provide. MedStar Washington Hospital Center offers medical, dental, and vision plans through the following providers:
BlueCross/BlueShield Plans
Kaiser Permanente
Cigna Dental Plans
Adventica EyeCare
Full-time and part-time employees share the cost of the monthly premium with MedStar Washington Hospital Center. Also, employees pay health insurance coverage premiums with pre-tax dollars. This allows an immediate tax savings (Federal, State, and Social Security) on the money that is contributed toward the health care plans.
Education
MedStar Washington Hospital Center provides tuition assistance to full and part-time eligible employees after completion of their probationary period.
Wellness
MedStar Washington Hospital Center offers numerous supportive programs and benefits for our employees, including:
On-site employee assistance program
Weight Watchers
Weigh-to-Lose Program
On-site fitness classes and massages
Other Benefits
Short-term disability
Long-term disability
Life insurance
Pharmacy discount
403b Retirement Plan
FlexFund
Employees may set aside a portion of their annual income for out-of-pocket health and dependent care expenses. This set-aside amount in the FlexFund account is tax-free and may be used to pay certain expenses that are ordinarily paid with after-tax dollars.
Perks
Discounts to area health clubs
Discounts on parking and free Metro shuttle bus services
Discounts to area sporting events, amusement parks and other recreational activities.
A pre-tax payroll deduction for Metro SmarTrip Cards

SmarTrip is a permanent, rechargeable farecard. It's plastic – like a credit card – and is embedded with a special computer chip that keeps track of the value of the card.

MetroChek

Metrochek is a farecard voucher program. Metrocheks are accepted by more than 100 bus, rail, and vanpool commuter services in the region, including Metro, MARC Train Service, VRE, and local bus systems. Metrocheks can be used as Metrorail farecards or as vouchers when purchasing fares for other transit services

Bank of America's "At Work" Program

A collaboration with Bank of America and MedStar Washington Hospital Center that allows you the opportunity to save up to $500 on everyday financial solutions.
MedStar Washington Hospital Center is very pleased to announce a partnership with Georgetown's School of Nursing and Health Studies to create an innovative scholarship program that will be the first of its kind in the District of Columbia. The Georgetown University Scholars at MedStar Washington Hospital Center program will expand the capacity of the school's Accelerated Second Degree BSN program and demonstrates our commitment to the practice of professional nursing at Washington Hospital Center.
In this program, college graduates who already hold a bachelor's degree or higher in another field will earn a bachelor of science in nursing from Georgetown University in only 16 months. Participants will receive a combination of academic and clinical training on both the MedStar Washington Hospital Center campus and Georgetown campus from Georgetown faculty and qualified Hospital Center staff.
The program offers an 80% tuition scholarship in exchange for a three-year commitment
to a nursing position at MedStar Washington Hospital Center.
The first class will begin in the fall of this year (2008) with 28 students. More than 230 nurses are projected to graduate from the program over the first three years.
This hospital-university partnership provides an innovative avenue for recruitment of nurses who have already achieved academic degrees in other fields. It sets our nursing department apart from many others and ultimately benefits the long-term supply of nurses to serve our region.
Graduate Medical Information
MedStar Washington Hospital Center is the largest private teaching hospital in the nation's capital. Its reputation as a leader in the delivery of quality health care, whether it is in the treatment of routine conditions or the very rare, draws patients from a 250-mile radius—making it one of the busiest hospitals in the Mid-Atlantic region. MedStar Washington Hospital Center has been recognized by Solucient as One of the 10 Best Major Teaching Hospitals.
Continuing Medical Information
MedStar Washington Hospital Center has a long standing tradition of excellence in patient care, medical education and research. We recognize the importance of medical education as an integral component of the provision of quality health care and that physicians require continuous learning throughout their careers. In support of this principle, MedStar Washington Hospital Center has designed a Continuing Medical Education (CME) program and a website environment that meets the needs of physicians and other health care professionals locally, regionally and nationally.
MedStar Washington Hospital Center Photos
MedStar Washington Hospital Center Reviews
MedStar Washington Hospital Center
69
Recommend to a friend
Approve of CEO
Pros

Large, diverse organization with lots of smart people who are trying and doing good things

Cons

Like any bureaucracy, decisions and actions can take more time than optimal

Advice to Management

Continue to reward those deserving with promotions and opportunities. Keep up the good work!

MedStar Washington Hospital Center

2015-09-01 12:00 PDT

---
MedStar Washington Hospital Center Interviews
Application

I applied online. I interviewed at MedStar Washington Hospital Center (Washington, DC).

Interview

apply online for RN residency program call from HR (took a while to get this call) interview with HR and then unit manager received a call back within the same day with an offer accepted

Interview Questions

If you have a pt with elevated HR and decreased BP what would you do?

1 Answer

MedStar Washington Hospital Center

2015-07-24 12:54 PDT
MedStar Washington Hospital Center Awards & Accolades
Best Hospitals National Cardiology & Heart Surgery
,
USNews & World Report
,
2014
100 Great Hospital in America
,
Becker's Hospital Review
,
2014
Headquarters
Washington, DC
Industry Health Care
Washington Hospital Center may be the official hospital of the Washington Redskins, but you don't have to be a professional football player to make use of the facility's services. The hospital, at the heart of the MedStar Health system, serves about 455,000 patients living in and around the nation's capital each year. Washington Hospital Center has approximately 925 beds and includes specialized care centers for cancer, cardiovascular conditions, and neurosciences. Other services include organ transplantation and a regional burn treatment center, as well as ... More
Work at MedStar Washington Hospital Center? Share Your Experiences
MedStar Washington Hospital Center