Old Navy – Why Work For Us?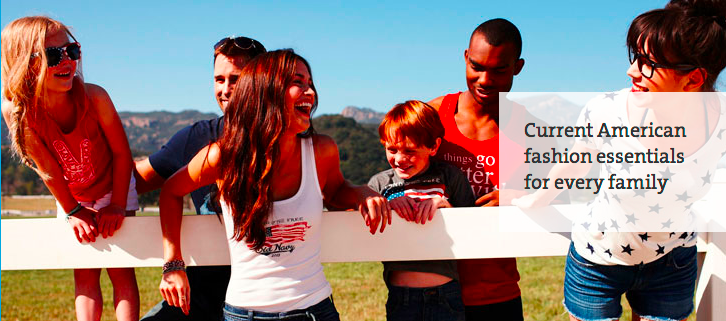 Imagine a place where you can find all of your wardrobe "must-have's" at prices you can't believe. Everything from your favorite t-shirts and jeans to your seasonal fashion faves. A place where every family member is invited. Where everything has great style and quality and the shopping experience is actually fun, not a chore. That place is Old Navy. Making current American fashion essentials accessible to every family.
Founded: 1994 (named after a bar in Paris)
Retail record: In 1997, became first retailer to reach $1 billion in annual sales in less than four years of operation.
About Gap, Inc.
Gap Inc. is a leading global specialty retailer offering clothing, accessories, and personal care products for men, women, children, and babies under the Gap, Banana Republic, Old Navy, Piperlime, and Athleta brands.

So, let's talk about the "extras" you get when you join our team. We give employees many choices so they can customize an overall benefits plan that fits them as well as their spouses, domestic partners, children and other dependents.
Below is a summary of some of the key benefits we offer.

Get Healthy, Stay Well
We cover medical for full-time benefits eligible employees as well as dental and vision, life and disability insurance, and private counseling resources. On-site health and wellness clinics, Weight Watchers memberships and discounts to local gyms are just a few other ways we help employees feel their best.
We provide access to unsubsidized health care options for eligible part time employees through a program called National Health Access.

Get in the Money
We want to make it easier for employees to meet their financial goals. Our 401(k) plan provides a company match for contributions up to 4 percent of an employee's pay. You can invest in the company through our Employee Stock Purchase Plan, or use the Home Mortgage programs to buy a home.

Tuition Reimbursement and Career Development
We want our employees to grow with us, so we offer tuition reimbursement for approved work-related courses for full-time employees. We have opportunities for employees to learn and develop at any time during their career through online, classroom and on-the-job training.

Merchandise Discount
Not surprisingly, our most popular perk is a generous merchandise discount for Gap, Banana Republic, Old Navy and Outlet, with occasional discounts at Piperlime and Athleta; available to all full- and part-time employees.

Time Away
Take time when you need it. Our Paid Time Off – one of the most competitive offerings in our industry – provides 20 to 35 days to use toward vacation, personal time, or illness. That's in addition to seven paid holidays per year. We have a generous Leave of Absence program that allows employees to take time off for a number of personal situations, as well as a flexible work arrangement plan for employees who need to temporarily reduce their work schedule.

Family Matters
Starting a family? Need time for adjustment with a new family member? New parents can ease the transition through our Phase Out/Phase Back program. We also offer Adoption Assistance Reimbursement of up to $2,000 per child. And we throw in an online discount offering from babyGap, too.
Other Extras
Who doesn't love a great deal? Gap Inc. partners with dozens of familiar brands and organizations to offer all Gap Inc. U.S. employees access to great discounts. Buy a discounted Apple or Dell computer. Send a bouquet of roses at 15 percent off. Or take the family on a fun vacation to California's LEGOLAND. We have a long list of other great discounts for Gap Inc. employees.

Rewarding Community Service
When you give, we give too. Through "Take Five," exempt headquarter employees can take up to five hours a month to volunteer. If you volunteer 10 hours for one nonprofit in a calendar year, "Money for Time" chips in $100 to the organization. And "Gap Giving" matches your contribution to eligible nonprofits.

Our philosophy is pretty simple: customers, creativity, doing what's right and delivering results. Together, we call it "Wear your passion." And it's the perfect match for the kind of people we attract — as both employees and customers.

"Wear your passion" brings together four concepts that are part of our legacy and at the core of our work.

Think: customers first
We make decisions with our customers in mind. We connect with our stores and create the quality our customers value and expect.

Inspire: creativity
We think big, take risks and solve problems. We challenge the status quo and always look for new ideas and ways of working.

Do: what's right
We believe that how we do business is as important as what we do. We act with integrity, and we give back to the communities in which we do business.

Deliver: results
We deliver the best result possible – we're committed to taking responsibility, setting priorities and meeting our goals.

Our culture, based on these principles, pays tribute to our history and prepares us for the exciting opportunities ahead.

As a global company, we know that appreciating and understanding the diversity of our customers, employees and partners around the world helps make us successful. We value the diversity of thought, experience and perspectives of our customers.
Embracing diversity stimulates innovation in our products and helps us improve our store experience. That enables us to create an inviting and inclusive place to work and to shop.

We maintain our commitment to diversity with workplace policies that ensure we do what's right, and treat our customers – and each other – with integrity and respect.
Our Policies
Our commitment to diversity is reinforced by workplace policies that are essential to how we do business.
Equal Opportunity Employer
We're an equal opportunity employer. All employment decisions are made without regard to race, color, age, gender, gender identity, sexual orientation, religion, marital status, pregnancy, national origin/ancestry, citizenship, physical/mental disabilities, military status or any other basis prohibited by law. Every employee is responsible for helping prevent discrimination and harassment in the workplace.
Zero Means Zero
At Gap Inc., we work hard to make sure that we treat our customers — and each other — with integrity and respect, regardless of appearance, skin color, gender, or any other such distinction. We have zero tolerance for discrimination of any kind.
Old Navy Reviews
Old Navy
2155
Recommend to a friend
Approve of CEO
Glenn K. Murphy
580 Ratings
I have been working at Old Navy part-time (More than a year)

Cons

No management skills. No hours.

Advice to Management

Please extend your knowledge of what it means to be a leader.

Old Navy

2015-09-02 14:37 PDT

---
Application

I applied online. The process took a week. I interviewed at Old Navy (New York, NY).

Interview

Phone interview briefly describing yourself, mentioning your availability, etc. In store group interview in which you choose an outfit pertaining to a given scenario with the Service and Training Manager leading it. This is usually the person who you had the initial 1:1 phone interview with. Final interview with Store Manager. Usually 1:1. Usually covers availability, questions such as what makes you so special to work here over all the other candidates? Stuff like that. But usually, if you've made it this far, it's very likely you will be getting hired after this interview.

Interview Questions

Name a time when you had to deal with a difficult customer. How did you handle the customer?

Answer Question

Old Navy

2015-08-30 20:13 PDT
Old Navy Awards & Accolades
Let us know if we're missing any workplace or industry recognition – Add an award
Headquarters
San Francisco, CA
Size
1000 to 5000 Employees
Type
Subsidiary or Business Segment
Industry Retail
Revenue
$100 to $500 million (USD) per year
Old Navy commands a fleet of more than 1,025 family clothing stores throughout the US and Canada, offering items under its own brand name at discounted prices. (The apparel retailer also operates a Web-based store at oldnavy.com.) Products include men's, women's, and children's (even dogs') apparel and accessories. Founded in 1994, Old Navy is owned by the king of casual apparel Gap Inc. and is known for advertising that plays up the kitsch factor of various celebrities. Old Navy, which has suffered from sales declines in recent years, appears to be ... More
Work at Old Navy? Share Your Experiences