SoulCycle
This employer has taken extra steps to respond to reviews and provide job seekers with accurate company information, photos, and reviews. Interested for your company?
Learn More
.
www.soul-cycle.com
SoulCycle – Why Work For Us?

​​
SoulCycle's full-body workout has revolutionized indoor cycling and taken the world of fitness by storm. Combining inspirational coaching and high-energy music, SoulCycle offers an engaging workout that benefits both the mind and the body.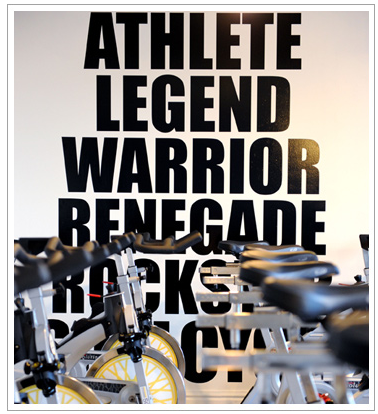 ​​
​Each SoulCycle ride delivers an intense FULL-BODY workout with a fun and energizing atmosphere. Not only
​​
​​do riders burn calories and get their hearts pumping, but using the SoulCycle® Method, riders also work their core and use hand weights to tone their upper bodies. In all of our studios, we ensure that SoulCyclists are treated to the country's best instructors and staff, trained to deliver unique services and personal attention to all levels of riders.
In select studios, we also offer SoulBands, our REVOLUTIONARY class that challenges the entire body by using resistance bands that hang above each bike. The 60-minute workout includes several anaerobic intervals and trains the WHOLE body, toning the abs, obliques, shoulders, triceps, biceps and back - all while maintaining fat-burning cardio levels.
Beyond providing an intense cardio workout, SoulCycle also incorporates a mental component of inspirational coaching. By keeping the lights low and riding by candlelight, SoulCycle creates a cardio sanctuary where riders can come to clear their heads.

​​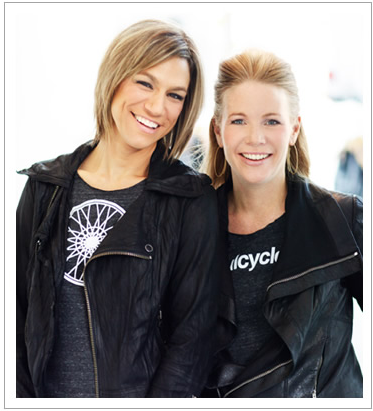 ​​

Once upon a Soul there were two women desperately searching for some CARDIO. Julie Rice was living in
​​ Los Angeles. A busy talent manager - she could barely stop her hectic "movie biz" schedule to fit in a workout, let alone enjoy it. After searching high and low for an exercise that would keep her not only physically in shape but also mentally inspired, she found indoor cycling. The music and the energy kept her coming back and yet she felt it could be even more....
Elizabeth Cutler grew up in Chicago. While studying abroad from the University of Colorado she did some SOUL searching and wound up in a monastery in India, at the National Palace Museum, and in a traditional japanese house in Kyoto. Eventually she returned to Colorado where inspiring cardio was just one mountain around the corner. Hiking was a natural and breathtaking way to stay fit and happy. She sold luxury real estate and practiced Jin Shin Jyutsu (ancient practice and philosophy of healing aka grandparent of acupuncture). After meeting her husband she moved to Manhattan.
Shortly after both women had relocated to New York City, they began searching for some type of cardio exercise they could fall in love with. But unfortunately, no luck. There were certainly enough ways to burn calories, but nothing that made their hearts sing. Ultimately they realized they would have to create it! Elizabeth and Julie met at a lunch and the rest was SOULhistory! They both believed indoor cycling could be inspiring; they both believed you could incorporate upper body and core workout into the routine; and finally they believed with some great branding, a beautiful environment, and outstanding customer service, the 45-minute class could be transformed into a special experience each time.
Elizabeth combed Craigslist and found the "rear lobby" at West 72nd Street. Julie learned all she could about renting towels and passing out schedule cards up and down the avenues of the West Side of NYC. Slowly, the riders began to come.
Today both are amazed at the community that has become SoulCycle. The inspiring instructors, dedicated riders, and tireless studio soul team. It is truly a labor of SOUL. Both continued to be inspired BY and AT SoulCycle.

​​We are seeking passionate, service-oriented, positive and hard-working individuals with a love for health and fitness and an excitement for our brand. We are a high-growth company looking for hyper-organized, efficient, forward-thinking problem-solvers with exceptional interpersonal skills and attention to detail.
SoulCycle Reviews
SoulCycle
29
---
Elizabeth Cutler and Julie Rice
4 Ratings
I have been working at SoulCycle

Pros

You can take free classes!
You get lots of gifts from riders! (Food & gift cards)
You get to wear comfortable yoga pants and sneakers to work !

Cons

There is SO MUCH gossip!
Your hours are okay.....
Riders tend to bring you a lot of unhealthy treats, so don't be mad if you lose your figure

SoulCycle

2015-02-11 12:06 PST
SoulCycle Interviews
Updated Oct 8, 2014
Interview Details

The interview involved meeting with HR - then meeting with my direct superior. Questions were general on how I would handle specific issues. I answered based on my general experience handling certain issues and it seemed to go well.

SoulCycle

2014-10-08 12:21 PDT
SoulCycle Awards & Accolades
The World's Top 10 Most Innovative Companies in Fitness
,
Fast Company
,
2013
100 Most Intriguing Entrepreneurs
,
Goldman Sach's
,
2013
Website
www.soul-cycle.com
Headquarters
New York, NY
Size
500 to 999 Employees
Industry Arts, Entertainment & Recreation
SoulCycle co-founders Elizabeth Cutler and Julie Rice met in New York City and were determined to find an alternative to the fitness routines that felt like work. Combining inspirational coaching with high-energy music, the pair designed a workout that benefits the mind and body. SoulCycle trains world-class instructors to teach the SoulCycle method which engages and empowers... More
Mission: SoulCycle was founded on the belief that fitness could be inspiring. With a motivational workout, a beautiful environment and outstanding customer service, each... More
Work at SoulCycle? Share Your Experiences