TIAA-CREF
This employer has taken extra steps to respond to reviews and provide job seekers with accurate company information, photos, and reviews. Interested for your company?
Learn More
.
Headquarters
New York, NY
Size 5000+ Employees
Industry Finance
Revenue $10+ billion (USD) per year
---
It's punishment enough to write the name once on a blackboard. Teachers Insurance and Annuity Association - College Retirement Equities Fund (TIAA-CREF) is one of the largest, if not longest-named, private retirement systems in the US, providing for more than 3.5 million members of the academic, cultural, medical, and research communities and for investors outside of academia's ivied confines. It also serves institutional investors. TIAA-CREF's core offerings include financial advice, investment information, retirement plans and accounts, annuities, life insurance... More
TIAA-CREF – Why Work For Us?
Overview

|

What Makes TIAA-CREF Different?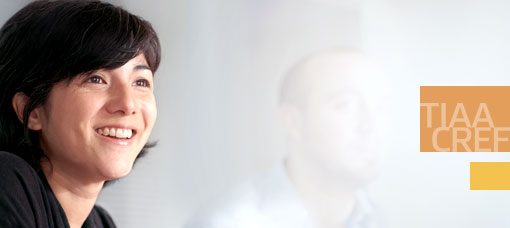 ​​
TIAA-CREF is a Fortune 100 financial services organization with $481 billion in assets under management (as of 6/30/12). The firm is a leader in helping those in the academic, medical, cultural, governmental and research fields plan for retirement, and life's other goals. More than 3.7 million individuals trust us to help support their financial well-being.
Read more here about who we are, what we believe and what we do, and check out the Company Stats & Facts.
To see the most-recent news about TIAA-CREF, visit our pressroom and see how we've been recognized by organizations that objectively evaluate our industry.
Specialties
We provide a range of products and services(including retirement plans, IRAs, life insurance, brokerage services, mutual funds) that we tailor to clients' needs and are highly regarded in our industry
(Update to C 305)
This is the employer's chance to tell you why you should work for them. The information provided is from their perspective.
Working at TIAA-CREF
Posted by employees
Employees say it's "OK"
406

ratings
70% of the CEO 247 ratings
Roger Ferguson
President & CEO
Current Individual Consultant in Charlotte, NC
Pros: Pension, holidays, PTO, Values, Mission, work from home, pay, bonus – Full Review
Salaries in USD

Avg. Salary

44 TIAA-CREF Salaries

$50,982

Individual Consultant (Inbound )

33 TIAA-CREF Salaries

$48,527

24 TIAA-CREF Salaries

$161,021
= Salary Range
= Anonymous Salary Range
= Avg.
If we only have one or two salaries posted for for a given job title, showing that salary information may risk employee anonymity. So in that case we generate an anonymous salary range by adding and subtracting a small percentage from the posted salary. The small percentage difference offers additional anonymity while still minimizing the difference between the range and the employee's actual salary.
No Offer – Interviewed in Charlotte, NC Jun 2014 – Reviewed 2 days ago New
Interview Details – 1st - Phone Screen by HR with email followup - 30 min - general questions, 2nd Interview with 'Dotted Line" hiring Manager - 30 min - nice conversation about the job and their needs, email follow up with HR, 3rd - In person with other Continuous Improvement Leaders - 60 min - again nice… – Full Interview
Interview Question:
Most questions were situation type regarding applying tools and getting results - how do you use them in an administrative environment? – View Answer
TIAA-CREF Awards & Accolades
Best Places to Work for LGBT Equality
,
Human Rights Campaign
,
2012
Best Places to Work for LGBT Equality
,
Human Rights Campaign
,
2010
Worked for TIAA-CREF? Contribute to the Community!