TIAA-CREF – Why Work For Us?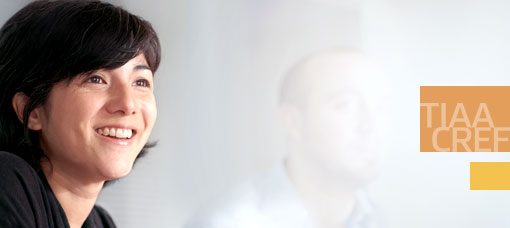 ​​
TIAA-CREF is a Fortune 100 financial services organization with $481 billion in assets under management (as of 6/30/12). The firm is a leader in helping those in the academic, medical, cultural, governmental and research fields plan for retirement, and life's other goals. More than 3.7 million individuals trust us to help support their financial well-being.
Read more here about who we are, what we believe and what we do, and check out the Company Stats & Facts.
To see the most-recent news about TIAA-CREF, visit our pressroom and see how we've been recognized by organizations that objectively evaluate our industry.
Specialties
We provide a range of products and services(including retirement plans, IRAs, life insurance, brokerage services, mutual funds) that we tailor to clients' needs and are highly regarded in our industry
(Update to C 305)
What Makes TIAA-CREF Different?
We at TIAA-CREF have long subscribed to a different set of guiding principles directly influenced by those we serve.
Excellence, integrity and professionalism are inherent to our culture. Our employees maintain these high ethical standards by being individually responsible and accountable for demonstrating responsiveness and sound judgment. The creative, results-oriented environment that stems from this culture leads to lasting relationships with our clients and their plan participants.
TIAA-CREF has more than 8,100 employees, and is headquartered in New York City. We also have major operations in Denver, CO, Charlotte, NC and Lewisville, TX, as well as more than 70 local offices nationwide.
Read more here about who we are, what we believe and what we do, and check out the Company Stats & Facts.
(Update to C 305)
---
Roger Ferguson
253 Ratings
3 people found this helpful

Comp & Benefits

Work/Life Balance

Senior Management

Culture & Values

Career Opportunities

I have been working at TIAA-CREF for more than 10 years

Pros

Competitive salary and bonus. Overall company has a good mission

Cons

Technology is poor and still too many operational challenges

Advice to Management

Advice

Please invest in technology to be on par with other financial services companies

TIAA-CREF

2014-08-23 09:23 PDT
TIAA-CREF Interviews
Updated Aug 31, 2014
Application Details

I applied through a recruiter. The process took 4+ weeks - interviewed at TIAA-CREF in August 2014.

Interview Details

HR contacted me through LinkedIn. Next step was a 30 minute call with the hiring manager and then within two weeks a video call with 4 managers within the firm. The entire process was quick and painless.

Interview Questions

What was it like working for Mr. Stowers. I thought it was interesting that they knew who he was and were interested in how he led American Century. Answer Question

Negotiation Details

They had a done their homework on what it would take for me to accept. They gave me what I wanted.

TIAA-CREF

2014-08-31 19:32 PDT
TIAA-CREF Awards & Accolades
Best Places to Work for LGBT Equality
,
Human Rights Campaign
,
2012
Best Places to Work for LGBT Equality
,
Human Rights Campaign
,
2010
Website
www.tiaa-cref.org
Headquarters
New York, NY
Size 5000+ Employees
Industry Finance
Revenue $100 to $500 million (USD) per year
It's punishment enough to write the name once on a blackboard. Teachers Insurance and Annuity Association - College Retirement Equities Fund (TIAA-CREF) is one of the largest, if not longest-named, private retirement systems in the US, providing for more than 3.5 million members of the academic, cultural, medical, and research communities and for investors outside of academia's ivied confines. It also serves institutional investors. TIAA-CREF's core offerings include financial advice, investment information, retirement plans and accounts, annuities, life insurance... More
Worked for TIAA-CREF? Contribute to the Community!