Tapjoy – Why Work For Us?
​​Tapjoy is a exciting and innovative global company that is changing the mobile landscape through cutting-edge and dynamic products.
​
Tapjoy's mobile performance-based advertising platform drives deep engagement and monetization opportunities for app publishers, while delivering valuable, engaged consumers to some of the world's biggest brand advertisers. Tapjoy has a reach of more than 430MM (July, 2013) mobile users each month and its "Mobile Value Exchange" model allows users to receive premium content in exchange for their engagement with advertisements. Tapjoy is backed by top-tier investors, including J.P. Morgan Asset Management, Rho Ventures, North Bridge Venture Partners, InterWest Partners and D.E. Shaw Ventures. Headquartered in San Francisco, the company also has offices in New York, Los Angeles, Chicago, Santa Barbara, Atlanta, Boston, Paris, London, Beijing, Shanghai, Seoul and Tokyo. For more information, please visit

www.tapjoy.com

.

​​​

​​​​


​​​​​​So, how do we do it?​​
At Tapjoy, we value innate intelligence, the curiosity to learn more, and the ability to solve problems – and we provide a ton of autonomy in which to do this. We try not to take ourselves too seriously and foster a culture of openness and collaboration. We're a competitive and passionate bunch, which you can see reflected in everything from our ad products to our beer pong tournaments.
Tapjoy is the leader of an exciting new branch of advertising, mobile performance marketing, which focuses on driving app discovery, engagement and monetization via incentivized ads
Tapjoy currently completes 700K transactions per day and is growing exponentially
Our SDK is currently utilized by 20,000 iOS, Android, and Windows Phone applications, spanning 500MM+ unique devices
Both publisher and advertiser applications generate significant data and the Tapjoy system currently averages 5,000 requests per second
We are well-funded ($70M raised to date), profitable and expanding as we grow out our San Francisco headquarters and expand our New York, Los Angeles, Chicago, Atlanta, London, and Tokyo offices
​​​​​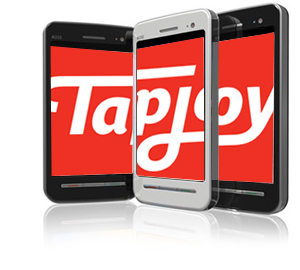 ​​It's an exciting job with awesome perks, in the fastest and largest growing industry in the world.
Competitive compensation package include generous bonus and equity grants
Comprehensive medical, dental, vision benefits, gym subsidy, cell phone subsidy and 401(k) plan
A downtown San Francisco office, easily accessible by public transit
Work on the latest MacBook Pro/Airs and iOS/Android/WP7 devices and tablets
The mobile app space is a huge opportunity and will only continue to grow. We've done well so far and we clearly know where we need to go – and now we need your help to get there!
Bottom Line: If you're a fun, hardworking person interested in joining the best team in mobile, apply!​​

Recommend to a friend
Approve of CEO
Steve Wadsworth
16 Ratings
Work/Life Balance

Culture & Values

Career Opportunities

Comp & Benefits

Senior Management

Pros

Speaking primarily of the engineering organization: Strong engineering leadership and management, sense of ownership among software engineers, and serious application of software craftsmanship. The San Francisco office has had ups and downs, but is on the upswing - there was a group of engineering leadership that left but has since been replaced by building from the inside up, and the current group has made the office their own. There is still huge opportunity to be a leader and make a difference in both the quality and market viability of the product. The people who are at Tapjoy now are people who want to be at Tapjoy, which makes it a great place to work.

Cons

Seems like it took a while to get traction in a crowded market. The SF office is not well designed for collaboration, as the office has two wings which effectively divide people from each other.

Advice to Management

Don't be afraid to remove features from the product that don't work and double down on the things that are the big opportunities. Focus, focus, focus.

Tapjoy

2015-08-05 21:55 PDT

---
Application

The process took a week. I interviewed at Tapjoy.

Interview

They were very easy to talk to, quite friendly too. There was a phone call, and then an onsite interview. Overall my experience was positive except for the fact that they never told me they weren't moving forward with me, I had to follow up about it a few times, and only then did they tell me. It turned out not to be a great fit from my perspective either, but it would have been more helpful if they had let me know sooner.

Interview Questions

How I would plan to deal with an oversaturated market, what my prospecting techniques are.

Answer Question

Tapjoy

2015-09-24 13:08 PDT
Tapjoy Awards & Accolades
World's 50 Most Innovative Companies
,
Fast Company
,
2012
Mobi Award -Best Ad Network
,
Digiday
,
2012
Award for Best Games Monetization Service
,
Mobile Entertainment
,
2013
Best Advertising Platform
,
Mobile Entertainment
,
2014
Show More
Headquarters
San Francisco, CA
Industry Information Technology
Revenue
$5 to $10 million (USD) per year
Tapjoy's goal is to maximize the value of every user for freemium mobile app publishers. Its Marketing Automation and Monetization Platform for mobile apps uses market leading data science, user segmentation and predictive analytics to drive deeper engagement and optimize revenue from every user. Tapjoy's SDK is embedded in more than 270,000 apps with a global reach of more than 520 million monthly active users (December, 2014). Backed by top-tier investors including J.P. Morgan Asset Management, Rho Ventures, North Bridge Venture Partners, InterWest Partners, and ... More
Work at Tapjoy? Share Your Experiences