Loading...
Tapjoy – Why Work For Us?
​​Tapjoy is a exciting and innovative global company that is changing the mobile landscape through cutting-edge and dynamic products.
​
Tapjoy's mobile performance-based advertising platform drives deep engagement and monetization opportunities for app publishers, while delivering valuable, engaged consumers to some of the world's biggest brand advertisers. Tapjoy has a reach of more than 430MM (July, 2013) mobile users each month and its "Mobile Value Exchange" model allows users to receive premium content in exchange for their engagement with advertisements. Tapjoy is backed by top-tier investors, including J.P. Morgan Asset Management, Rho Ventures, North Bridge Venture Partners, InterWest Partners and D.E. Shaw Ventures. Headquartered in San Francisco, the company also has offices in New York, Los Angeles, Chicago, Santa Barbara, Atlanta, Boston, Paris, London, Beijing, Shanghai, Seoul and Tokyo. For more information, please visit

www.tapjoy.com

.

​​​

​​​​


​​​​​​So, how do we do it?​​
At Tapjoy, we value innate intelligence, the curiosity to learn more, and the ability to solve problems – and we provide a ton of autonomy in which to do this. We try not to take ourselves too seriously and foster a culture of openness and collaboration. We're a competitive and passionate bunch, which you can see reflected in everything from our ad products to our beer pong tournaments.
Tapjoy is the leader of an exciting new branch of advertising, mobile performance marketing, which focuses on driving app discovery, engagement and monetization via incentivized ads
Tapjoy currently completes 700K transactions per day and is growing exponentially
Our SDK is currently utilized by 20,000 iOS, Android, and Windows Phone applications, spanning 500MM+ unique devices
Both publisher and advertiser applications generate significant data and the Tapjoy system currently averages 5,000 requests per second
We are well-funded ($70M raised to date), profitable and expanding as we grow out our San Francisco headquarters and expand our New York, Los Angeles, Chicago, Atlanta, London, and Tokyo offices
​​​​​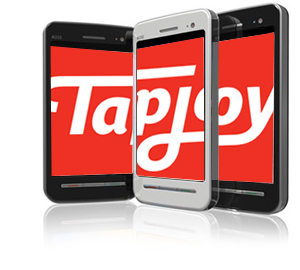 ​​It's an exciting job with awesome perks, in the fastest and largest growing industry in the world.
Competitive compensation package include generous bonus and equity grants
Comprehensive medical, dental, vision benefits, gym subsidy, cell phone subsidy and 401(k) plan
A downtown San Francisco office, easily accessible by public transit
Work on the latest MacBook Pro/Airs and iOS/Android/WP7 devices and tablets
The mobile app space is a huge opportunity and will only continue to grow. We've done well so far and we clearly know where we need to go – and now we need your help to get there!
Bottom Line: If you're a fun, hardworking person interested in joining the best team in mobile, apply!​​

---
Steve Wadsworth
12 Ratings
2 people found this helpful

Comp & Benefits

Work/Life Balance

Senior Management

Culture & Values

Career Opportunities

I have been working at Tapjoy full-time for more than a year

Pros

* The engineering problems are challenging, complex, exciting, and a great learning opportunity.
* The culture is phenomenal, and your co-workers across every organization are great to work with.
* Never a dull moment.

Cons

It's not a 10 person company anymore, and there is baggage that comes with that.

Advice to Management

Advice

Focus on retaining most valuable employees, as the rest of the engineering organization is likely to stay with them through the long-haul.

Tapjoy

2014-02-12 06:53 PST
Tapjoy Interviews
Updated Jul 28, 2014
Application Details

I applied through a recruiter - interviewed at Tapjoy in June 2014.

Interview Details

Recruiter messaged me via LinkedIn. I took time off from work to come into the office for a series of in-person interviews. A month has elapsed, and to date, I have received no response.

If someone takes the time to come into the office an interview, there should be some sort of follow-up. I'm not seeking detailed feedback. Obviously, I didn't get the job, but out of courtesy, any form of closure would have appreciated--even an automated rejection. Show some class.

Interview Questions

Fairly standard interview. Everyone has their own questions/problems. Nothing especially difficult/unexpected stood out. Answer Question

Tapjoy

2014-07-28 14:14 PDT
Tapjoy Awards & Accolades
World's 50 Most Innovative Companies
,
Fast Company
,
2012
Mobi Award -Best Ad Network
,
Digiday
,
2012
Award for Best Games Monetization Service
,
Mobile Entertainment
,
2013
Show More
Headquarters
San Francisco, CA
Size 150 to 499 Employees
Industry Information Technology
Revenue $100 to $500 million (USD) per year
Tapjoy is a mobile advertising and monetization platform whose Mobile Value Exchange® model allows users to select personalized advertisements with which to engage for virtual rewards or premium content. Tapjoy empowers users on more than 1 billion devices to watch videos, subscribe to services, install applications and participate in other types of advertisements in exchange for virtual rewards they can use in their favorite apps. Tapjoy's turnkey in-app advertising platform helps developers to cost-effectively acquire high-value new users and monetize their applications... More
Worked for Tapjoy? Contribute to the Community!