Building Relationships
The MENTOR Network – Why Work For Us?
The MENTOR Network is one of shared values and resources. We are an organization offering those who work with us and those we serve the benefits of a strong national structure. Tying The Network together is a well-defined set of policies, procedures and quality standards that create a level of support and consistency unavailable elsewhere. Learn more about the breadth and depth of our services while you meet the extraordinary people who receive and deliver them in our cross-country video journey "The Community is our Witness."
Experience, Strength and Stability
Our strategy of marrying our mission and values with business discipline and capital creation is unique. The resources of The MENTOR Network enable the organization to invest in systems that make excellence possible—and we apply those systems in a way that directly benefits people with a range of needs, with impressive results.
From accounting and financial reporting capabilities to cutting-edge clinical systems, The Network offers human services professionals the expertise they need to keep their focus on delivering the highest quality care. And with financial stability and access to capital, we are able to offer new services to a greater number of people—often in places no one else is able to go.
The Network's depth and breadth also creates advantages for our workforce, including comprehensive benefits and a career ladder rare in human services. There is no stopping a passionate direct support employee from developing the skills he or she needs to move up the ranks of program management and beyond—and they can travel around the country doing it.
Since its founding in 1980, The MENTOR Network has never wavered from its goals of "Building Relationships. Enhancing Lives."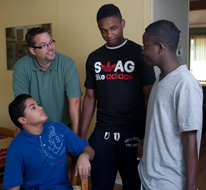 From Direct Care staff, to behavioral and mental health specialists, to expert clinicians, and corporate professionals, the people who work within The MENTOR Network have a multi-faceted environment in which to perform, grow and succeed. Whether you are a social worker, computer programmer, speech therapist, financial analyst or other professional who shares our mission, see how rewarding it can be to become part of our network of caring and search jobs today!
With an array of opportunities from coast to coast, the possibilities are as extensive as they are exciting. Come see for yourself!
At The MENTOR Network, we believe it is important to invest in benefits and programs that help support employees and their families when it comes to protecting their health, well-being, security and future.
We offer a broad range of benefits administered by respected and innovative providers. (Eligibility for specific benefits may vary based on employment status and position.):
Health care coverage through one or more medical plan options
Prescription drug coverage
Dental and vision care coverage
Health care and dependent care flexible spending accounts (FSAs)
A 401(k) retirement savings plan
Life insurance, AD&D and business travel accident insurance
Long-term and short-term disability insurance
Employee Assistance Program
In addition, we've established Network Angels, an employee-focused charity that provides grants to individual employees facing financial hardship after a crisis.
The MENTOR Network Photos
The MENTOR Network Reviews
The MENTOR Network
241
Recommend to a friend
Approve of CEO
Bruce Nardella
47 Ratings
Work/Life Balance

Culture & Values

Career Opportunities

Comp & Benefits

Senior Management

I have been working at The MENTOR Network full-time

Pros

It is possible to have a flexible schedule and work from home some of the time. Three weeks of paid vacation available per year. Supervision for LCSW offered. 401K offered. For the most part, the staff is friendly and works together as a team. This is job is a good stepping stone for someone right out of school who needs experience.

Cons

There is a lot of driving involved, clinical supervision is sub par, the paperwork requirements are constantly changing, and foster parents are sometimes difficult to work with. Management is also not very responsive to working with employees in order to solve problems, including high turnover and burnout issues. Be advised that MENTOR does not give raises as a matter of policy, unless you change positions or get your LCSW. If you stay long enough, there will be new hires who out earn you even if you are a good employee. If you are trying to get your LCSW here, you only get about 8 clinical hours a week, which means that it will take almost 4 years to get your LCSW in MD.

Advice to Management

Provide quality clinical supervision, be more supportive of employees career goals, provide opportunities for advancement, provide a cost of living increase to pay, and provide quality training.

The MENTOR Network

2015-07-17 17:02 PDT

---
The MENTOR Network Interviews
Application

I applied online. The process took 4+ weeks – interviewed at The MENTOR Network (Long Beach, CA).

Interview

easy breezy, interviewees were very friendly non intimidating, interview was to the point in regards to individuals with special needs. questions pertaining mandated reporting, autism, aspergers, down syndrome, child abuse, behavioral experience with individuals with special needs,

Interview Questions

what is your experience working with individuals with a disability?

1 Answer

The MENTOR Network

2015-07-31 18:25 PDT
The MENTOR Network Awards & Accolades
Let us know if we're missing any workplace or industry recognition – Add an award
Website
www.thementornetwork.com
Industry Health Care
The MENTOR Network is a national network of local human services providers offering quality, community-based services to adults and children with intellectual and developmental disabilities, brain and spinal cord injuries and other catastrophic injuries and illnesses, and to youth with emotional, behavioral and medically complex challenges as well as their families. The MENTOR ... More
Mission: The mission of The MENTOR Network is to offer adults, children, and their families innovative, quality services and supports that lead to growth and independence, regardless of the physical, intellectual or behavioral challenges they face. Our philosophy emphasizes partnerships —with those we serve, their families, our employees, Mentors, payors and the communities in which we work—in an effort to help individuals shape the direction of their own lives in community-based settings.
Work at The MENTOR Network? Share Your Experiences