Vanderbilt University
This employer has taken extra steps to respond to reviews and provide job seekers with accurate company information, photos, and reviews. Interested for your company?
Learn More
.
Vanderbilt University – Why Work For Us?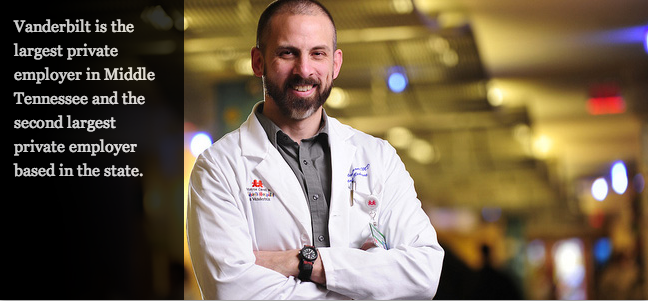 Discover your place at Vanderbilt University and Medical Center.
Located in Nashville, Tenn., and operating at a global crossroads of teaching, discovery and patient care,Vanderbilt University and Medical Center is a community of individuals who come to work each day with the simple aim of changing the world. It is a place where your expertise will be valued, your knowledge expanded and your abilities challenged. It is a place where your diversity — of culture, thinking, learning and leading — is sought and celebrated. It is a place where employees know they are part of something that is bigger than themselves, take exceptional pride in their work and never settle for what was good enough yesterday.
We hire over 8,000 employees each year and have a wealth of opportunities ranging from information technology, dining, nursing, allied health providers to athletics.
We are Vanderbilt. Join Us.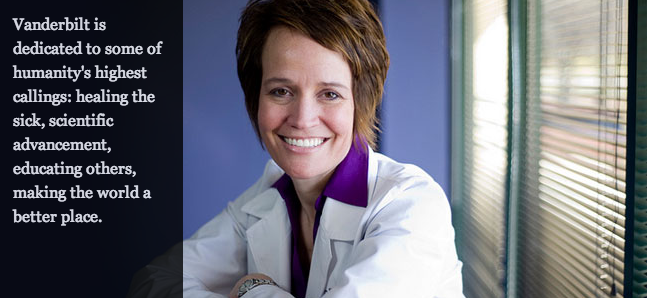 Vanderbilt is a world renowned university and medical center because of the innovation, work ethic and collegiality of over twenty thousand employees. From our health care advances to our higher learning contributions and from our compassionate care to our impassioned teaching, Vanderbilt owes its accomplishments and reputation to staff and faculty who bring skill and drive and innovation to campus day after day.
As the largest employer in middle Tennessee, we welcome those who are interested in ongoing development in a caring, culturally sensitive and professional atmosphere. Most of us spend so much of our lives at work, we want to be part of maintaining a workplace in which people support one another and encourage reaching for excellence. Many high-achieving employees stay at Vanderbilt because of the professional and professional growth they experience and because of their appreciation of Vanderbilt's benefits, public events and discussions, athletic opportunities, beautiful setting and, above all, sense of community and purpose.
Vanderbilt and its employees share a set of mutual expectations that have been created with productivity, legality, fairness and safety always in mind. We believe that our investment in training and compensating employees multiplies in value when we enable individuals to deliver their best performance for the benefit of us all.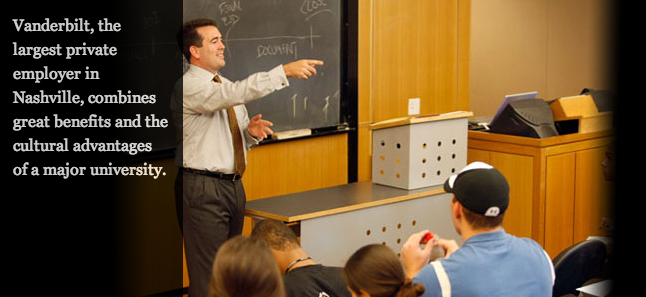 In addition to offering a lively community that encourages learning and celebrates diversity, Vanderbilt University provides its faculty and staff with a benefits package that is comprehensive and flexible. Components for benefits-eligible employees include:
Core Coverage
Health Plan
Life Insurance
Retirement
Long-term Disability
Voluntary Coverage
Accidental Death & Dismemberment (AD&D)
Dental Insurance
Group Discounts
Flexible Spending Accounts (FSAs)
Short-term Disability
The three health plans include options for out-of-paycheck and out-of-pocket costs. You have the option to cover eligible family members on your health plan, ranging from only yourself to also including eligible children as well as a spouse/same-sex domestic partner. The plans are designed using co-pays, deductibles, and offer preventive care as well as low-cost options for prescription drugs.
When not healthy, employees have access to accrued sick time as well as short- and long-term disability. As a university that includes a medical center, we are especially committed to helping you thrive, physically and mentally, and we provide a variety of Health & Wellness programs including a free fitness center, confidential counseling, a faculty/staff health express clinic, and a variety of childcare centers and programs.
Retirement contributions are matched by the university with the option to select several retirement plan providers. Depending on your needs and concerns, you may also elect dental, vision, and life insurance and contribute to a pre-tax Flexible Spending Account for eligible health and dependent care expenses.
We recognize the success and commitment of employees with personal and dependent tuition (spouse and children), vacation benefits that vary with length and type of service, and we grant seven paid holidays and two personal days.
We also realize that sometimes it's the little things that make a difference. At Vanderbilt, there's a wide variety of perks that make working here so special. From Commodore Concierge to pet insurance and other special discounts and offers, you're sure to find something that can save you a little money or make your day just a bit easier and more enjoyable.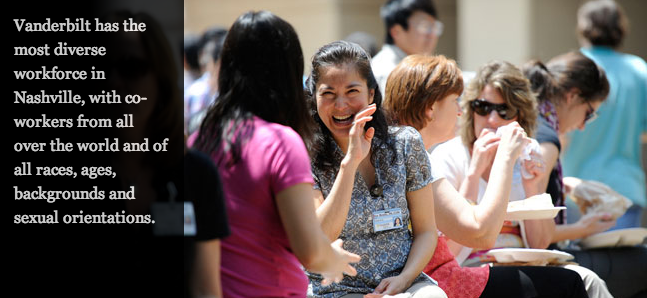 At Vanderbilt we welcome employees from a wide variety of backgrounds, traditions and experiences. We often witness the vitality and creativity that comes from bringing different perspectives together. As individuals and professionals, we grow from the ability to recognize commonalities and different histories.
A diverse staff also benefits our students and residents, who come from all over the country and the world. Once employees are here, they discover a wonderful richness in the events and celebrations that are open to all on campus. They will also discover committees and policies that shepherd Vanderbilt into the next decades by demonstrating that excellence is not possible without inclusivity.
Vanderbilt University Photos
Vanderbilt University Reviews
---
Nicholas Zeppos
74 Ratings
I have been working at Vanderbilt University

Pros

boss is a really great person

Cons

there are no cons to this job

Vanderbilt University

2014-12-17 10:26 PST
Vanderbilt University Interviews
Updated Nov 3, 2014
Interview Details

I am a PhD candidate in the biomedical field and I applied through the IGP program. Got a phone interview and that was all. I think the program selects students mostly based on application materials, e.g., transcripts, CV, etc.

Vanderbilt University

2014-11-03 12:16 PST
Vanderbilt University Awards & Accolades
Healthier Tennessee Workplace
,
Governor's Foundation for Health and Wellness
,
2014
Healthiest 100 Workplaces in America
,
Healthiest Employers LLC
,
2014
100 Best Companies to Work For
,
Fortune
,
2009
Best Places to Work in Academia
,
The Scientist
,
2009
100 Best Companies for Minorities
,
Fortune
,
2009
Show More
Website
www.vanderbilt.edu
Headquarters
Nashville, TN
Type
College / University
Industry Education
Revenue
$2 to $5 billion (USD) per year
The house that Cornelius built, Vanderbilt University was founded in 1873 with a $1 million grant from industrialist Cornelius Vanderbilt. The university's endowment has grown to $3 billion making the school a haven for its roughly 12,700 students and about 3,300 full-time faculty (with a student-teacher ratio of 8:1). Vanderbilt offers undergraduate and graduate programs in... More
Mission: Vanderbilt will uphold the highest standards and be a leader in the
• quest for new knowledge through scholarship,
• dissemination of knowledge through teaching and... More
Work at Vanderbilt University? Share Your Experiences