Volusion
This employer has taken extra steps to respond to reviews and provide job seekers with accurate company information, photos, and reviews. Interested for your company?
Learn More
.
Have fun and kick butt.
Volusion – Why Work For Us?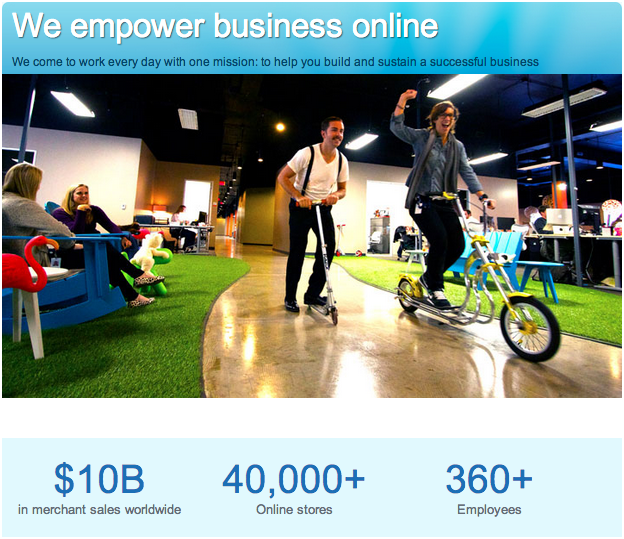 Our mission is to help turn your big idea into a successful online business
From the start in the bedroom of Founder, Kevin Sproles, to today's worldwide operations, we've kept one goal in mind: provide an easy and affordable way for people to sell their products online. Along the way, we've been proud to help launch thousands of online businesses, all while giving back to the community and building a passionate team of ecommerce experts.

Our Culture
We're a diverse group that comes together each day to turn our collective passion for technology, community and customer service into an environment that helps our customers succeed online. (Also, we consider Nerf guns a form of expression.)
Our Values
The ecommerce industry is constantly growing and changing. For most, it's easy to lose sight of what's important in such a changing environment. But thanks to our core values, we're able to focus, adapt and flourish.
Deliver WOW experiences!

Every interaction our customers have with Volusion makes them more successful and leaves them saying "Wow!" Every employee at Volusion is responsible for delivering WOW experiences every day.

Innovate and embrace change

We're never satisfied with "the way we've always done things", but instead stay agile and drive positive change.

Keep it simple, get it done

We do more with less. We don't make excuses, we just get things done. We're resourceful and we will find a way around any obstacle in our path.

Rock the golden rule

We treat others as we want to be treated. We care for each other, our customers and our community.

Have fun and kick butt

We work hard, we play hard and we celebrate our wins. We live to wow every customer, crush every competitor and rule the industry.
Our time
Our product
Our revenue
The Volusion Foundation was established to help make the world a better place. Here's a quick glimpse at how we're giving back to a cause that's greater than ourselves:
The premise of The Volusion Foundation is simple: give a portion of everything we've got.
Our Time

Each member of the Volusion team receives two days of paid time off to volunteer for a worthy cause.

Our Product




Our Stores to Change the World Program provides free stores for life to deserving non-profit organizations.

Our Revenue




Over the past several years, we've donated hundreds of thousands of dollars to organizations making a difference in the world.

Kevin Sproles, Founder and Chairman
As Founder and Chairman, Sproles drives Volusion's overall strategic vision while overseeing all facets of the company's operations. Sproles originally started coding and designing websites early on in his career, and his passion quickly grew into a business. Out of the numerous clients he quickly acquired, most started to request the same need – a shopping cart. At this time, shopping cart software was in its infancy. Always up for a challenge, Sproles took the endeavor head on. With very little money and a great deal of perseverance, he started coding shopping cart software and Volusion was created in 1999.
In Volusion's early stages, Sproles worked by request to build software that fit clients' needs, often staying up all night implementing a new feature. He notes that his favorite thing to tell clients was, "Remember that feature you asked about yesterday? Here you go." This mentality remains a core value at Volusion to this day and drives its developers to continually implement new features and functionality to benefit those who know it best – their customers.
Sproles has won several business awards for his success with Volusion, including BusinessWeek's "Best 25 Entrepreneurs Under 25" and the San Fernando Valley Business Journal's "40 Under 40 Leadership Award." Despite these personal accolades, Sproles's greatest honor stems from his philanthropic work. As a believer in the adage, "great success demands great responsibility," Sproles established the Volusion Foundation. In addition to providing deserving non-profit organizations with free online stores, the Volusion Foundation also generously donates to World Vision to improve the lives of impoverished children around the world. Sproles recently made a visit to Africa for a first-hand view of how the foundation's donations were being utilized. After his return from such an inspirational journey, Sproles is more dedicated than ever to grow Volusion's reach to enhance lives, both on and offlline.

Clay Olivier, Chief Executive Officer
Clay Olivier, Chief Executive Officer, oversees and guides the direction of Volusion with a strategic vision and motivation for helping business owners succeed online. Olivier played an integral part in Volusion's growth of 5104% between 2005 and 2011.
With over ten years of ecommerce experience, Olivier is personally familiar with what it takes to run and manage an online business. Olivier was one of the first 100 customers to use the Volusion platform and worked closely with Volusion's Founder and Chairman, Kevin Sproles, to build his own online store. As a former customer himself, Olivier knew early on that Volusion was in business to serve other businesses. Today, Volusion continues to lead with a customer-first mindset and is one of the only ecommerce providers to offer free, unlimited 24x7 support to over 40,000 online stores for 10 years running.
In addition to growing the business and focusing on the customer experience, Olivier has helped Volusion become the leader in ecommerce innovation, charging the way with the original one-page checkout, Fraud Score™, mobile commerce and Social Store Builder™. Olivier has also led the company in garnering many awards and accolades. Some of these include "Best Ecommerce Solution", "Best Customer Service" and "Innovation of the Year". Volusion was named to Entrepreneur Magazine's 100 Most Brilliant Companies List, #16 Fastest Growing Software Company, #5 Fastest Growing Software Company in the Inc 500, #87 Fastest Growing Company by Deloitte and a Top Workplace in Austin.
Before entering the ecommerce industry, Olivier helped lead the Large Opportunity group in the Small Business Division at Dell, and previously worked as a stockbroker with Charles Schwab. Olivier studied at the University of Texas and continues to support anything related to his hometown of Austin, including local businesses and being outdoors.
The most rewarding job Olivier has is husband and father to his wife and two kids.
---
Comp & Benefits

Work/Life Balance

Senior Management

Culture & Values

Career Opportunities

I worked at Volusion full-time (more than an year)

Pros

The company has a great culture. The HR team does a fantastic job of making this place a lot of fun. There is always something new and exciting happening.

Cons

The compensation is definitely geared toward intro level careers, with very little opportunity of development. The leadership has no idea what they're doing.

Advice to Management

Advice

Hire a manager that actually knows something about the department they are running.

Volusion

2014-10-28 18:29 PDT
Volusion Interviews
Updated Oct 17, 2014
Application Details

I applied online – interviewed at Volusion.

Interview Details

I submitted my application with cover letter and resume, and was contacted several months later by a member of Human Resources to set up a phone interview. The interviewer was very polite and professional. The interview was about 20 minutes in length, but it obviously felt much shorter.

Interview Questions

Very quantitative interview. There were a lot of questions regarding my sales quotas, my actual numbers, etc... Answer Question

Volusion

2014-09-16 21:01 PDT
Volusion Awards & Accolades
Best Places to Work (Large)
(

#3

)
,
Austin Business Journal
,
2013
Greater Austin Business Award Finalist
(

Technology

)
,
Austin Chamber of Commerce
,
2012
Most Innovative Medium Company
,
Best in Biz
,
2012
Hire Power Award
,
Inc.
,
2012
Top Workplaces
,
Austin American-Statesman
,
2010
Show More
Size
150 to 499 Employees
Industry Information Technology
Revenue
$50 to $100 million (USD) per year
Since 1999, Volusion has offered the most effective platform to open, manage and grow a successful online business. Our award-winning shopping cart software, mixed with our Out of This World™ Support and services from our ecommerce think tank will put online business on the fast track to success.

We're a diverse group that comes together each day to turn our collective passion for technology, community and customer service into an environment that helps our customers succeed online. (Also, we consider Nerf guns a form of expression.)
Work at Volusion? Share Your Experiences