Year Up
This employer has taken extra steps to respond to reviews and provide job seekers with accurate company information, photos, and reviews. Interested for your company?
Learn More
.
www.yearup.org
Year Up – Why Work For Us?

Our Vision
In the future, every urban young adult will have access to the education, experiences, and guidance required to realize his or her true potential.
Our Mission
Year Up's mission is to close the Opportunity Divide by providing urban young adults with the skills, experience, and support that will empower them to reach their potential through professional careers and higher education.
We achieve this mission through a high support, high expectation model that combines marketable job skills, stipends, internships and college credits. Our holistic approach focuses on students' professional and personal development to place these young adults on a viable path to economic self-sufficiency.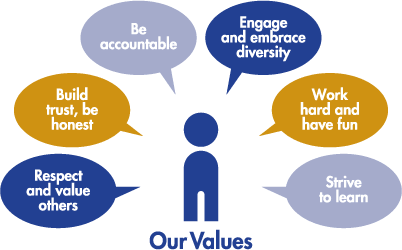 Believe in your work, and be proud of it.
Working at Year Up offers life-changing, fulfilling experiences. We know that our greatest assets are our people, and we foster a culture of empowerment and positive change.
A belief in the possibility of change
We believe in the power of people to create change, at an individual as well as a systems level.
A shared passion for our mission
We are unified in our passion to close the Opportunity Divide in this country.
A commitment to diversity and cultural competency
Year Up operates with the belief that diverse and culturally aware groups increase value in educational and work settings by generating creative, effective, and inclusive thinking and action.
A mindset of continuous learning
We are always looking to improve in the work we do every day. We are intentional in our innovation and deliberate about learning more.
A commitment to excellence
We have high expectations for ourselves and our students. We are not afraid of hard work and recognize the importance of building and executing effective strategies for success.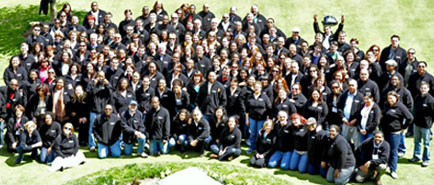 Three Strategies to Achieve Impact

1.
Grow and Strengthen the Core:
We will scale our direct service program to serve 2,500 students annually by 2016. During this time period, Year Up will both open three new sites and invest substantial resources toward growth in existing cities, allowing us to improve the core program model as well as expand it.

2.
Develop the Million-Person Model:
We will design and pilot alternative program models that can grow rapidly to serve many more young adults across the United States. These models will build on the successful practices of our core model, with a focus on innovations that allow for greater scale. We anticipate partnering closely with community colleges in this process to increase graduation rates and successful transitions into the labor market.

3.
Create Systems Change:
We will broaden access to career and postsecondary opportunities by influencing the systems that perpetuate the Opportunity Divide. We will pursue this strategy at both the national level and in the various metropolitan areas where our sites operate. Our growing corps of alumni will be critical allies as we pursue this strategy.
See how the high expectation, high support model at Year Up works.
Year Up is a one-year, intensive training program that provides low-income young adults, ages 18-24, with a combination of hands-on skill development, college credits, and corporate internships.
Challenging students to reach their potential.
Our program emphasizes academic and professional rigor, setting expectations high for quality of work and professional behavior. A strong structure guides students through the steps necessary for achieving success in the classroom and the workplace.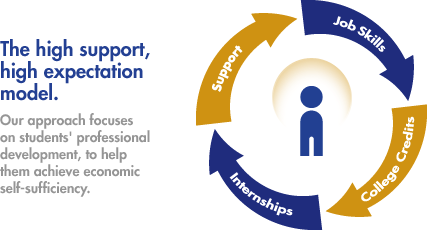 For the first six months of the program, students develop technical and professional skills in the classroom. Students then apply those skills during the second six months on an internship at one of Year Up's 250+ corporate and government partners. Students earn up to 23 college credits and a weekly stipend, and are supported by staff advisors, professional mentors, dedicated social services staff, and a powerful network of community-based partners.
Since its founding in 2000, Year Up has served over 6,000 young adults
Our results
100% placement of qualified Year Up students into internships
Over 90% of corporate partners would recommend the Year Up program to a friend or colleague
84% of graduates are employed or attending college full-time within four months of completing the program.
Employed Year Up graduates earn an average of $15 per hour – the equivalent of $30,000 per year.
Technical skills classes at Year Up might include:
Desktop and Network Support
Help Desk
Hardware Repair
Operating Systems
Disk Formatting, Partitioning and Ghosting
Peripherals
Software Installation
Viruses and Malware
Microsoft Office and Outlook
Networking and TCP/IP
Investment Operations
Customer Service
Fund Accounting

Professional and communication skills classes at Year Up might include:
Business Writing Skills
Time Management
Career Networking
Communicating Clearly and Effectively
Conflict Resolution and Negotiation
Working in Teams
Presentation Skills
Workplace Norms
Introduction to Business
Personal Finance
Workplace Legal Issues
Work/Life Balance
---
Gerald Chertavian
23 Ratings
Comp & Benefits

Work/Life Balance

Senior Management

Culture & Values

Career Opportunities

I have been working at Year Up

Pros

You work with a very supportive staff and you are expected to support the students which make up Year Up's continuing mission to bridge the opportunity divide in the United States.

Cons

This company is growing really really fast. If you are looking for stability and structure you should remember that this company is still very young and it takes a bit of time to work out the kinks.

Advice to Management

Advice

Increase funding for education and self-development.

Year Up

2015-01-24 17:47 PST
Year Up Interviews
Updated Dec 13, 2014
Application Details

I applied through other source. The process took 3+ months – interviewed at Year Up.

Interview Details

The whole process took more than 3 months to complete, and included 1 telephone interview and 3 in-person interviews. Every single interview was blundered in some way-- either they gave me the wrong address or the person who was to interview me wasn't expecting me. I felt that-- as a currently employed person-- my time was not being respected. All of the interviewers were very kind, but also very frank about the heavy workloads and lack of work-life balance at the organization.

Interview Questions

I was asked many times about my management style, and I felt like they were expecting something more or different from my answer. Answer Question

Year Up

2014-09-26 11:06 PDT
Year Up Awards & Accolades
50 Best Nonprofits to Work For
,
The NonProfit Times
,
2013
Size
150 to 499 Employees
Industry Non-Profit
Revenue
$10 to $25 million (USD) per year
Year Up is an award-winning national 501(c)3 organization striving to close the Opportunity Divide by providing urban young adults with the skills, experience and support that will empower them to reach their potential through professional careers and higher education. Through a one-year intensive training program, Year Up provides urban young adults ages 18-24 with a unique... More
Mission: Our mission is to close the Opportunity Divide by providing urban young adults with the skills, experience, and support that will empower them to reach their potential... More
Work at Year Up? Share Your Experiences