dd's DISCOUNTS – Why Work For Us?
​​​BEHIND EVERY BARGAIN​​​
Our customers love a great deal. That makes our mission simple: to provide exciting bargains, every day, in every store.
It takes an incredible team of individuals to make that possible. Whether you're new to the workforce or an experienced professional, there's an opportunity for you. We're passionate, committed, collaborative, and hands-on—from our Corporate and Buying Offices to our checkouts.
So if you're ready to be part of a Fortune 500 company that's growing —you're ready for a brand new opportunity at Ross Stores, Inc.​
​​​CORPORATE PROFILE​​​
Ross Stores, Inc. is an S&P 500, Fortune 500 and Nasdaq 100 (ROST) company headquartered in Pleasanton, California, with fiscal 2012 revenues of $9.7 billion. The Company operates Ross Dress for Less® ("Ross"), the largest off-price apparel and home fashion chain in the United States with 1,091 locations in 33 states, the District of Columbia and Guam. Ross offers first-quality, in-season, name brand and designer apparel, accessories, footwear and home fashions for the entire family at everyday savings of 20% to 60% off department and specialty store regular prices. The Company also operates 108 dd's DISCOUNTS® in eight states.
​​​A HISTORY OF SUCCESS​​​
In 1982, Ross Dress For Less was launched with six off-price stores in California. Today, Ross Stores is an S&P 500, Fortune 500 and Nasdaq 100 company with more than 1000 stores in 29 states. Here are just a few highlights from our history:
| | |
| --- | --- |
| 1982 | Ross offers its very first bargains in six California locations |
| 1985 | Ross Stores becomes a public company |
| 1992 | Ross introduces Home Accents |
| 1994 | Ross adds Bed and Bath department |
| 1995 | Sales exceed $1 billion |
| 2001 | Ross begins expansion, entering the Southeast U.S. |
| 2003 | Two new distribution centers open -- in Fort Mill, SC and Perris, CA |
| 2004 | A new concept, dd's DISCOUNTS is launched in CA providing exceptional values on the brands and fashions found in discount department stores…all at 20-70% savings |
| 2007 | Ross celebrates 25 years of bargains and grows to $6.0 billion in revenues |
| 2010 | Growth continues with annual revenues of $7.9 billion and over 1,000 Ross Dress for Less and dd's DISCOUNTS locations combined at year end |
​​​AN ENTREPRENEURIAL SPIRIT​​​
Ross has grown over the years thanks to a hands-on, hardworking culture that rewards those who are practical, creative, and straightforward. We have a rich history of promoting our most resourceful associates from within. At the same time, we're always looking for new talent to keep our team—and our ideas—fresh and current.
​​​A COMMITMENT TO DIVERSITY​​​
At Ross, we value and respect diversity. What matters is how a person performs on the job. That's why we promote the hiring, acceptance, and appreciation of every individual. Our workplace is one in which personal dignity and respect for the individual is expected in all interactions with our associates and our customers.
​​​SOCIAL RESPONSIBILITY​​​
At Ross, our focus on social responsibility can be seen throughout the Company, from efforts to increase sustainability in all of our operations, to our commitment to charitable giving and our dedication to creating a work environment where associates can grow and succeed.
​​​GIVING BACK​​​
At Ross, our culture emphasizes supporting and being part of the communities we operate in. Our signature community program is First Book Foundation, which raises and donates money to purchase books for the kids that need them most. All money raised in the store stays local. Additionally, each new store that opens, dd's DISCOUNTS donates $1,000 per store to a local Boys and Girls Club.
​​​OPPORTUNITIES AT EVERY LEVEL​​​
A spirit of teamwork and creativity thrives within the Ross organization. That's because every area is vital to our success.
​​​CORPORATE HEADQUARTERS​​​
Located in Pleasanton, CA—in the San Francisco Bay Area—Ross HQ supports the entire Ross network with functions such as finance, IT, HR, store operations, merchandise planning and allocation, and real estate/property development.
​​​BUYING OFFICES​​​
Our buying offices in New York and Los Angeles are the source of Ross merchandise. Located in the centers of the retail fashion districts, our buying staff finds bargains and negotiates deals from around the world. But it's not just buying. Everything from forecasting and strategy development to regional analysis and planning happens here.
​​​DISTRIBUTION CENTERS​​​
Our four state-of-the-art distribution facilities (in Carlisle, PA; Moreno Valley, CA; Perris, CA; and Fort Mill, SC) are the lifeline to Ross stores. From here, every piece of merchandise is received and distributed to our stores nationwide. This requires a diverse team of distribution, transportation and logistics professionals.
​​​STORES​​​
Our company relies on our retail associates and management teams to deliver the treasure hunt experience for our customers every day. Each store offers an easy-to-shop environment that showcases our great deals—and keeps customers coming back for more.
​​​AS A ROSS TEAM MEMBER​​​ you'll receive a comprehensive compensation package including competitive pay, merchandise discount and benefits including:
Medical
Dental
Vision
Disability
Sick Pay
Vacation
Holidays / Personal Days
401 (K) Savings Plan
Employee Stock Purchase
Commuter Reimbursement
Pre-paid Legal
Life Insurance
Health Care and Dependent Spending Accounts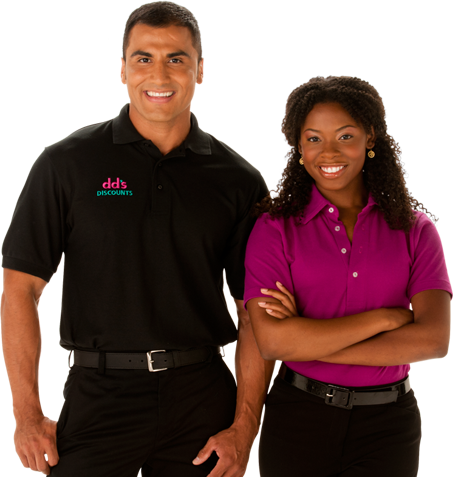 ​​
dd's DISCOUNTS is a member of the Ross Stores, Inc. family. Get started on a new career today!
dd's DISCOUNTS Reviews
dd's DISCOUNTS
143
Barbara Rentler
23 Ratings
Work/Life Balance

Culture & Values

Career Opportunities

Comp & Benefits

Senior Management

I have been working at dd's DISCOUNTS (More than 5 years)

Pros

Growth great network fun place and quick pace

Cons

Not enough time in the day too much going on at a certain time

Advice to Management

Keep up with the growth. Dds is coming

dd's DISCOUNTS

2015-04-22 09:18 PDT

---
dd's DISCOUNTS Interviews
Application

I applied online. The process took 1+ week. I interviewed at dd's DISCOUNTS (San Diego, CA) in September 2015.

Interview

There was openings for a new store. Applied online. Got a call two days later for an interview. Interviews were being held at a career center because the store wasn't open yet. I was interviewed by the store manager, but the assistant manager was in the back and was able to hear the interview. Both were very friendly. Felt like a natural conversation. I was asked 3 main questions. After giving my answers, the store manager said that he was comfortable in offering me a position. I just needed to go through a background check after. And he let me know what the upcoming dates were, like the soft opening, grand opening, and orientation. Paperwork was online and quick.

Interview Questions

How did you hear about this position opening?

Answer Question

Explain a time when you had to follow procedure or policy and how it helped your situation.

Answer Question

Name a time you had to tell a customer bad news.

Answer Question

dd's DISCOUNTS

2015-09-03 19:28 PDT
dd's DISCOUNTS Awards & Accolades
Let us know if we're missing any workplace or industry recognition – Add an award
Website
www.ddsdiscounts.com
Headquarters
Pleasanton, CA
Type
Subsidiary or Business Segment
Industry Retail
Work at dd's DISCOUNTS? Share Your Experiences