Yardi Systems Overview
4.1

★
Santa Barbara, CA
5001 to 10000 Employees
Type: Company - Private
Founded in 1982
Revenue: $1 to $5 million (USD)
Established in 1984, Yardi has grown over the last three decades to become a leading provider of high-performance technology solutions and services across nearly all areas of real estate. Today, we employ 8,500 dedicated professionals working in 45 offices throughout North ...
Mission:
Take care of our clients, take care of our employees, take care of our communities, stay focused, and grow.

Glassdoor Awards
Best Places to Work
Company updates
Yardi Systems
2d
Yardi staff make essential contributions to property management clients worldwide. Today, meet Tamm Sharper, a Voyager Client Success residential TX 2 team consultant for special projects in the Dallas office. Meet Tamm Sharpe: Tamm Sharper has been working for Yardi since December 2014. Sharper works on projects from the Voyager Client Success and RentCafe Client Success Texas teams for existing clients. From complex and sometimes expedited implementations to At-risk client specialty projects, she has a variety of opportunities to build relationships with clients during their Yardi journey.
www.yardi.com
Yardi Systems
4w
Yardi's Advanced Solutions Conference kicked off Wednesday morning with over 4,000 clients – making it the largest YASC ever – in attendance at the San Diego Convention Center. "We have 4,000 of the best minds in real estate in San Diego this week," observed Esther Bonardi, a vice president at Yardi, as a packed room eagerly anticipated remarks from Anant Yardi, the company's founder and CEO; as well as executives Rob Teel, Akshai Rao and Kevin Yardi.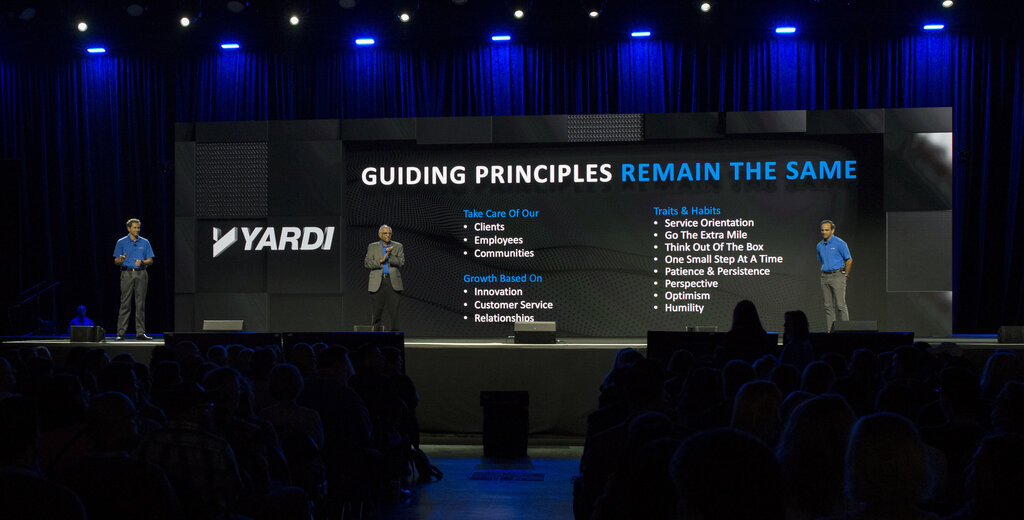 www.yardi.com
Voyager 8 Announced at YASC 2023
What are your colleagues talking about?
Find your exclusive Company Bowl on Community. Join the hottest conversation with your colleagues anonymously.
Join the Conversation
Yardi Systems Reviews
Current Employee, more than 3 years
Pros
Great employee health insurance package and 401K. Celebration of employee culture and heritage. Company sponsored events, i.e. race, picnic, volunteer, etc. Guided collaboration with manager for future career build and path. Hybrid schedule work from home and minimum requirement going into office per month, allow work-life balance.
Cons
Office might be too cold from time to time by property management, not Yardi itself.
See All 2,431 Reviews
Yardi Systems Interviews
---
Anonymous Employee in Santa Barbara, CA

Accepted Offer

Positive Experience

Easy Interview

Application

I applied through an employee referral The process took 4 weeks. I interviewed at Yardi Systems (Santa Barbara, CA) in Dec 2022

Interview

Originally applied for a Data position however recruiter suggested another position. Recommendation was a better fit.

Two Interviews:
1) With HR and the hiring manager.
2) Hiring manager, HR, and direct reporting team leader.

Vibe was calm and relaxed more of a conversation and a getting to know each other than an interrogation. More technical and scenario questions with the second interview on how I would handle situations with upset clients or troubleshoot an issue not familiar with.


Interview

Why did you apply for this position specifically?

1 Answers
---
See All 602 interviews
Yardi Systems Awards & Accolades
Forbes Cloud 100 List, 

Forbes

, 2020
Top CEO, 

Glassdoor Employees Choice Award

, 2019
Partner of the Year, 

ENERGY STAR@

, 2019
Best Places To Work, 

Glassdoor Employees Choice Award

, 2018
Executive of the Year, 

South Coast Business and Technology Awards

, 2016
Popular Careers with Yardi Systems Job Seekers
Yardi Systems FAQ
(56 Questions)
All answers shown come directly from Yardi Systems Reviews and are not edited or altered.
...The culture is amazing, leadership is amazing and they get you most of the styff you need to work from home (like nice monitors and cameras), and the benefits are probably the best in town (paid health insurance, 401k profit...
December 18, 2021
People Also Ask about Yardi Systems
Work at Yardi Systems? Share Your Experiences