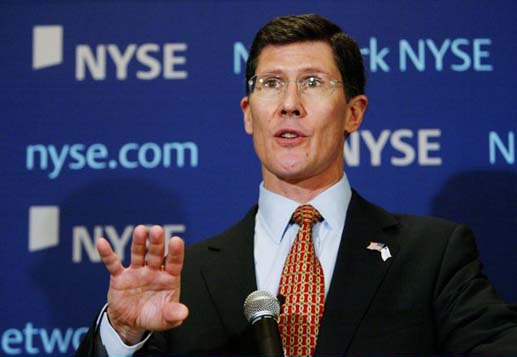 John Thain, former Merrill Lynch CEO, signed his resignation papers this morning after a significant 4th quarter loss.
BusinessWeek reports "the latest problem for Thain, a former head of the New York Stock Exchange (NYX), was news reports that some former top Merrill executives had gotten their bonuses on the eve of the brokerage's merger with BofA, which raised eyebrows in light of the hefty $15.4 billion fourth-quarter loss. Thain also drew headlines in December 2008 when he sought a $10 million bonus from Merrill's board, but he quickly backed away from that fight."
Check out how some of the company salaries for BofA employees compare to those of Merrill Lynch employees.
The article also states that "BofA CEO Ken Lewis flew to New York in the early morning to talk with Thain about his position with the bank and, according to a person familiar with the discussion, it was "mutually agreed that his situation was not working out and he would resign."
Ken Lewis, Bank of American Chairman, President and CEO currently receives a 57% approval rating where as the company receives a 3.2 rating. (Interesting to note is that Thain held a 59% CEO approval rating at Merrill Lynch.) Back in mid-December, we had reported that Bank of America had seen a downturn in its company rating in the past six months. It will be interesting to find out how employees will react and rate the company and CEO given these rapid fire changes.
Stay tuned…