Don't Have A Job? Good Luck Finding One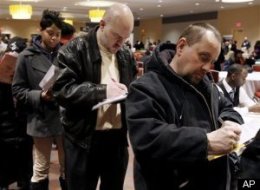 It's easier to find a job when you have a job, or so the proverb goes. And a new study shows that may be truer than ever. More than 6 million Americans have been out of work for more than six months, and the Job Openings and Labor Turnover Survey shows there are 4.7 unemployed workers for every job opening. However, companies across the country are requiring that applicants be currently employed in order to be considered for open positions. A recent survey conducted by the National Employment Law Project (NELP) surveyed four  job search Web sites: CareerBuilder, Indeed, Monster, and CraigsList, and found more than 150 job advertisements that specified applicants must be currently employed.
"Unemployed job seekers continue to be excluded from work opportunities, and this disturbing and unfair practice appears to be more pervasive than previously thought," says Christine Owens, executive director of the National Employment Law Project, who testified on the trend before the Equal Employment Opportunity Commission (EEOC) earlier this year. "A snapshot sampling of recent online job postings disclosed a large number of ads explicitly limited to those who are 'currently employed.' This pernicious practice adds a tremendous burden for unemployed workers as they look for jobs. For the millions of jobless Americans struggling to climb out of the deepest jobs hole in many decades, nothing can be more demoralizing than the double-whammy of losing a job and then learning they will not be considered for new positions because they are not currently working. "
Congress is considering taking action on the matter. On July 12, representatives Hank Johnson (GA) and Rosa DeLauro (CT) introduced the Fair Employment Opportunity Act of 2011, which would prohibit employers and employment agencies from discriminating against unemployed job-seekers by refusing to consider them for employment.
In the meantime, if you're unemployed and looking for a job, here are a few things you can do:
Avoid the issue. NELP and other organizations have published lists of more than 70 companies that require applicants to be currently employed in order to be considered for jobs. Study the list and simply avoid applying for jobs at these companies.
Take a low-wage job while you job-hunt. There's always somebody hiring; flip burgers or wait tables if you need to. Not only will you be able to say you're currently employed when the next recruiter asks (but always be truthful about what your current job is), but you'll also have money to make ends meet in the meantime. Many hiring managers will respect the fact that you're a hard worker and don't believe you're above taking a low-paying job in order to pay the bills.
Make a complaint. If you believe you have been discriminated against in the hiring process due to your employment status, you can file a complaint with the Equal Employment Opportunity Commission (EEOC). The agency received nearly 100,000 discrimination complaints in 2010, up 6.6 percent from the previous year, with at least 20,000 deemed valid, resulting in a record $404 million in monetary relief paid by employers. Those complaints included discrimination based on employment status as well as disability, race, age, and gender. (Read more information about how to file a complaint.)