Attending SHRM 2011 this year? We are and we know how hectic the event can be – racing from big name speaker sessions (like Virgin mogul Sir Richard Branson and Huffington Post's fearless leader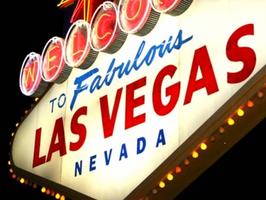 Arianna Huffington) to useful informational speaking tracks covering everything from talent management to International HR. As you move from one session to the next, stop by Glassdoor's booth #1267 – a preview of just some of the things we'll be discussing are highlighted below.
Plus if you feel the luck is on your side in Las Vegas this year, try placing your bet on how many poker chips are in Glassdoor's "world's largest tower of poker chips" – the person with the closest guess will win an iPad 2.
Visit the Glassdoor Booth #1267 to learn about…
Job Search & Career Advancement Resources: New to Glassdoor? Employers, HR and other career industry professionals will have an opportunity to learn what employees and job candidates are saying. Glassdoor is a rapidly growing community with more than one million members, which offers ratings and reviews on more than 120,000 companies, along with salary and interview process insights, all provided by  those who know best: employees and job candidates. Come see what your staff and prospects are saying.
Employer Branding & Retention Tools: Want to know how to get in on the conversation? Glassdoor will be showcasing Enhanced Employer Profiles (EEP), which allows employers to offer their perspective on what makes their company a 'Best Place to Work.' In today's online world, job seekers are hungry for information and go beyond a company's careers page, blog or other informational site. Find out how you can bring all your career and job opportunity insights together on Glassdoor.
New Ways to Hire: How do you attract and retain the job candidates that matter most? Your job candidates and employees are turning to Glassdoor to learn about the latest job openings and to find out what it's like to work at your company or your competitors. With Glassdoor JobAds, you can proactively engage with both passive and active candidates throughout Glassdoor; strategically target difficult to fill positions via industry, geographic, job title, and keyword targeting; learn from advanced analytics that track impressions and click through traffic; and benchmark results against your industry competitors.
We're looking forward to this year's event and to seeing you soon!
If you're not able to attend this year's conference, follow us on Twitter @glassdoordotcom to stay in the loop on the hot topics at SHRM.