Writing a LinkedIn summary is incredibly difficult — for everyone, but especially for salespeople. You're not targeting recruiters and hiring managers; you're appealing to buyers. That means on top of finding an interesting and genuine way to describe your professional background, you must also come across as a subject matter expert.
If you need some inspiration, good news. These seven LinkedIn summary examples will help you find the right words.
LinkedIn Summary Examples for Salespeople
1) Demonstrate Your Passion
Adam Buchbinder, a salesperson at Listenwise, draws potential customers in by describing his enthusiasm for "improving listening skills and narrowing educational disparities" -- two goals they probably care highly about, too.
His next line tells prospects he's interested in learning their needs, not just selling them. Then Buchbinder establishes his expertise.
Try it yourself: Describe the most rewarding aspect of your job, whether that's helping small businesses go mobile or making corporations more efficient. Next, highlight why you're qualified. How many people or companies have you worked with? What are their average results? Which high-level problems are you well-equipped to solve?
2) Show Some Personality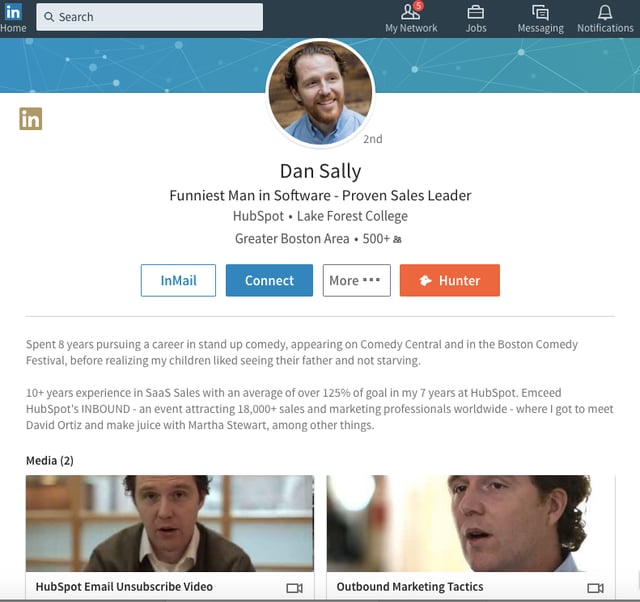 HubSpot inbound marketing specialist Dan Sally shows his personality in his summary. The detail about his previous life as a stand up comedian is intriguing, and the line about "realizing his children didn't like starving" is funny and relatable.
Sally gets more serious in the second section, highlighting his impressive track record at HubSpot.
Try it yourself: Begin your summary with an unexpected, interesting fact about yourself. In your next paragraph, tie it into your sales career.
For example, you might write, "I was the third runner-up of the National Spelling Bee in 1997. (You better believe the spelling of 'euonym' is now etched into my memory.) These days, I use my innate desire to learn to help customers."
3) Make Yourself Seem Approachable
Although it might be a bit untraditional to mention your personal hobbies on your LinkedIn profile, it's a good way to make yourself more human off the bat. A prospect reading Wistia solutions associate Fernando Silva's summary might think, "Oh, I also love to be outdoors."They'll immediately feel more connected to him.
Try it yourself: List a few of the things you like to do in your free time (steering clear of anything controversial, of course). Then explain why you chose your current role and how your customers derive value.
4) Engage Prospects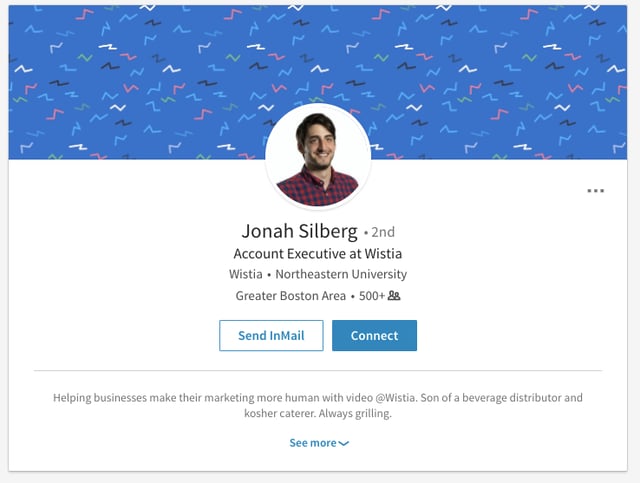 Wistia account executive Jonah Silberg opens with his mission: Enabling businesses to use video in their marketing strategy. His next two sentences helps you get to know him on a personal level.
The summary is short enough readers are guaranteed to finish it -- but Silberg makes every line count. He makes you interested in learning more about him.
Try it yourself: In the simplest words possible, state how your company makes its customers' lives easier, better, more enjoyable, etc. Then reveal something about your background ("I was born in Spain and raised in Texas," "I've lived in Chicago my entire life," "My hometown boasts the largest Beanie Babies museum in the world") and end with "Always," "Constantly," or "Frequently" followed by your favorite thing to do ("Always reading," "Constantly cracking dad jokes," "Frequently juggling.")
5) Intrigue Your Readers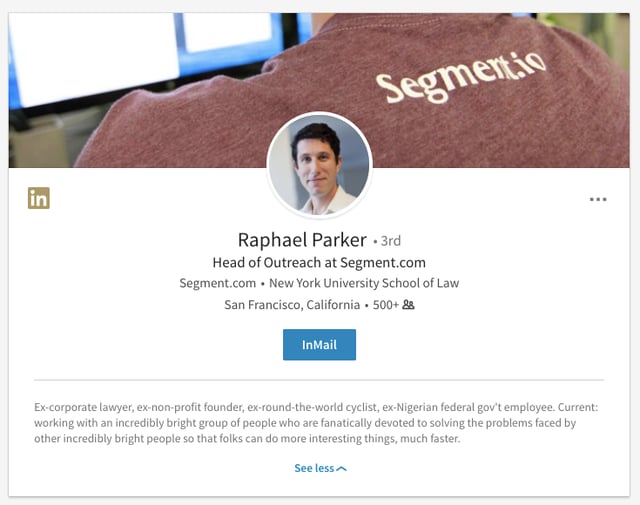 Raphael Parker, head of outreach at Segment.com, uses the same formula as Silberg -- but in reverse. He begins with three of his former jobs, which immediately tells you he's (already) had an interesting career. Parker next tells you what he's currently up to.
Try it yourself: List your former jobs. If you've always been in sales, get creative. Did you ever have a lemonade stand as a child? Were you a camp counselor as a teenager? What was your college gig?
For example, you might write "Ex-lemonade stand CEO, CMO, and COO; ex-juggler; ex-college tour guide. Currently helping prospective home owners in Arizona find their next dream place to live. (And still juggling when asked nicely.)"
6) Give a 360-View of You, Your Role, and Your Company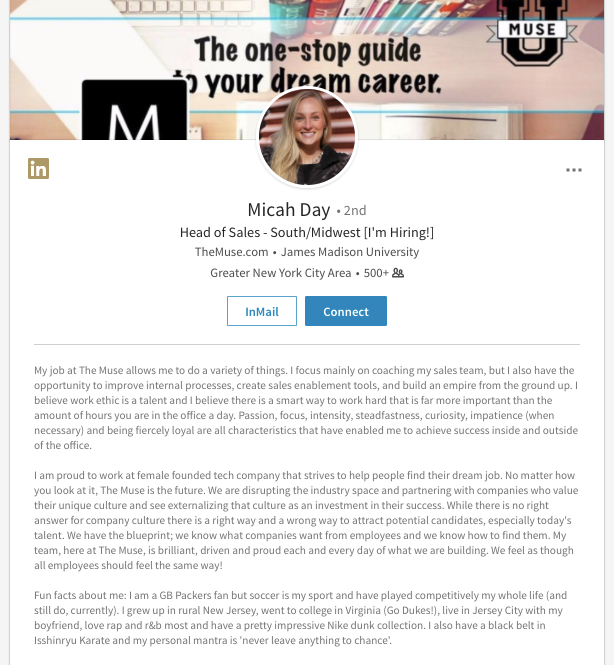 Head of The Muse's South and Midwest sales Michah Day's LinkedIn summary showcases her passion and enthusiasm for the role. She highlights her main responsibilities and values, tells the reader why she's proud to work at The Muse and what sets the business apart, and lists some fun facts about herself.
Try it yourself: Explain why you're so fired up about coming into work each day. What excites you? Why do you love your company? What makes your product, culture, and/or team different from your competitors? Conclude with four or five personal tidbits about yourself.
7) Win Immediate Credibility
Allison Zia, a sales and operations specialist at McMaster-Carr and grad student at University of Southern California's Marshall School of Business, earns instant credibility with her LinkedIn summary.
She starts with a bold statement: "I like to solve problems." Zia proves it with multiple examples from her career, then spotlights her specialities. Finally, she describes a few of her interests.
Try it yourself: Use a short, impactful one-liner to highlight why you're successful or what you're best at. Give two to four examples of how this skill or desire has manifested itself throughout your life. Discuss your areas of expertise, then wrap it up with your favorite topics of discussion.
With these LinkedIn summaries to draw on, you should have plenty of ideas and inspiration for your own description. Make it personal, unique, and engaging -- and prospects will feel like they know you already.
Browse Open Jobs
This article was originally published on HubSpot. Reprinted with permission.